Last updated on June 28th, 2014 at 12:44 pm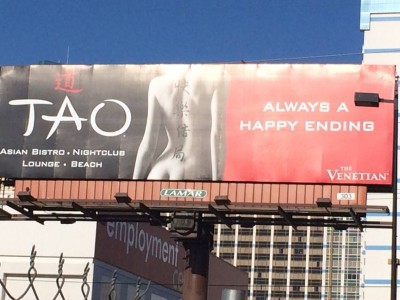 I hadn't planned to spend my day shopping in Las Vegas, but a delayed flight during a Vegas layover left me stranded in the glitzy city overnight. I don't drink or gamble, and I had a few hours to kill, so I walked down to the famous "Strip" to see what there was to see.
I cannot say that I think of myself as a big fan of Las Vegas, since I don't really love the culture of it. However I was determined to enjoy myself, knowing that I could and would find happiness in exploring Vegas.
I was staying at a Super 8 Motel located three miles from the airport. It was attached to a casino called "Ellis Island," which turned out to be depressingly dark and dingy, and which served only cheap fast food.
This "Lady Liberty" couldn't get by on that, so I wandered out and walked towards the "Miracle Mile" of giant casinos that give the optical illusion that you can get to one from another fairly quickly. Actually, these buildings are so massive that it can take ages to walk from one end of the strip to another.
Butterflies and Glass Orchids
I started out at the Bellagio, which is famous for its illuminated water-fountain shows at the front of the building. The Bellagio also features beautiful indoor gardens, and a ceiling full of giant ornamental glass flowers by Chulo.
I breathed in the fragrance of hyacinths, walked through a replica of a redwood tree with a hollowed out trunk, and checked out the art pieces made of live flowers. The interior of the Bellagio transports you to a fairy fantasy realm full of blossoms and butterfies, and it was breathtakingly lovely.
It was too early in the day to see the fountains show, or to tour the on-site art gallery that was featuring an exhibition by famous female painters. So I moved onto the "Paris" casino next, which has a Francophile theme and décor.
Hey, Sugar!
The first stop was the "Sugar" store and candy shop, where I nibbled on Jelly Belly jelly beans and later had a double scoop waffle cone with double chocolate and salted caramel gelato. I sat at the bar around the corner for a while, hydrating with waters and a non-alcoholic "mimosa" (orange juice plus pineapple juice) that the bartender gave me as a bonus for sitting and chatting with him for a while.
He was an extreme adventure sports guy who did a day shift as a bartender to pay the bills. Eric had been skydiving more than 700 times, including a base jump off cliffs in which he soared over the edge of the Grand Canyon. Amazing!
He had lived in Vegas for seven years, and loved it for the outdoor options that were available within reasonable driving distance, from skiing and snowboarding in the winter months to skydiving, hiking the canyons, and camping .
After a nice relaxed chat with Eric, and feeling refreshed, I headed to the "Planet Hollywood" casino to do some serious window-shopping.
I started out at Urban Outfitters where I found the dream iPhone5s case (it is white with a white unicorn on it with a gold horn and the letters "Shit Just Got Real" in gold). They had gold ear buds too for an iPhone.
I stopped next at Sephora, where I played with make-up and fragrances for an hour, giving myself an on-the-spot makeover. Since I'd stayed overnight without having my suitcases, I had not had the toiletries needed to wash my fast properly and was still wearing the same clothes from the day before.
So putting on some foundation, powder, blush, eye shadow, eyeliner and lipstick made me feel like a new woman. I must have sampled a dozen or so fragrances as well and left with fragrance samples in my pockets.
My new glamourous make-up, with smoky glittery eyes and understated nude lips, made me feel very Angelina Jolie, which is a good feeling. Next I decided I should check out the various designed boutiques, and pick out beautiful clothes and jewelry that I could buy "someday."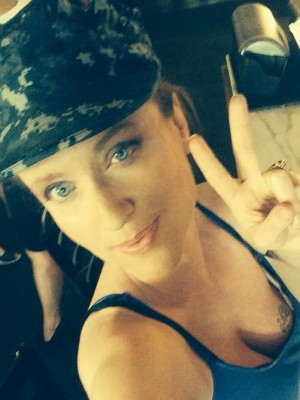 Next Up: Spa Treatments!
Next, I stopped by a shop called Adore when the adorable saleswoman lured me in by handing me a sample and saying, "For you, love!" I loved her smile and sweet spirit.
Once in, I was asked to sit down and to receive a facial treatment that was I told would reduce the appearance of fine lines and puffiness under my eyes. Since I had not gotten enough sleep in the past week and had not been able to properly wash and moisturize my face, I needed all the help I could get.
These products, which were created by Dr. Oz, were miracle products, truly. I left an hour later feeling like they had taken ten years of fmy life.
David, the suave and handsome sales rep who also owns the spa in the Bellagio and a suite in the Cosmopolitan hotel, used a gel under my eyes that contains collagen to fill in the tiny lines and smooth out any puffy areas.
The results were fast and astonishing. I was quickly turned into a convert! David then showcased the rest of the skincare line for me, and offered up some great deals for me, if I promised to recommend it to friends – such as my faithful blog readsers! – which I did.
I left with an order for several skin care products as well as a cellulite cream which I will try to eliminate cellulite on my thighs. My biggest beauty secrets are eating healthy, drinking loads of water, getting plenty of sleep and being happy
But a miracle collagen cream which made me look about 10 years younger is now something I am willing to use! I had never seen such incredible results so fast from any product.
Making a Little Extra Cash!
I closed out my Vegas adventures by being a Nielsen rater: I got asked to watch a pilot TV program, and was told I would get paid $25 in cash to do so. What the heck I thought!
I watched a fun new Food Network pilot show for one hour, answered some survey questions about the show and then was handed my cash. That was the fastest, easiest $25 in cash I had made in a while!
Then it was back to my hotel room to check out and get ready for my 4.5 hour flight back to Albany.
Home at last!
Lisa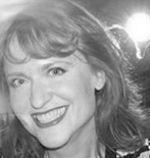 Lisa P. Graham is an inspirational writer, life coach, TED motivational speaker, and globe-trotter whose passion is to help others to find happiness and meaning in their daily lives. A political activist at heart, Lisa would like to empower more women to run for political office as a way to create positive change in the world. You can find her on her website or watch her TEDx speech on YouTube.
Note: Articles by Lisa may contain affiliate links and may be compensated if you make a purchase after clicking on an affiliate link.