Last updated on October 5th, 2023 at 12:32 pm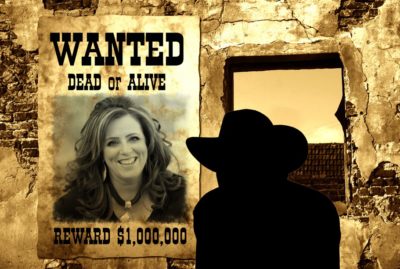 To all of you dreaming of becoming a successful motivational speaker, I want you to know that over the years, I have made plenty of mistakes in this business, that's for sure. But there is one big mistake that rises to the top.
Okay. So perhaps I'm being a bit dramatic when I say the "Biggest Mistake" I've ever made in a speaking career that has spanned several decades.
But I still can't think of a mistake that has held more weight than this one, other than the tank top I once wore underneath a jacket that flipped up over my muffin top like a weak window shade mid-speech.
Yeah, that image will haunt me for a while, not to mention the after-shocks on my audience who had a front-row viewing. Sorry for that.
The biggest mistake I have made is drum roll …
Not. Building. An. Email. List.
I'm the queen of lists. I have a list of everything. I love checking things off my list. Sometimes, I put a completed task on the list just so I can check it off and feel proud of myself. But there is one list I have never made–an email list of fans. If I could go back and do anything over, this would be it. I cringe to think of how many people would have been on my email list after all these years.
I won't throw out excuses. There really isn't an excuse good enough. And it won't do any good to beat myself up. Believing that it's never too late, I decided to start building up my list. And in less than a year, I have hundreds of people on my list. Not just random people but people who are prime candidates to stay in touch with.
Why is an email list so important?
Because these people have seen you live, they know your work. And hopefully, they love you. My business is driven by word of mouth. These are the mouths who will drive my business and maybe even book me to speak or buy products. I had always heard that your biggest asset is your list. I wish I had acted on it sooner. But again, it's never too late.
And even though I wasted a lot of time, those were years when I was still trying to decide my brand and my message. So maybe there is a hidden blessing in that now I really know what I want to give people and how so that my list won't have to be guinea pigs.
How did I do it?
There are many different ways to capture emails, like a website or social media sign-up forms, contests, giveaways, asking audience members to register at your table with their email addresses, writing guest posts for other websites in your niche with a bio with a link to where readers can subscribe, and including a brief call-to-action and a link to your sign-up form in your email signature are some ideas. I will not tell you there is one right way to do it. Find the way that works for you.
Here is what worked for me to capture emails.
1. I created something to give them that I knew they would really want. More than a handout, less than a book – something that was a little painful to give away. I know my message. I know my audience. And I know what they will want when the speech is over. It's taken me a while to figure that out, but I think I finally have my finger on the pulse of what people want from me.
2. I created a place to send all these people to go get this free item. In my case, I have three different free items based on their needs because my audience is so diverse and because I speak on two different topics with different life and business applications.
3. I made the decision to offer this gift only from the stage instead of something offered every time someone came to my website. While my list might be bigger if I had a website pop up, I decided to build a list of people who have seen me and know my work. Again, there is no right or wrong way, just the way that works for you.
4. I edited my speech to include two seeds for the free gift. A "seed" is when I mention this gift earlier in the program by saying something like, "I have six steps that will help you do this. I don't have time to go through them today, but I will give you a link to a free gift later, and you can have them if this is where you need help." Then, a little later in the speech, I may say, "If you're in a funk and feel like you need more encouragement, I have some waiting for you in that free gift link I told you about earlier." I even tell my audiences in the beginning that they don't have to worry about taking notes if they don't want to because the information is in their free gift.
5. I created an end-of-speech action step. I believe (my opinion – what works for me) that I can only ask my audience to do one thing from that stage. Ask too much, and they will do nothing. So I ask them to do just one thing – access their gift. I don't ask them to buy my book. I don't tell them to find me on Facebook. I don't ask for a referral. These are all important things, but I still believe in the power of one ask. (Hint: The free gift can do more asking.)
6. I was very strategic about what I asked them to do to get this free gift. Of course, I want their email. That's the point of building a list. But is there anything else I want from them? I don't want them to have to fill out a book report to get their free gift, or they'll get mad and leave. I knew that I could only ask a few questions. I decided I wanted their email, categories of interest and any message they wanted to send me. I can change these questions at any time should I decide to.
7. I worked on the plan. I made sure that in every speech, I followed this plan. No excuses. It became the one action step I wanted everybody to do. So, when they asked me for bio information, I included the link. I included the link when I was interviewed for their podcasts and magazines. I had business cards and postcards made up with the link on it so they would remember. I focused on that one action step when I got space in the program or bought an ad. To drive people to the free gift. It is so much easier now that I am laser-focused on one thing.
8. I devised a strategy for what to do with the list. You can't just sit on a list of names. You have to have a plan for what to do now that you have their attention. I devised a plan that works for me and my business sales funnel.
9. I worked out the kinks. In the beginning, the way I set it up was all wrong. The technology wasn't working as well as it could. Instead of throwing up my hands in defeat, I went back to the drawing board and made the changes that needed to be made. As with any project, it doesn't always work on the first try. I'm still prepared to face other issues that may come. The point is that I did not quit.
So there you go. Not fancy. But it's working. I'm unsure what conversion numbers I'm getting, and I don't care for now. I'll look closer at that later. I'm happy because people are going to the free gift; even if it's only one out of ten, these are the people I want. These are the people who are fans. I am building a tribe.
One cool side effect is the comments. I didn't realize how inspiring it would be to read the comments people have left in the box called "messages for Kelly." We often do a job and leave and don't know how we did. These messages are ways for my audience to let me know how I touched their lives and what resonated most. It's a way for them to tell me what else they need and if they know a group I'm a good fit for.
This method works for me because I don't have to give them anything, put anything on tables and chairs, and pick them back up. They are incentivized to go there and get their free resources. And it's my way to stay in touch with them. I can change the information on this page whenever I want without worrying about people having an old link versus a new one.
Let's also talk about email segmentation.
Segmentation is one of the key secrets to harnessing the full potential of your email list. While collecting email addresses is essential, understanding your subscribers' specific interests and needs takes your email marketing to the next level. Segmentation involves dividing your email list into smaller, more targeted groups based on shared characteristics or behaviors.
Why Segmentation Matters:
A. Relevance: When you send tailored content to different segments of your list, subscribers are more likely to engage with your emails. They'll appreciate receiving information that aligns with their interests, increasing open and click-through rates.
B. Personalization: Segmentation allows you to personalize your messages by addressing subscribers by name and referencing their interests or past interactions with your brand. This personal touch strengthens the connection between you and your audience.
C. Better Conversions: Highly targeted emails are more likely to convert subscribers into customers or loyal fans. When subscribers receive content that resonates with them, they're more inclined to take action, such as attending your speaking events or purchasing your products.
How to Segment Effectively:
• Demographics: Start with basic demographic information, such as age, gender, location, and job role. This helps you create content that appeals to specific groups within your audience.
• Behavioral Data: Analyze how subscribers interact with your emails and website. Are they opening every email, clicking on certain types of content, or abandoning shopping carts? Use this data to tailor your messaging.
• Purchase History: Segment your list based on purchase history for your products and/or services. Offer relevant upsells, cross-sells, or exclusive discounts to previous customers.
• Engagement Levels: Divide your list into engaged and less engaged subscribers. Engaged subscribers might receive exclusive content or invitations, while less engaged ones could receive re-engagement campaigns.
• Content Preferences: Ask subscribers about their preferences when joining your list. Do they prefer articles, videos, or webinars? Use this information to send the type of content they desire.
• Event Attendees: If you're a speaker, create segments for attendees of specific events or workshops. Send them follow-up materials, exclusive insights, or early access to future events.
Tools for Segmentation:
Many email marketing platforms offer robust segmentation tools. Some platforms even allow for automation, automatically adding subscribers to relevant segments based on their actions. Consider using tools like Mailchimp, Constant Contact, or ConvertKit to streamline your segmentation efforts.
Incorporating segmentation into your email marketing strategy ensures that your subscribers receive content that resonates with them, increasing their engagement and loyalty. Remember that effective segmentation is an ongoing process, so regularly review and update your segments to stay in tune with your audience's changing preferences and behaviors.
Remember that each subscriber is a unique partner in this delightful email list-building dance. You'll build your list and nurture lasting connections with those who believe in your message through segmentation, personalization, and a commitment to adding value. So, as you embark on your motivational speaker journey, keep the rhythm of engagement alive and watch your speaking career flourish in harmony with your audience's needs.
Happy email list building!
Kelly Swanson is an award-winning storyteller, comedian, motivational speaker, Huffington Post Contributor, and cast member of The Fashion Hero television show airing on Amazon Prime. She is also the author of Who Hijacked My Fairy Tale, The Land of If Only, The Story Formula, and The Affirmation Journal for Positive Thinking. She was a featured entertainer for Holland America Cruise Lines, keynote speaker for the International Toastmasters Convention, and has keynoted major conferences and corporate events from coast to coast. She just launched her one-woman show Who Hijacked My Fairy Tale in theaters, and it is being booked all over the country. In July of 2022, she was inducted into the National Speakers Association Speaker Hall of Fame.
Note: Articles by Kelly may contain affiliate links and may be compensated if you make a purchase after clicking on an affiliate link.