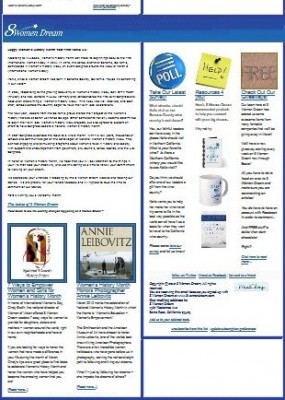 8-Mail News from the women of 8 Women Dream
Subscribing to our FREE "8-Mail" allows you to stay up-to-date on what's happening with 8 Women Dream all year long.
Take advantage of exclusive offers, free giveaways and learn all the ways to get more involved with America's #1 most trusted website for dream advice and personal development for women.
Newsletters are sent twice monthly.
We do not share your email address with anyone and no other solicitations will come to your email inbox from 8 Women Dream. We will not spam you.
To sign up for the 8WD newsletter, go to the left sidebar, or enter your email here:
Past 8 Women Dream email marketing newsletters —
March Personal Development Newsletter Issue #7 — Mar 14, 2012
February Personal Development Newsletter Issue #6 –Â Feb 14, 2012
January Personal Development Newsletter Issue #5 — Jan 18, 2012
December Personal Development Newsletter #4 –Â Dec 13, 2011
November Personal Development Newsletter #3 — Nov 24, 2011
July Personal Development Newsletter# 2 –Â Jul 30, 2011