Last updated on July 5th, 2022 at 12:46 pm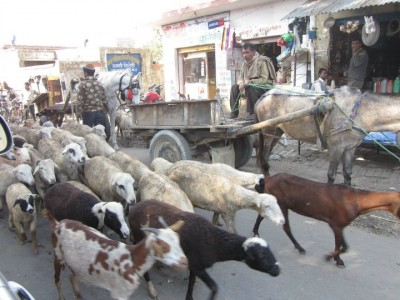 It is hard not to fall in love with India when your dream is to write a memoir and you find yourself suddenly thrown into her open arms.
She offers you everything.
A land of contrasts, she is modern and ancient. Glittering, and dusty.
From sequined saris on regal women, gliding through the streets, to the dirty faces of hungry children, begging "Please, Madame, please."
She has noisy, crowded city streets, horns honking, bikes and cars and auto-rickshaws jostling for position, and rural streets where yoked oxen walk silently, dragging carts of hay behind them.
Cars next to cows, in a land where for most the cow is too sacred to eat. There are icons on every dashboard of Lord Ganesha, Hanuman, and Krishna. In India, the sacred is everywhere, part of the everyday.
Palaces next to shacks. IT innovations and sacred pujas, are centuries old. Gurus and servants.
India has it all . . .
Order in Chaos
She is beautiful, and she is unruly.
Everyone said, "expect the unexpected" when traveling in India. Getting from Point A to Point B can take longer than expected, for example, if a flock of sheep holds up the traffic.
It can be challenging for a foreigner to obtain an international cell phone, since proof of residence is required, or to order a domestic plane ticket since international credit cards aren't accepted. India doesn't always make things simple for its travelers.
Instead, we are asked to step up to the challenge of navigating our way in the world's most populous democracy, where some of the world's wealthiest people live a stone's throw away from beggars in the street.
India calls upon our sharpness of mind, our awareness, and our resources. You have to really pay attention to drive in traffic that has no lanes. You have to find a way around the bureaucratic obstacles if you want to fly on a domestic plane. Friends bought some of my plane tickets, and I paid for others in cash, for example.
Surrender to the Flow
Somehow one gets the sense here that things always work out if you just surrender to the flow of life. Last week my friends and I had some travel adventures that could have tested the less-seasoned traveler beyond her limits.
Luckily I'm a veteran traveler, and nothing much phases me anymore on the roads.
On the way back from the wedding in Bareilly, we were running late after a hearty morning breakfast with family and friends. We had to reach Delhi in time to catch evening flights — mine to Mumbai, and the others to Pune.
We took a side road to save time, which gave me jewel-like glimpses of rural India: cows, monkeys, sheep, street acrobats, men and women balancing bundles of hay and sugarcane on their heads.
Somehow along the way on our detour, we got lost and lost time instead. The clock was ticking and we soon realized it would be virtually impossible to arrive at the airport in time for our flights.
We'd also originally planned to stop back at my host's home in Delhi to grab some items we'd stored there. I'd hoped to totally repack my suitcases, leaving some clothing behind, and bringing gifts for friends.
We no longer had time to do that, so my friend's driver would have to bring our bags to meet us at the airport.
My friend Nithya Shanti, the spiritual teacher I traveled to India to learn from and teach with, had us all chant "Divine Halfway" 10 times, which is a "switchword" that is supposed to help cut short the time it takes to get from one place to another. He also set the intention that his family's flights would all be delayed.
Eureka, they were, by an hour, so they were saved. My flight was still on-time however, as we discovered when we called the airlines. So I set about trying to change my flight to another time.
That turned out to be problematic as well since the ticket agent said I needed to cancel two full hours before the flight (it was about an hour and a half at that point) and since the flights the next day was twice as expensive.
Ask for the best possible solution, breathe, take action, and trust in the results. I practiced this. Nithya managed to find a flight on another airline that was at a good price, leaving for Mumbai that night.
Luckily, we'd booked my ticket through a friend's corporate account online, and there was a loophole ~ with corporate bookings, you could cancel a flight just one hour in advance.
With only minutes to spare, I canceled my flight and got a refund. My friends called my hosts in Mumbai, who agreed to send a driver to pick me up when my new flight arrived at 1 a.m. I bought my new plane tickets in cash when we arrived at the Delhi airport.
Better yet, we thought we'd have no time to stop and eat a meal along the way until Nithy's parents remembered that a cousin of theirs ran a restaurant at one of the rest-stops on the route. They called ahead, and when we arrived the table was already set for us, and hot spicy dishes were laid in front of us, along with steaming cups of chai, in minutes flat.
I had missed the call Nithya's mom made to arrange this, so I thought it was just divine timing–walking into a random restaurant where the table is already set, salads out on the table, and dishes ready in an instant. Divine.
All Is Well That Ends Well
In the end, we all got to our destinations that night, well-fed, safe, and in my case still glowing with happiness after Nithya's cousin's wedding.
All the pieces of the puzzle clicked into place just in time for all of us to catch our flights. In the end, really, we'd just had an added adventure, one more fun story to share.
We just had to breathe through the chaos, search for solutions, and keep moving forward. And everything worked out fine.
Letting Go of Cherished Independence
Here in India, more so than anywhere else I've ever traveled, I've had to simply let go of control, and let others guide me.
I'm not able to use my cell phone here, and couldn't get an international phone. I don't always have Internet access. I'm unplugged, in cities that are new and foreign to me.
I'm dependent on other people more so than I remember being, anywhere I've been before.
Yet there is such a beauty to it all. Everyone has taken exquisite care of me and treated me like family. Every planned day and adventure has been magical, and for me, the detours along the road were every bit as much fun.
Taking the side road to Delhi meant that I got to see a tiny street acrobat balancing six shining silver pots on her head while walking a tightrope above a gawking crowd. I saw monkeys, oxen, and rural women in sparkling saris walking the streets like so many queens, sometimes with baskets balanced delicately on their heads, heads straight, necks proud.
I got to make it through it all with dear friends, knowing that we'd find our way together. I got extra time to laugh with the family, snap photos on the street, and play silly games in the car.
Honestly, it was more exciting than just skating smoothly to our destination with no snags. Being tested by challenges can bring out people's testy nature, and can also bring out the best in us. This family stood together to be sure everyone made it to their next stop safely and it was beautiful to be a part of that.
Living Our Dreams Means Taking Risks, and Surrendering
I don't think we can live our biggest dreams in the world, which for me include traveling the world teaching, as I am doing now, without taking some risks, and without surrendering control at times as well.
We think we are in charge of everything, and yet so often it takes a whole team to make things happen. It can also mean taking a back seat sometimes to let others direct the course of events and to simply let go.
Surrender is powerful.
To make your dreams happen, would you consider surrendering:
•  Some creature comforts, like your own warm bed or hot shower, for a while?
•  Getting it all done your way every time?
•  Knowing how to navigate your way?
•  And even who you have been in the world up until now?
When we are really ready to let go of everything, I think we are fully ready to live our dreams. Amazingly when you surrender and trust, I find that life takes care of you as well. I've been so well-cared for here in India. I feel so incredibly loved.
Lisa Powell Graham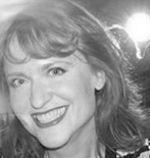 Lisa P. Graham is an inspirational writer, life coach, TED motivational speaker, and globe-trotter whose passion is to help others to find happiness and meaning in their daily lives. A political activist at heart, Lisa would like to empower more women to run for political office as a way to create positive change in the world. You can find her on her website or watch her TEDx speech on YouTube.
Note: Articles by Lisa may contain affiliate links and may be compensated if you make a purchase after clicking on an affiliate link.