Last updated on June 6th, 2018 at 11:17 pm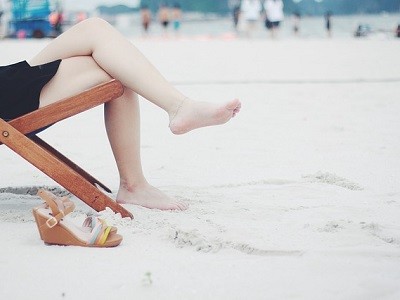 As someone who is a world traveler, you might be surprised to know that I love visiting the Jersey Shore. If you are a world-travel dreamer too, then I recommend you add Jersey Shore as a stop on your summer travel dream bucket list.
I grew up going to the Jersey Shore over the lazy, hazy days of summer, always that girl who burned in a heartbeat and never tanned, who lusted after the lifeguards, loved the boardwalk, soft serve, and caramel corn.
I never was inclined to watch the TV show, Jersey Shore because it doesn't reflect the Jersey I know. My dad's side of the family grew up in tough neighborhoods around Atlantic City, and they are the quintessential large, raucous, fun, fiercely loyal and devoted Irish family.
A number of my aunts and uncles still live on the shore, although my dearly beloved grandparents are no longer with us.
And my parents own a condo just four blocks from the ocean and one block from the bay in Longport, New Jersey. Longport is part of the 8.1 miles long Absecon Island, southwest of Margate, Ventnor and Atlantic City.
The 2010 population was 895 people–whether that is the summer or winter population, I don't know, but sounds like winter to me because of course people flock to the shore in the sunny summer days. The beaches are packed, with young deeply tanned moms in bikinis, toddlers running around, flirty teenagers, older lifelong residents of the shore, and pale visitors like me, imported in from other parts!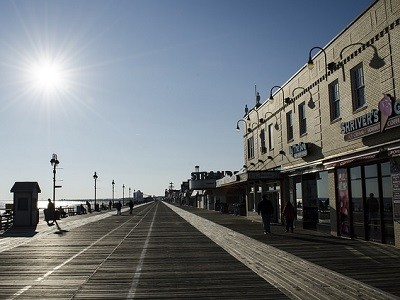 Parts of Jersey were devastated by Hurricane Sandy in October 2012 were disastrous, with economic losses to businesses of 30 billion, 346,000 homes damaged or destroyed, and two million losing power.
My parents and family were incredibly lucky with power outings being the worst of it for some of the family. The area has been mostly rebuilt and Longport felt back to normal, in the full summer swing of things, by my first shore visit this past weekend.
The restaurants along the bay that had endured some damages were up and running again. Drinks by the bay at sunset, a short walk to a soft serve cone, exquisite Greek food at Sofia's Mediterranean Grill, fish and continental at Steve and Cookie's and DJed dancing for a mostly older crowd at Memories–all were packed with night-time crowds again this past weekend, lights on, doors open and the streets full of summer visitors, laughter and the smell of suntan lotion.
Splashing in the ocean waves, walks to the rock jetty at the end of the Longport, strolling the boardwalk, quick visits now and then to the Atlantic City casino slot machines just because it's such a bright noisy spectacle to be there, flashing lights and bells and whistles and one hopes the sound of hitting the jackpot–all of this and more are typical highlights of visits to the shore.
I haven't hit the jackpot at the casinos yet but I win a few dollars here and there, enough to buy a frozen chocolate covered banana or a stack of postcards, and that's enough entertainment for me from the casinos.
Summer Travel Fun with Family
This summer, I will have the joy of spending time at the shore with the lights of my life: my angelic niece Luna, four-years-old, and my wild little two-year-old nephew, Nico. My globe-trotting sister, Carrie will be there with the kids and I get to spend time with the joys of my life, these two little people.
I can't wait–my corner of the planet is fun with Luna and Nico, playing games and giggling with my favorite little ones, and getting to spend time by the ocean with them, playing in the water and sand–even better! Seeing Luna and Nico will be the highlight of the summer for me, since these two travel so much with their parents and time with them is such a rare treat!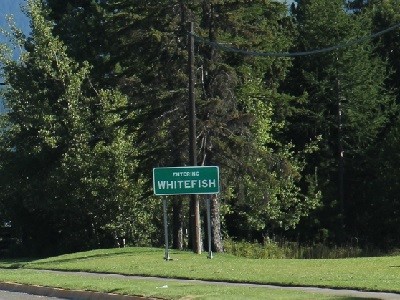 Also on my travel dream bucket list this summer, are trips to the San Francisco Bay Area, Virginia, and Montana–for business and pleasure.
I'm excited about returning to my favorite city by the bay, San Francisco, too, where I lived from 2005 to 2008, and about visiting Big Sky Country in Montana, to see my sister Margaret who lives on a farm near Whitefish.
Traveling is one of the great joys of my life, and always has been. Nothing makes me happier than time with my favorite kids on the planet, Luna and Nico, so between the beautiful destinations and days full of laughing and playing with the kiddos, it should be an epic-ly wonderful summer spent marking travel experiences off of my world travel bucket list!
Traveling within the United States can be as wonderful as traveling abroad. There are so many amazing places to explore right here. If you can't travel abroad, consider exploring places within your backyard. You'll be amazed by what you experience.
Enjoy your summer travel dreams!
Lisa Powell Graham
Travel Dream Books: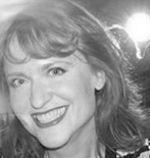 Lisa P. Graham is an inspirational writer, life coach, TED motivational speaker, and globe-trotter whose passion is to help others to find happiness and meaning in their daily lives. A political activist at heart, Lisa would like to empower more women to run for political office as a way to create positive change in the world. You can find her on her website or watch her TEDx speech on YouTube.
Note: Articles by Lisa may contain affiliate links and may be compensated if you make a purchase after clicking on an affiliate link.