Last updated on November 14th, 2019 at 09:58 pm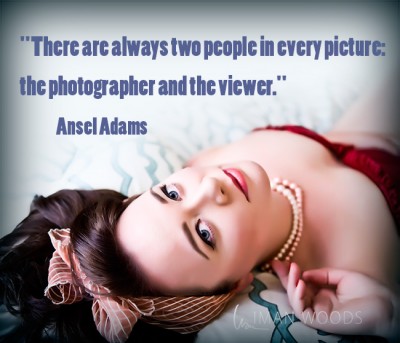 Is your big dream to become a famous photographer? Are you looking for inspiration to go after this big dream of yours?
If so, you're in for a treat this week because I've assembled 50 of the most inspirational quotes for photographers. This collection of the best, most inspiring photography quotes by famous photographers are meant to offer something for the seasoned photographer and for the budding photography dreamer just starting out.
I've gathered these inspiring quotes from famous photographers around the world. Some famous photographers you may know and others you should research and get to know.
Oh, and the images are by me. So enjoy!
The 50 Most Inspiring Famous Photographer Quotes of all Time
1. "A lot of photographers think that if they buy a better camera they'll be able to take better photographs. A better camera won't do a thing for you if you don't have anything in your head or in your heart." – Arnold Newman
2. "There are always two people in every picture: the photographer and the viewer." – Ansel Adams
3. "Beauty can be seen in all things, seeing and composing the beauty is what separates the snapshot from the photograph." – Matt Hardy
4. "To me, photography is an art of observation. It's about finding something interesting an ordinary place… I've found it has little to do with the things you see and everything to do with the way you see them." – Elliott Erwitt
5. "Look and think before opening the shutter. The heart and mind are the true lens of the camera." – Yousuf Karsh
6. "The photograph itself doesn't interest me. I want only to capture a minute part of reality." – Henri Cartier-Bresson
7. "If I saw something in my viewfinder that looked familiar to me, I would do something to shake it up." – Garry Winogrand
8. "Remember that the person you are photographing is 50% of the portrait and you are the other 50%. You need the model as much as he or she needs you. If they don't want to help you, it will be a very dull picture." – Lord Patrick Lichfield
9. "Photography is a love affair with life." – Burk Uzzle
10. "When words become unclear, I shall focus with photographs. When images become inadequate, I shall be content with silence." – Ansel Adams
11. "It can be a trap of the photographer to think that his or her best pictures were the ones that were hardest to get." – Timothy Allen
12. "Photography is not about the thing photographed. It is about how that thing looks photographed." – Garry Winogrand
13. "The most important part of a camera is the 12 inches behind the viewfinder." I really hate it when someone looks at my photos and says, "Wow, you have a great camera!" – Ansel Adams
14. "Life is once. Forever." – Henri Cartier-Bresson
15. "To me, photography is an art of observation. It's about finding something interesting an ordinary place… I've found it has little to do with the things you see and everything to do with the way you see them." – Elliott Erwitt
16. "I never have taken a picture I've intended. They're always better or worse." – Diane Arbus
17. "If I am at a party, I want to be at the party. Too many photographers use the camera to avoid participating in things. They become professional observers." – Robert Mapplethorpe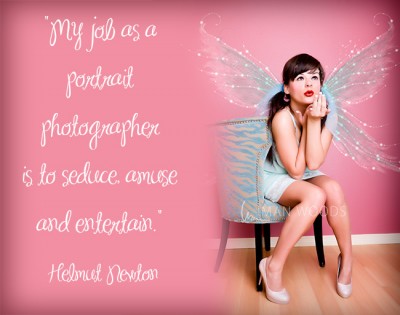 18. "My job as a portrait photographer is to seduce, amuse and entertain." – Helmut Newton
19. "If your photos aren't good enough, then you're not close enough." – Robert Capa
20. "It is more important to click with people than to click the shutter." Alfred Eisenstaedt
21. "There is a vast difference between taking a picture and making a photograph." – Robert Heinecken
22. "You don't take a photograph, you make it." – Ansel Adams
23. "The best images are the ones that retain their strength and impact over the years, regardless of the number of times they are viewed." – Anne Geddes
24. "I love the people I photograph. I mean, they're my friends. I've never met most of them or I don't know them at all, yet through my images, I live with them." – Bruce Gilden
25. "Photographers deal in things which are continually vanishing and when they have vanished there is no contrivance on earth which can make them come back again." – Henri Cartier-Bresson
26. "In photography, there is a reality so subtle that it becomes more real than reality." – Alfred Stieglitz
27. "One should really use the camera as though tomorrow you'd be stricken blind. To live a visual life is an enormous undertaking, practically unattainable. I have only touched it, just touched it." – Dorothea Lange
28. "Skill in photography is acquired by practice and not by purchase." – Percy W. Harris
29. "If I like many photographers, and I do, I account for this by noting a quality they share – animation. They may or may not make a living by photography, but they are alive by it." – Robert Adams
30. "Light makes photography. Embrace light. Admire it. Love it. But above all, know light. Know it for all you are worth, and you will know the key to photography." – George Eastman
31. "It's one thing to make a picture of what a person looks like, it's another thing to make a portrait of who they are." – Paul Caponigro
32. "Now, to consult the rules of composition before making a picture is a little like consulting the law of gravity before going for a walk." – Edward Weston
33. "Great photography is about depth of feeling, not depth of field." – Peter Adams
34. "There is only you and your camera. The limitations in your photography are in yourself, for what we see is what we are." – Ernst Haas
35. "I think all art is about control, the encounter between control and uncontrollable." – Richard Avedon
36. "When I was on trips I used to put Polaroid's in a container with sea water, sand and pebbles. I'd swirl it all around to get scratches. It's this random element that I call 'the drip'. It's the drip which might splash onto the other side of the canvas when you're working on a painting and make you think 'that is good', possibly leading you to explore other things. My whole life is spent in search of the drip; it can change everything." – David Bailey
37. "Maybe the judgment of whether something is art or not should come from the viewer and not the doer." – Alan Babbitt
38. "Photography takes an instant out of time, altering life by holding it still." – Dorothea Lange
>39. "If I could tell the story in words, I wouldn't need to lug around a camera." – Lewis Hine
40. "Light glorifies everything. It transforms and ennobles the most commonplace and ordinary subjects. The object is nothing, light is everything." – Leonard Missone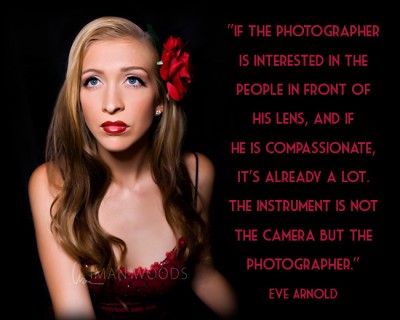 41. "If the photographer is interested in the people in front of his lens, and if he is compassionate, it's already a lot. The instrument is not the camera but the photographer." – Eve Arnold
42. "Photography can only represent the present. Once photographed, the subject becomes part of the past." – Berenice Abbott
43. "One doesn't stop seeing. One doesn't stop framing. It doesn't turn off and turn on. It's on all the time." – Annie Leibovitz
44. "You've got to push yourself harder. You've got to start looking for pictures nobody else could take. You've got to take the tools you have and probe deeper." – William Albert Allard
45. "No place is boring if you've had a good night's sleep and have a pocket full of unexposed film." – Robert Adams
46. "Of course, there will always be those who look only at technique, who ask 'how', while others of a more curious nature will ask 'why'. Personally, I have always preferred inspiration to information." – Man Ray
47. "A good snapshot stops a moment from running away." – Eudora Welty
48. "Every other artist begins with a blank canvas, a piece of paper… the photographer begins with the finished product." – Edward Steichen
49. "Your first 10,000 photographs are your worst." – Henri Cartier-Bresson
50. "I see something special and show it to the camera. The moment is held until someone sees it. Then it is theirs." – Sam Abell
Do you have a favorite inspiring quote from a top photographer? Please share it!

Iman Woods is an American artist who specializes in pin-up photography. Through a unique and therapeutic process, she's spent over a decade in perfecting, Iman helps women undo the damage from a negative self-image and unrealistic beauty industry expectations. She helps women embrace their own style of beauty and see themselves in a new light. You can find her on her website, ImanWoods[dot]com.
Note: Articles by Iman may contain affiliate links and may be compensated if you make a purchase after clicking on an affiliate link.