Last updated on November 14th, 2019 at 09:58 pm
From St Augustine to Mark Twain and Kurt Vonnegut, travel has inspired writers down the centuries.  Inspirational quotes have a way of shifting our perspectives and change the way we see the world, and none are as mind-altering as those travel perspectives shared by famous authors through the ages.
If your big dream is to travel the world or travel to a specific location, yet you feel like the opportunity to achieve this dream is impossible, then inspirational travel quotes may help you believe in your ability to make your wildest travel dreams a reality. Someone sharing a statement about achieving what you want to achieve can be a powerful lure for you to get up and do something about the idea you've been kicking around in your mind.
When you find an incentive that helps you feel you can do something, you're more likely to do it, and this is where inspirational quotes can help you achieve your dream. And who better to use as inspiration than famous authors?
8 Inspiring Quotes about Travel by Famous Authors
1. 'The world is a book and those who do not travel read only one page.' – St. Augustine
St. Augustine of Hippo lived in the Fourth Century (354 – 430) and was a bishop in what is now the North African country of Algeria. A philosopher and theologian, he had a marked influence on the development of early Latin Christianity and Western philosophy.
Whether he actually said this quote attributed to him, or whether it is a 19th Century interpretation is debatable, but I love the metaphor of the world as a book and to study and observe it as you travel.
2. 'Twenty years from now you will be more disappointed by the things that you didn't do than by the ones you did do. So throw off the bowlines. Sail away from the safe harbor. Catch the trade winds in your sails. Explore. Dream. Discover.' – Mark Twain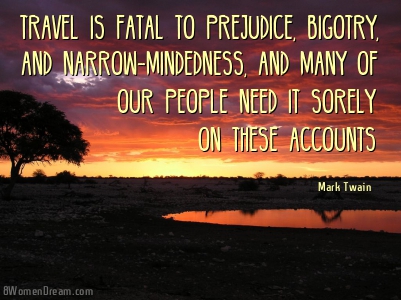 Mark Twain truly was a world traveler.  He traveled extensively in North America, Europe, and the Middle East.
Mark Twain wrote one of the best-selling travel books of all time, "The Innocents Abroad" where he amusingly recounts his "Great Pleasure Excursion" on the Quaker City steamship through the Holy Land and Europe shared with other American travelers.
There have been many times when I have had to make a decision about whether to take the trip, weighing up financial and time commitments. But I can honestly say that I have never regretted any of my travel and certainly won't in 20 years. Whenever I stress about an impending trip, I remember how Mark Twain viewed his life circumstances and he always looked to find the humor hidden within any situation.
Another of my favorite Mark Twain travel quotes is:
Travel is fatal to prejudice, bigotry, and narrow-mindedness,
and many of our people need it sorely on these accounts.
3. 'Not all those who wander are lost.' – JRR Tolkien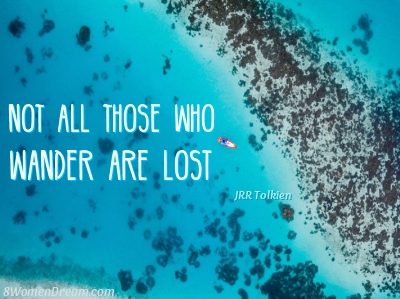 John Ronald Reuel Tolkien was as varied as his travels. He was an English writer, poet, philologist, and university professor and author of The Hobbit, The Lord of the Rings, and The Silmarillion. Yes, I am a long-time JRR Tolkien fan and now that the film versions of his novels are inextricably linked with the landscapes of New Zealand, a country I once called home, I have even more reason to love them.
The more I travel, the more I want to go. I have also been criticized for my semi-rootless travel dream lifestyle and my willingness to travel alone or with our young daughter at practically a moment's notice. I am very different from Tolkien as he rarely traveled, or went abroad, and when he did travel, he'd take his family to only popular English resorts along the coast.
I am always looking for the next adventure, and I thrive on change. I'm okay with living an adventurous travel life with my family in tow.
4. 'Travel is the only thing that makes you richer.' – Author Unknown
In the same vein, I'd rather be the most financially unfortunate person in the cemetery but rich in travel experiences. I have seen the 'travel makes you richer' quote all over the Internet but can't establish its origin.
I believe the idea is to value new experiences and adventures more than gathering stuff that everyone left behind will simply donate and sell upon your death. Your travel memories and experiences go with you wherever to are, and you can't say this about all the unused goods you gather in your home.
To be honest, there are times when I'm still tempted to be drawn back into the world of over-consumerism, where life revolves around working long hours to accumulate objects we rarely use or live in homes with rooms we never occupy. But nothing can compare with the happiness and satisfaction you gain from seeing the world and experiencing new cultures.
You have to be open to the new and not travel to places where you expect the food and the experience to be just like home. Why travel if you just want your same home experiences but in a different location?
5. 'One's destination is never a place, but a new way of seeing things.' – Henry Miller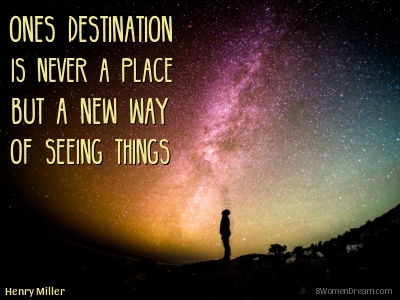 Henry Miller was an iconoclastic 20th Century American novelist and painter who also wrote travel memoirs based on his experiences in America and Europe. Some of his most famous semi-autobiographical novels are Tropic of Cancer, Black Spring, Tropic of Capricorn and The Rosy Crucifixion trilogy.
Miller loved to break down barriers and social taboos within the pages of his writings. Being free was an essential part of his writing and maybe his persona; thus the numerous times he was married and divorced.
My guess is that he would say that the benefit of travel is to dispel fear and gain understanding and seeing the world in new ways each time you visit a new country or culture is the goal. Travel invites you to face your insecurities, break down your walls of racism and judgment and be open to the world as one.
6. 'Perhaps travel cannot prevent bigotry, but by demonstrating that all peoples cry, laugh, eat, worry, and die, it can introduce the idea that if we try and understand each other, we may even become friends.' – Maya Angelou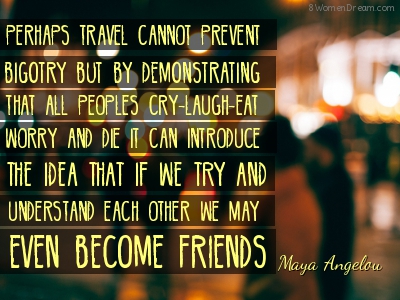 God how I have loved Maya Angelou. Maya Angelou was an American poet, singer, memoirist, and civil rights activist. She published seven autobiographies, three books of essays, several books of poetry, and is credited with a list of plays, movies, and television shows spanning over 50 years. (Source Wikipedia)
This legendary writer and civil-rights activist traveled frequently, spreading wisdom that overcomes fear. She was the first female San Francisco Cable Car conductor and she loved traveling up and down the hills of San Francisco.
In Maya Angelou's  1993 book, "Wouldn't Take Nothing for My Journey Now," is where the above quote originated as she wrote about travel, especially for Americans:
"A tourist, browsing in a Paris shop, eating in an Italian Ristorante, or idling along a Hong Kong street, will encounter three or four languages as she negotiates the buying of a blouse, the paying of a check, or the choosing of a trinket. I do not mean to suggest that simply overhearing a foreign tongue adds to one's understanding of that language. I do know, however, that being exposed to the existence of other languages increases the perception that the world is populated by people who not only speak differently from oneself but whose cultures and philosophies are other than one's own. Perhaps travel cannot prevent bigotry, but by demonstrating that all peoples cry, laugh, eat, worry, and die, it can introduce the idea that if we try to understand each other, we may even become friends."
She will be forever mourned.
7. 'Unusual travel suggestions are dancing lessons from God.' – Kurt Vonnegut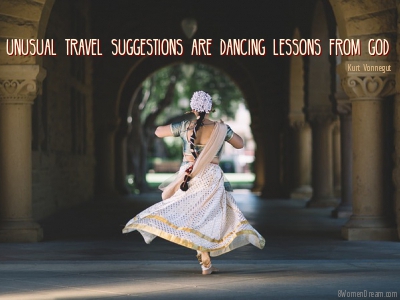 Another 20th Century novelist and humanist, Kurt Vonnegut was a quintessential storyteller. When I'm traveling I'm always thinking about what a good story my experience is going to be when I share my thoughts with my readers.
Kurt Vonnegut was born in Indianapolis, Indiana, USA in 1922. He studied at the universities of Chicago and Tennessee and later began to write short stories for magazines. His first novel, Player Piano, was published in 1951 and since then he has written many novels, among them: The Sirens of Titan, Mother Night, Cat's Cradle, God Bless You Mr. Rosewater, Welcome to the Monkey House a Collection of Short Stories, Breakfast of Champions, Slapstick or Lonesome No More, Jailbird, Deadeye Dick, Galapagos, Bluebeard, and Hocus Pocus.
During the Second World War, he was held prisoner in Germany and was present at the bombing of Dresden, an experience which provided the setting for his most famous work to date, Slaughterhouse Five. He has also published a volume of autobiography entitled Palm Sunday and a collection of essays and speeches, Fates Worse Than Death. (Source Amazon)
I love the idea this quote speaks to me that God is guiding my feet (and hopefully Salsa) while I travel.
8. 'I [had] added another small piece to the pages of the atlas that were real to me.' – Evelyn Waugh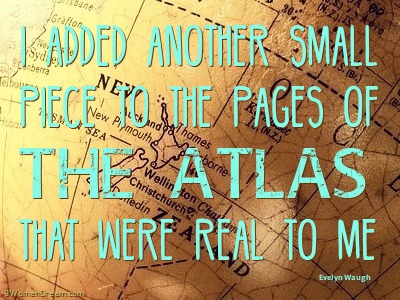 The travel quote above is from the author, Evelyn Waugh's 1930s travelogue, "92 Days" and I have to include it because 'making the pages of the atlas real' is my tag line on my world travel website and blog, World Wandering Kiwi.
Arthur Evelyn St. John Waugh, known by his pen name Evelyn Waugh, was an English writer of novels, biographies and travel books; he was also a prolific journalist and reviewer of books. His most famous works include the early satires Decline and Fall and A Handful of Dust, the novel Brideshead Revisited, and the Second World War trilogy Sword of Honour. (Source: Wikipedia & Amazon)
Waugh was a seriously intrepid traveler whose adventures make my travels look extremely tame!
I've always been fascinated by maps and my travel inspiration is making the pages of the atlas real, one trip at a time.
I hope you also find inspiration in these quotes by writers who loved how travel will change you for the better. Take a chance on your world travel dream. Start a small travel jar. Open a special bank account and set aside a small amount each month. Eventually, you will have enough to plan and implement your biggest travel dream. Do it. Start today.
To your world travels!
Natasha von Geldern
Natasha von Geldern is a travel writer, editor, and blogger who is passionate about making the pages of the atlas real by traveling the world. She is a contributor to Travel Wire Asia, Wild Junket Magazine, Yahoo! Total Travel, and Travelbite. You can find her on her travel website and blog, WorldWanderingKiwi.
Note: Articles by Natasha may contain affiliate links and may be compensated if you make a purchase after clicking on an affiliate link.