When I first started blogging and going for my dream of being an international speaker, I was always the interviewer — the girl who interviewed amazing, successful women from around the world.
But lately as my dream continues to unfold, I have found myself being the interviewee.
It's a strange feeling when people begin to support your dream, the work you do, and they ask to hear more about your accomplishments. If someone would only invite me to speak at a seminar outside of South Africa, then my dream would be true…
Until that day… I continue on.
Recently, I was interviewed by Australian mom blogger, Desmore Nero. She was chosen as an Inspirational Women in 2012 and I also interviewed her for my blog, Just Pursue It.  It was flattering to have someone ask about my dreams and all that I am trying to accomplish while raising a toddler who is teething, as we speak.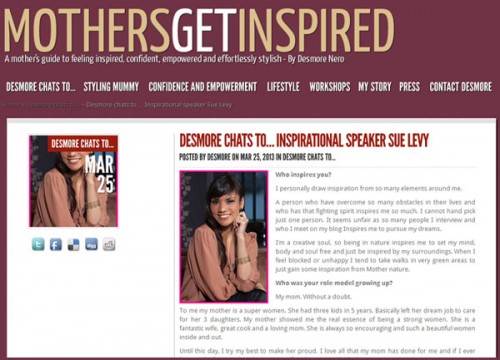 Here's the interview –
1. Desmore: Who inspires you?
Sue: I personally draw inspiration from the elements around me.
A person who has overcome obstacles and has that fighting spirit inspires me too. I cannot hand-pick just one person. It seems unfair to name only one since there are countless women who I've interviewed that have inspired me to pursue my dreams.
I'm a creative soul, so being in nature inspires me to set my mind, body and soul free and just be encouraged by the surroundings. When I feel blocked or unhappy I enjoy walks in green areas to gain encouragement from Mother nature.
2. Desmore: Who was your role model growing up?
Sue: My mom. Without a doubt.
To me my mother is a super woman. She had three kids in 5 years. She basically left her dream job to care for her 3 daughters. My mother showed me the real essence of being a strong woman. She is a fantastic wife, great cook and a loving mom. She is always  encouraging and she's a beautiful woman, both inside and out.
Until this day, I try my best to make her proud. I love all that my mom has done for me and if I ever become half the mother she is to myself and my sisters, I'd be happy.
3. Desmore: What motivates you?
Sue: Failure.
It may sound silly at first, but I am not perfect. I drop the ball at times and I'm not proud of those moments. In making mistakes I go into "re-do mode" and set my mind to try harder and work to get better results– there is no turning back.
When I started writing motivational content, several people felt that my blog would never be a success. I didn't want to be a fashion blogger, even after enjoying a long career in modelling. Inspiring people is my passion.
In just one year, my blog won 1st runner up in the South African Blog Awards.  I smile at the failures in my past and I look forward to the more accomplishments.
Failure motivates me to do my best. With this mindset, I am bound to succeed.
4. Desmore: Can you tell us about the inspirational work you are doing in South Africa?
Sue: I am a motivational speaker and writer by profession. My work only includes supporting people in a positive way.
I am the creative director behind my blog, "Just Pursue It." It's an award-winning motivational blog that empowers and motivates readers from around the world. Most of my content is about the lessons that I have learned. The beauty of writing is that I can use my experiences to uplift others and feel fulfilled.  My writings have been featured in magazines such as Oprah magazine, Inspire magazine, and other online publications.
I am also the founder of the Inspirational Women's Initiative where I interview women from around the world to share their success stories and give my readers a word of encouragement. It's been a pleasure to interview a legion of amazing women. With every interview I gain a deeper appreciation for how women work hard to keep balance in their lives.
I am the co-founder of the foundation, "Inspirational Women International."  I am launching the website (iwomeni.org) in a few weeks. Our goal is to spread the word of "positivity" in schools, women's organisations and academies all over the world with workshops and motivational talks. I have been invited to speak at events and correctional facilities to help people pursue a positive life and move forward to the life of their dreams. My dream is to take these talks to the international stage.
With that said, I am always looking to partner with organisations.  I believe that we can only make a difference when we work together as women to achieve a goal. I openly invite any women who read this to email me and I'll see where I can assist with my talks and writing services.
5. Desmore: Your website is inspirational and motivating what inspired you to begin this journey?
Sue: Thank you for that compliment.
The story is actually my tragedy-to-triumph story. I lost a friend to brain cancer in 2011. Before she passed away I spent countless days simply enjoying her friendship. She was remarkably down-to-earth and I loved how she didn't allow cancer to paralyze her from doing good in the world. She was the strongest person I knew – even the cancer could not get her down!
Before she lost her battle with cancer she told me that I needed to pursue my dreams.  She knew I wanted to touch the lives of people. The Just Pursue It blog is an ode to her life. It's dedicated to her and is reflective of the message she gave me when she was alive.
6. Desmore: As a motivational speaker what are a few key challenges your audience has discussed with you and how do you address those issues?
Sue: The main challenge is speaking in front of a large crowd. I always get nervous, but after the first 5 minutes, I do what I was paid to do, I inspire with my words.
I remind women how amazing and powerful they are and to believe in themselves — especially during challenges when we tend to become too easily discouraged
I get booked for my talk called "Inspired to Rise Above It." I talk about rising above mistakes and our current circumstances, how we as women can pursue the life of our dreams, and how to use challenges as a mechanism to make us stronger.
Women can lose self-confidence after having kids, after the loss of a job, or after divorce. My job is to remind them that self-confidence and a fighting spirit still lives in their heart.
7. Desmore: How do you juggle motherhood and running a successful media design company?
Sue: Somehow I make it work. It's still challenge even with a routine.
I'll be honest, in the beginning I thought I was supposed to do it all myself. That lead to me being hospitalized because I was working myself to death. It was a shock to see how hard I was on myself. But now things have changed for the better.
I wanted to be a full-time mom, but I knew that as an international speaker I wouldn't be able to take my daughter with me to corporate events.
My daughter goes to a daycare for a few hours a day. She is now the happiest person because she has little friends and a teacher she loves. At first, I cried every day, but now as I leave her at daycare she blows me kisses and I feel better. She's becoming a little Miss Independent at only 18-months-old!
A schedule is important when running a business and foundation — all working moms need a schedule for that matter. My work contributes to the greater good, so I need to manage my time.
Managing your time is crucial because it helps you know when it's time to switch everything off. The minute my husband and daughter come home, I turn my focus to them. Family time is significant to me. It's what feeds my soul and makes me happy.  I love to watch my husband and daughter enjoy a meal I just made or when we go for walks in the evening.
8. Desmore: What is your favorite inspirational quote?
Sue: This quote was given to me in my 21st birthday speech by my father, It has stuck since then.
"A successful man is one who can lay a firm foundation with the bricks others have thrown at him."
– David Brinkley
9. Desmore:  What is your favorite restaurant is Cape Town?
I have many! Cape Town is known for their eclectic mix of cultures and the same goes for their food.
I love the place called Bo-Kaap Kombuis.  It is where I had my wedding reception and it has views of the Bo-Kaap Malay quarters against the backdrop of the majestic Table Mountain. Its where I go for beautiful food with beautiful scenery.
A tip: Get a table on the balcony. It's the perfect romantic setting. I love their Butter Chicken Curry made with cashew nuts and served with Roti.
10. Desmore: What is your favorite shopping destination in Cape Town?
Sue: It has to be Canal Walk Shopping Center.
11. Desmore: If you were to summarize Cape Town in two sentences what would it be?
Sue: The place where the ocean meets the souls of beautiful people. My place of birth and a city I call home.
12. Desmore: Do you have any advice for the Mothers Get Inspired readers?
Sue: Just pursue to be the best possible you.
It is never to late to be who you were destined to be. Yes life can be hard, but you were born to handle the circumstances that come your way. Start believing in yourselves, ladies. You are mothers, wives, daughters, granddaughters, and most importantly, women.  You were uniquely and beautifully made by our creator.
Begin today to value yourselves more and you will see how the life you work for can unfold before your very eyes.
The point of my interview is to let women know that hard work pays off. No matter how hard it is when you are in life's line of fire and rejection eats at your soul — you must always remember your dream.
Your dream will give you the courage to carry on, to overcome the negative, and ignite your fighting spirit to change your stars. This past week I fought hard for my dream goal and I achieved it.
You will notice that I titled this article, "12 Dream Answers From International Speaker Sue Levy" because you need to claim your dream in real-time as often as possible — until it becomes real.
Dream on ladies.
Sue
Original Interview can be read here: Desmore Chats With International Speaker Sue Levy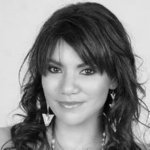 Sue Levy is the founder of the South African Just Pursue It Blog and Inspirational Women Initiative. She's a motivational writer and media designer, who is obsessed with everything inspirational with a hint of geek. She thrives on teaching women how to be brave and take big chances on themselves. You can find Sue on her Twitter page @Sue_Levy.
Note: Articles by Sue may contain affiliate links and may be compensated if you make a purchase after clicking on an affiliate link.