Last updated on January 22nd, 2019 at 02:09 pm
Sometimes the words don't come. As a writer and a visual artist when I get super busy with work I have trouble making the creative juices flow. So I took a creative break and photographed the fleeting dogwood blossoms of North Carolina. I didn't spend as much time as I would have liked. Client work comes first. But the break got the creative juices flowing. And I got to appreciate something beautiful that disappeared within a few days.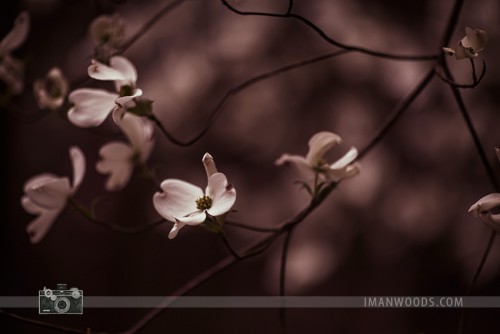 Iman Woods is an American artist who specializes in pin-up photography. Through a unique and therapeutic process, she's spent over a decade in perfecting, Iman helps women undo the damage from a negative self-image and unrealistic beauty industry expectations. She helps women embrace their own style of beauty and see themselves in a new light. You can find her on her website, ImanWoods[dot]com.
Note: Articles by Iman may contain affiliate links and may be compensated if you make a purchase after clicking on an affiliate link.