Last updated on January 23rd, 2019 at 10:40 am
Dream big and you need a lot of inspiration. Some of my fellow dreamers out there will understand when I say that I don't jump out of bed inspired each and every day.
Watching amazing dreamers dream big and achieve their fitness goals gets my engine going.
If they happen to be in my age group, that's just a bonus.
Dara Torres is an American swimmer that has competed in a record five Olympic games and at age 41 is the oldest swimmer to ever place for the U.S. Olympic team.
Her swimming career includes twelve Olympic medals, four of each – gold, silver and bronze. In the 2008 Olympic games her times in 3 events each won her a silver medal.
As a 41 year old you see things differently… you appreciate things, you're more aware of things, more cognizant of things. People can talk about my age but it really was a huge advantage for me.
– Dara Torres
Dara Torres was the oldest women on the Olympic team back in 2000 at age 33.
When asked after her five medal win in the 2000 games if she would be back in 2008 she told the reporter that was the most stupid question ever.
She admits she may owe that reporter an apology now.
When she talks about why she chose to compete once again, she describes it more as peer pressure from her fellow Masters swimmers. There was no light-bulb moment. Just a decision that most dreamers will find familiar. That moment when it went from thought to action.
Dara's first competition on the road to the 2008 Olympic team was 15 months after giving birth to her first child. Based on her past records, determination is key to Torres' sucess. She has lowered or broke her own 50 freestyle swimming records ten times, the most any American swimmer has accomplished in any event.
I love this quote from Dara for a few reasons. I've seen this in the pool myself. I'm new to swimming, having jumped into getting "real" swimming training myself only 2 years ago.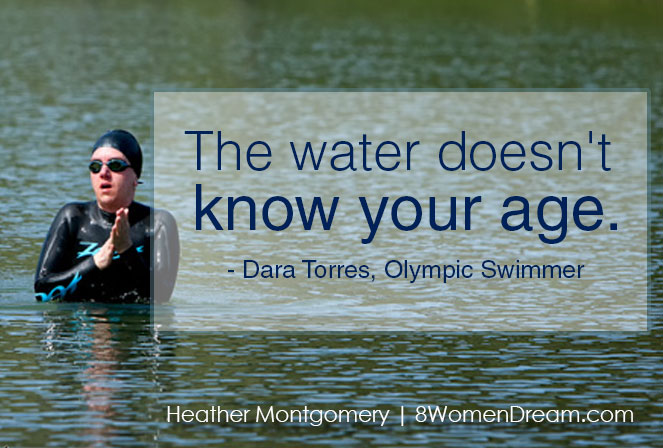 Swimming doesn't care about your age, your dress size, or your fitness level.
Getting in and making it from one end of the pool to the other in your fastest time ever is such a rush.
In Dara's book "Age is Just a Number" she shares how her decision to make an Olympic comeback came just months into her first pregnancy, which was a challenging process. She shares how she mixes nursing her infant daughter with the time impact of a serious training schedule.
Torres comments on being older while training in the pool with younger athletes. The process of discovering that moment when you know you can never give up.
Who is your dream inspiration?
Do you find it helpful when you are working on your dream to seek out someone who has achieved an amazing feat? Who are the dream big dreamer you turn to?
Comment and let us know – I'm always looking for more inspiration!
Go get your fit on – Heather
[fbcomments]

Heather Montgomery is a fitness writer, triathlete, and serial entrepreneur who is devoted to sharing what she has learned about becoming a triathlete after age 40. She uses her Metabolic Training Certification to help other women struggling to get fit in mid-life. She lives and trains in Santa Rosa, California, the new home of the Ironman triathlon. You can find her biking the Sonoma County wine trails.
Note: Articles by Heather may contain affiliate links and will be compensated if you make a purchase after clicking on an affiliate link.