Last updated on January 22nd, 2019 at 02:56 pm

It has been a while since this fitness dreamer had an adventure. You may have noticed that the craziness of life has a strong tendency to make us delay doing anything fun.
If there's no time for the important stuff, there's no time for adventure.
Finding inspiration to dream can be right in your backyard.
My son is visiting after just finishing college in Los Angeles. Just typing that sentence makes me feel old.
When explaining this to someone in person, I typically get a head tilt questioning look and quickly add that it was a 18 month year round program. For some reason this makes me feel slightly less old.
I mention this because I'm discovering a new situation as a parent of an adult child that is "home visiting from school". What the hell we can do together as a family.
We had gone to the movies a few times, had a lay around the house in our pajamas day-marathoning the "Lord of The Rings" day, and everything else we had ideas about took place outside. Ideas like going to the beach, hiking Muir Woods. We are finally have winter here in wine country, which to most of the rest of the world may seem laughable to call it winter, but I don't manage well in 50 degree weather.
In passing my son noted "Well I've never been to Alcatraz." To which my husband answered, "Neither have I."
I was lucky to find tickets so soon before my son headed back to his LA home. Word to the wise traveler: Tickets to Alcatraz Island can book weeks in advance so plan ahead for your trip to the San Francisco Bay Area. We grabbed the last available tickets for that day.
If you've been meaning to go, or are planning on a trip out here, check out the ticket information for Alcatraz Island here and save yourself the potential heartache and plan ahead.
Bay Area weather changes constantly too, so a few tips for your inspiration to dream trip:
Wear layers – the sun does peak out between fog and cool weather
Wear comfortable shoes – the side effect of this park is a great walk up and down hills and stairs. You will get your 10,000 steps in on this trip!
Look around – don't get caught up in the typical tourist focus of the jailhouse itself. There are amazing buildings all over the island.
You wouldn't think visiting a National Park like Alcatraz Island would spark inspiration to dream.
We have a thing in my family for decrepit old buildings. If the building has a ton of history that's just a bonus. Alcatraz is a whole island filled with buildings that fit both this bill.
Our entire goal was to experience this together. It was an adventure squeezed into a busy day.
The ferry ride over to Alcatraz reminded me why I love living in the Bay Area. The bay was a calm roll and the sun was out without a blast of continuous cold wind on the island. Anyone who has visited San Francisco can attest to the sometimes constant barrage of wind that can seem to come from any direction.
Winter may have made the crowds smaller, but the island was busy with groups and families from all over the globe. I completely take for granted all the little gems sitting in my backyard that people travel across the world to come visit. I stopped myself from tracking down the group from Italy to see if they ever wanted to house swap in the future.
That's another element I love about an adventure, especially one that takes you to such a well known site. You are surrounded by the sounds of international languages marveling in the same experience you are.
We hit the island and after the orientation broke away from the crowd. The day tour lets you wander wherever you want to go on your own time table. There are audio tours that take you through all the details of the detention center itself, but you can take your time at whatever catches your eye.
For us, the draw of older architecture is the decay of it all. Texture in the layers of paint tell a story. Layers of rust from the endless salt-water spray has a beauty in its rot. The detention cells are oppressively small and I can't imagine the duress that had seen. Even they have so many layers of history that will never be told.
Occasionally you find an amazing inspiring photo layered from peering through the ruins.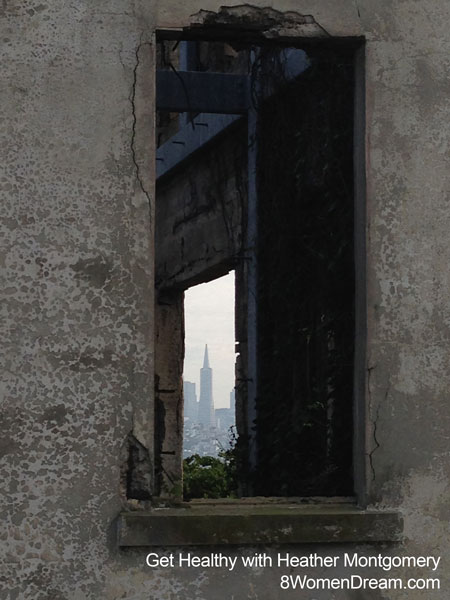 A sign that reminds this amazing island used to have another purpose. This sign is about 10 x 10 feet and I have the urge to just lean it against my living room wall.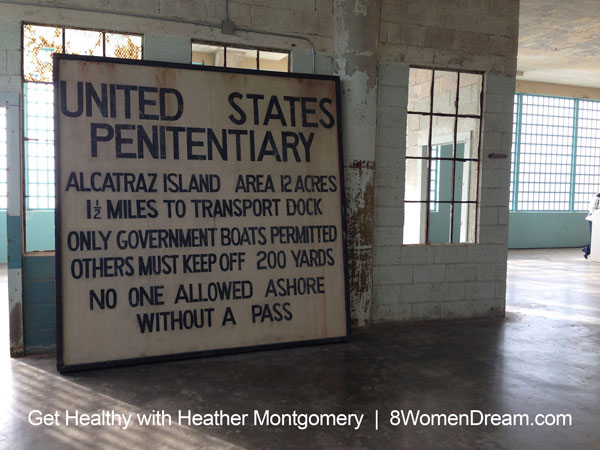 The hospital section of Alcatraz is not typically open to the public, but there is a unique art installation in place for the next few months. This is a somewhat disturbing photo, but I love the dark doorway leading to the light.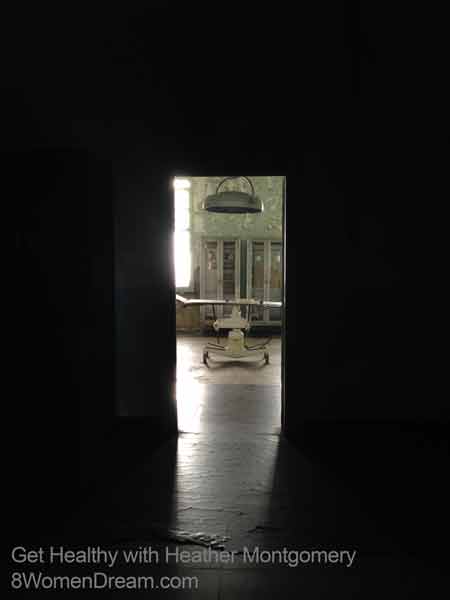 This beautiful door is located in the oldest military building and the brickwork all over the island was gorgeous.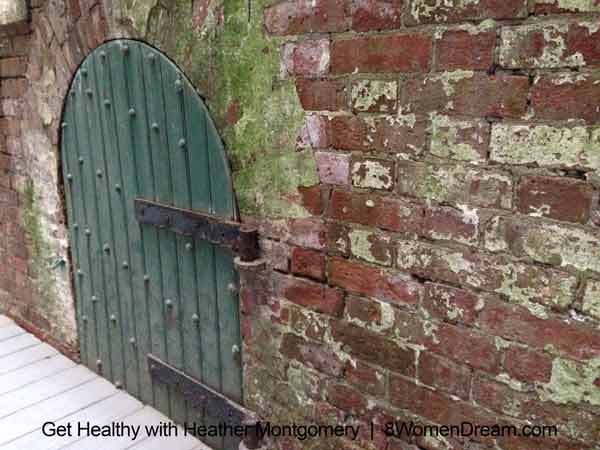 My message to you today: Dream big this year.
Go get your big dream on – Heather
[fbcomments]

Heather Montgomery is a fitness writer, triathlete, and serial entrepreneur who is devoted to sharing what she has learned about becoming a triathlete after age 40. She uses her Metabolic Training Certification to help other women struggling to get fit in mid-life. She lives and trains in Santa Rosa, California, the new home of the Ironman triathlon. You can find her biking the Sonoma County wine trails.
Note: Articles by Heather may contain affiliate links and will be compensated if you make a purchase after clicking on an affiliate link.