Last updated on October 10th, 2023 at 12:15 pm


It has been a while since this fitness dreamer had an adventure and a break from triathlete training. You may have noticed that the business of working on your big dream has a strong tendency to make you delay doing anything else that might be fun.
The important to-dos are always there, so take some time for a new adventure every now and then, especially when you are feeling uninspired.
Finding inspiration to dream can be right in your backyard.
My son is visiting home after finishing college in Los Angeles. I'm discovering a new situation as a parent of an adult child who is home for a quick visit: what the heck can we do together as a family?
We did venture out to the movies a few times and laid around the house in our pajamas day-marathoning the Lord of The Rings trilogy, but other ideas involved being in nature. Ideas like going to the beach and hiking in Muir Woods National Monument in Sausalito, California. It's winter here in the California wine country, which to most of the rest of the world may seem laughable to call it winter, but I don't do well in 50-degree weather.
In passing, my son noted, "Well, I've never been to Alcatraz," to which my husband answered, "Neither have I."
Let's go!
I was lucky to find tickets before my son had to return to his Los Angeles home. Word to the wise traveler: Tickets to Alcatraz Island can be sold out weeks in advance, so plan ahead for your trip to the San Francisco Bay Area. We grabbed the last available tickets for our big day.
The San Francisco Bay Area weather changes constantly, too, so here are a few tips for your own trip to Alcatraz:
Wear layers. The sun may or may not peak out between fog and cool weather. The SF Bay is known for being very windy.
Wear comfortable shoes. You will be walking up and down hills and many stairs. You will get your 10,000+ steps in.
Look around. Don't get caught up in the typical tourist focus of the jailhouse itself. There are amazing buildings all over the island.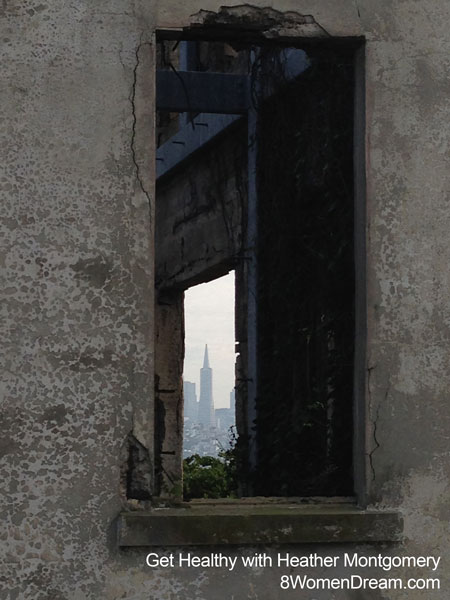 We have an obsession with decrepit old buildings. If the building has a ton of history, it's a bonus. Alcatraz is an entire island filled with buildings that fit both descriptions. Our goal was to experience our obsession together as a family. It was a big adventure squeezed into a busy day.
The ferry ride to Alcatraz reminded me why I love living in the Bay Area. The bay itself was calm, and the sun was out without the notorious blast of continuous cold wind. We were treated to the breathtaking panoramic views of the Golden Gate Bridge looming majestically in the distance, shrouded in the bay's characteristic mist, creating an aura of mystery.
There was the cityscape of San Francisco with its iconic skyscrapers, steep hills, and the famous Transamerica Pyramid rising above the skyline.
There's the sight of towering container ships moving across the bay. These colossal giants of the sea, often adorned with colorful shipping containers stacked high on their decks, showcasing the commerce that flows through the San Francisco Bay. The sheer scale of these vessels serves as a reminder of the global interconnectedness of our world, with goods from far-flung places arriving and departing from ports along the marina.
It's a breathtaking boat ride full of visual sensations from the bay.
Winter may have made the crowds smaller, but the island itself was busy with groups and families from around the world. It made me realize that I take for granted all the historic places in my backyard that people travel for days to visit. I managed to stop myself from bothering a group of Italian tourists to see if they wanted to house-swap.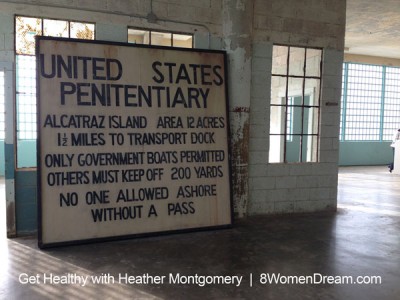 It's another element I love about getting out and exploring Northern California, especially a popular tourist destination. You are surrounded by the sounds of international languages from tourists, all marveling at the same experience. It gives you a new perspective about where you live.
After the Alcatraz orientation, we broke away from the crowd. The day tour lets you wander wherever you want on your own timetable. There are audio tours covering the details of the detention center itself, but you can take your time exploring whatever catches your eye.
For us, the draw of older architecture is decay. The texture in the layers of paint tells a story. The layers of rust from the endless salt-water spray have a beauty in their rot. The detention cells are oppressively small, and I can't imagine the duress experienced there.
They also have many layers of history that will never be told.
Occasionally, you find an inspiring photo opportunity from peering through places in the ruins. A sign that reminds me that this island used to have another purpose. The sign is about 10 x 10 feet, and it's so interesting to me that I want to take it home and lean it against my living room wall.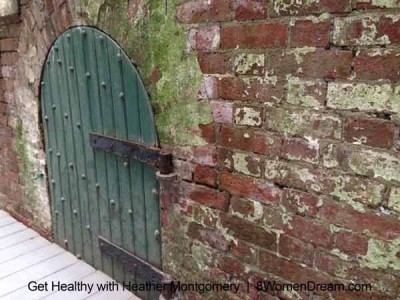 The hospital section of Alcatraz is not typically open to the public, but there was a unique art installation in place. This beautiful door is located in the oldest military building, and the brickwork all over the island is gorgeous.
Our family day at Alcatraz was a captivating journey through history, filled with visual and emotional snapshots that will stay with me forever. As I carefully captured the haunting remnants of its notorious past through my camera lens, I couldn't help but reflect on the stories of the prisoners and guards who once inhabited these walls. I wonder what their dreams were or why they gave up on them.
What led them all to such a place?
Alcatraz is a spot where time stands still, where the echoes of the past whisper in the wind, and where every photograph becomes a piece of a larger narrative. This visit enriched my photography collection and deepened my appreciation for the power of storytelling through images.
As we departed this iconic island, I felt a profound sense of connection to its enigmatic history, along with the pride from working on my triathlete fitness dream, which allowed me to explore the island effortlessly without ever being tired. I felt strong and capable.
It's exhilarating to feel other benefits from going after your dream!
—–

Heather Montgomery is a fitness writer, triathlete, and serial entrepreneur who is devoted to sharing what she has learned about becoming a triathlete after age 40. She uses her Metabolic Training Certification to help other women struggling to get fit in mid-life. She lives and trains in Santa Rosa, California, the new home of the Ironman triathlon. You can find her biking the Sonoma County wine trails.
Note: Articles by Heather may contain affiliate links and will be compensated if you make a purchase after clicking on an affiliate link.