Last updated on January 22nd, 2019 at 02:09 pm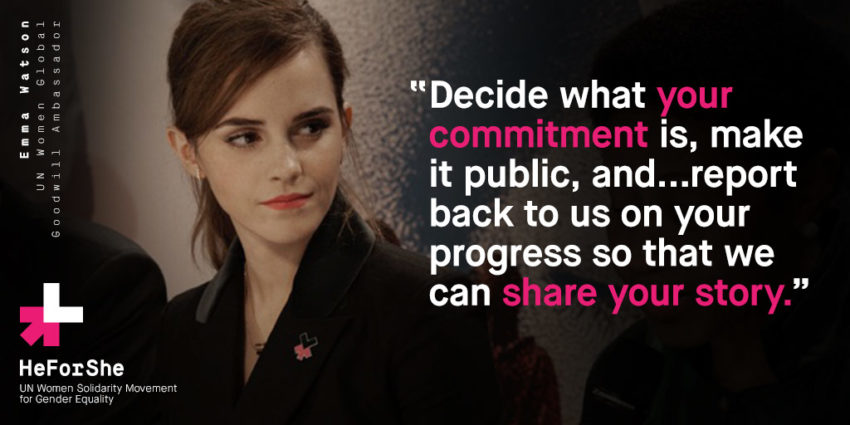 Hello my Thankful Thursday dreamers!
Today I am grateful for women's empowerment.
This week, my daughter dawned her first school uniform and it made me think about the kind of world I want available to her when she graduates. Will her world be welcoming to women and supportive of her dreams?
At the same time my daughter was moving through a major milestone, this week at the World Economic Forum in Davos, Switzerland, UN Women, the United Nations entity dedicated to achieving gender equality and women's empowerment, unveiled the HeForShe IMPACT 10x10x10 pilot initiative to galvanize momentum in advancing gender equality and women's empowerment.
And if you have been reading me on 8 Women Dream for the past two years, then you know I am all about women's empowerment.  I believe women can change the world.
Have you heard about the HeForShe solidarity movement?  It's an initiative for gender equality that brings together one gender in support of the other.
And the HeForShe IMPACT 10x10x10 campaign's initiative is a one-year pilot effort that aims to engage governments, corporations and universities as instruments of change positioned within some of the communities that most need to address deficiencies in women's empowerment and gender equality and that have the greatest capacity to make and influence those changes.
Each sector will identify approaches for addressing gender inequality, and pilot test the effectiveness of these interventions for scalability.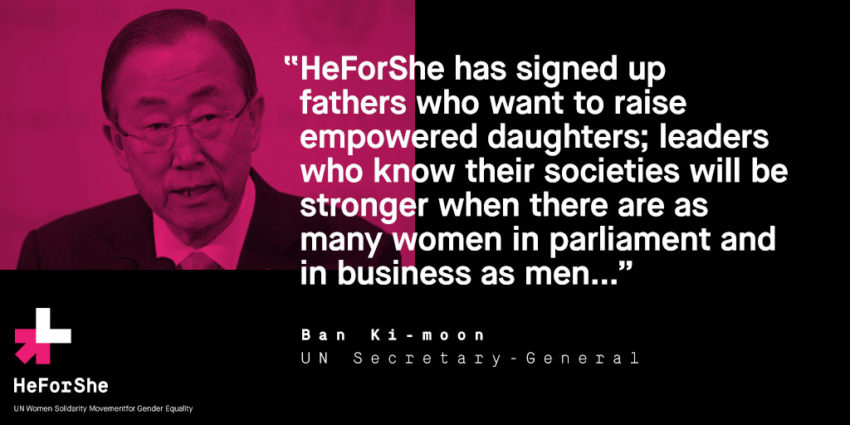 The initiative was launched at a press conference attended by H.E President Paul Kagame of Rwanda; H.E. Prime Minister Stefan Lofven of Sweden; UN Secretary-General Ban Ki-moon, UN Under-Secretary-General and Executive Director of UN Women Phumzile Mlambo-Ngcuka; UN Women Global Goodwill Ambassador,Emma Watson; and Paul Polman, CEO and Chairman of Unilever.
At the press conference, UN Secretary-General Ban Ki-moon highlighted that:
"He For She has signed up fathers who want to raise empowered daughters; leaders who know their societies will be stronger when there are as many women in parliament and in business as men; and ordinary people who are fed up with violence and discrimination against women – and want to be part of a global force for change."
He also underlined the alliances the campaign is building.
"This is a partnership campaign involving individuals and corporations, government leaders and grass-roots activists, great celebrities and global citizens. HeForShe is the United Nations in your countries and communities," he added.
At the launch, the inaugural global leaders who will serve as founding Champions were announced.
They will steer the initiative, providing leadership in mobilizing their communities and include: H.E. Prime MinisterMark Rutte of the Netherlands; H.E. President Ernest Bai Koroma of Sierra Leone; H.E. Prime Minister Stefan Lofven ofSweden; Mr. Paul Polman, CEO and Chairman of Unilever; Rick Goings, Chairman and Chief Executive Officer of Tupperware Brands Corporation; and Dennis Nally, Chairman, PricewaterhouseCoopers International Ltd. JPMorgan Chase is also proud to be a Title Sponsor of the HeForShe campaign.
"The groundswell of response we have received in support for HeForShe tells us we are tapping into what the world wants: to be a part of change. Now we have to channel that energy into purposeful action. The pilot initiative provides that framework. Next we need all country leadership, as well as that of hundreds of universities and corporations to follow HeForShe's IMPACT 10x10x10 initiative so as to bring an end to the persisting inequalities faced by women and girls globally," said Emma Watson, UN Women Global Goodwill Ambassador.
IMPACT 10X10X10 prioritizes legislative bodies and corporations in view of the gender inequality that exists in these areas, confirmed by findings from the World Economic Forum's Global Gender Gap Report 2014.
The report highlights a large current gap between men and women in terms of political engagement and opportunity and little improvement in equality for women in the workplace since 2006. Universities join the impact trio because youth engagement represents one of the greatest opportunities for accelerating progress toward the achievement of gender equality, and ending violence against women.
"HeForShe exemplifies UN Women's groundbreaking leadership on gender equality. We know where change is proving hardest. The HeForShe IMPACT Initiative puts responsibility for change right where it matters- and spotlights leaders who can make it happen. The founding Champions from industry and government will pave the way for others to join in, using the pilot initiatives to streamline decision-making on relevant and successful activities," stated UN Women Executive Director and Under-Secretary-General Phumzile Mlambo-Ngcuka. "Ultimately we need everyone to get involved if we are to turn the tide."
In the months following the kick-off of the campaign by acclaimed actor Emma Watson in September last year in her capacity as UN Women Global Goodwill Ambassador, several Heads of States, along with celebrities and thousands of men from around the world, have committed to be champions for the HeForShe campaign.
To date, more than 200,000 men and boys have signed their commitment to gender equality through the "HeForShe Commitments API" (a geo-located website app allowing men to register and visualize the real-time number of men activated on the map globally).
In addition, He For She has reached more than 1.2 billion people on social media.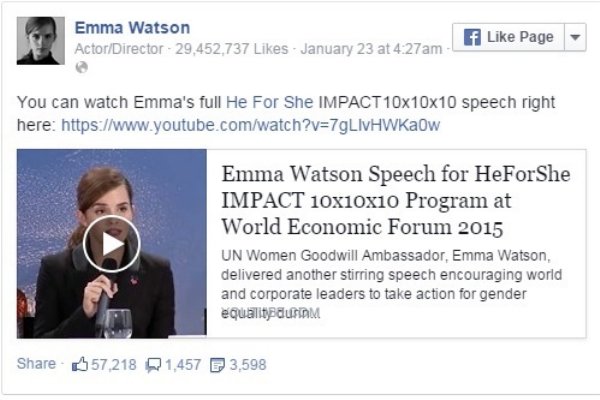 Live stream is available here; Images from the press conference as well as B-roll footage is available here.
You can follow live coverage from @UN_Women , @HeForShe, @ONUMujeres, @ONUFemmes and the hashtag #HeForShe.
Together, we can make a better tomorrow for our daughters so that their dreams can come true and that's something to be grateful for!
Get the men that love you to show their support!
Sue Faith Levy
Just Pursue It!
Sources:
UN Women is the UN entity dedicated to gender equality and the empowerment of women. A global champion for women and girls, UN Women was established to accelerate progress on meeting their needs worldwide. For more information, visitwww.unwomen.org <http://www.unwomen.org/>. UN Women, 220 East 42nd Street,New York, NY 10017, New York. Tel: +1 646 781-4400. Fax: +1 646 781-4496.
HeForShe is a solidarity movement that calls upon men and boys to stand up against the persisting inequalities faced by women and girls globally. The campaign strengthens the support for women's rights as human rights by enlisting the support of men and exhorting them to put themselves forward as advocates for gender equality. For more information, visit HeforShe.org
DAVOS, Switzerland, Jan. 23, 2015 /PRNewswire
[fbcomments]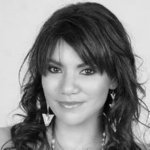 Sue Levy is the founder of the South African Just Pursue It Blog and Inspirational Women Initiative. She's a motivational writer and media designer, who is obsessed with everything inspirational with a hint of geek. She thrives on teaching women how to be brave and take big chances on themselves. You can find Sue on her Twitter page @Sue_Levy.
Note: Articles by Sue may contain affiliate links and may be compensated if you make a purchase after clicking on an affiliate link.