Last updated on January 22nd, 2019 at 02:08 pm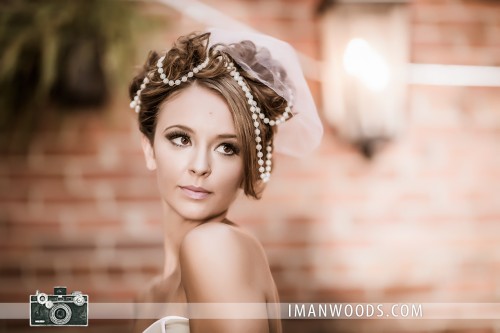 My dream is to help women become more confident and to showcase their assets in the most flattering way possible. I usually accomplish this through the lens of my camera and with the help of a team of pinup specialists to reveal the beauty of who my clients are both on the inside and out.
My friend and colleague, Beth Bell, is the beauty, brains, and talent behind Carolina Bell Designs. She's a Fashion Designer in Mebane, North Carolina who I recently discovered has a big dream to host a fashion show. When I found she had this secret longing I couldn't help but push her to share more.
The articles 8WomenDream focus on how to go after your dreams, how to traverse the different speed bumps, and how to stay focused. But every once in a while I like to use my article space as an opportunity to help someone else, like Beth, go after their big dream.
Beth Bell is a creative and talented clothing designer. She designs the dresses I offer with my full pinup makeover photography packages. She also teaches fashion design at the college level. And she runs her own business making custom garments–everything from wedding and prom gowns to cosplay.
When she confided in me her dream to put on her very own fashion show, I knew I had to help. There's a perfect space for such an event located in a historic bank building in charming downtown Mebane with vaulted ceilings and an open layout that I can gain access to for free.
Once we secured the venue, we created an ad campaign that included fliers to be distributed and displayed in the downtown storefronts. Because if you tell me your big dream, I'm going to do everything in my power to help you make it a reality.
There's no time like the present!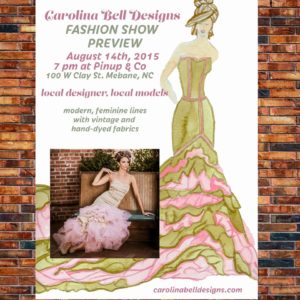 We already have a fashion show team with the collection of artists who work with me on my pinup photo shoots to do the hair,  make-up and help dress the models. The clothing would be Beth's clothing designs–of course. So the garment aspect is quickly taken care of and is immediately crossed off the to-do list.
Next, we'll need models, and I left this portion to Beth since she would know who would best showcase her lovely designs.
If you don't have access to models, you can look at partnering with a local charity, college or high school where women will volunteer to model clothes for a charity or to gain a modeling portfolio. Try placing a Craigslist ad or post information to your Facebook Page. If you can get a show sponsor, there's even sometimes toom to hire and pay the models.
The next step is to create a clothing-and-model lineup based on the number of steps you want the models to take (we need to walk the space in the venue) and time each person. This lineup mapping will help determine the length of the fashion show, but the show itself shouldn't be longer than 20 minutes. You need to time how long it takes someone to get in, and out of the fashions, such as Beth's garments, so you can space the models evenly to allow for clothing and accessory changes–unless you decide to shorten the length of the show and only have one model wear one outfit each.
There's music to consider and if it's a public show, you need to be conscious of music copyright law. Sometimes you can get local wedding musicians to perform for the opportunity to gain exposure. You'd still need the musicians to play at a rehearsal so the models can familiarize themselves with walking and striking poses to the music or get a copy of their music to play at the dress rehearsal.
You can also look at royalty-free background music specifically created to play on fashion shows, catwalks and weddings and pay a minimal licensing fee for the event.
8 of the most popular music sites are:
1. AudioBlocks
2. AudioJungle
3. Bensound
4. ccMixter
5. Epidemic Sound
6. Jamendo
7. SoundCloud
8. YouTube Audio Library
Just make sure you have a decent set of speakers and test the music at your location as early as you possibly can. There's nothing more annoying or distracting than a terrible sound system. You could also opt for having an MC speak through the show, sharing the model's names, the type of garment and the design elements. But there's still a mic and a sound system to consider.
Then there's the decision whether or not to offer refreshments. Alcohol can be expensive along with the insurance involved, but you might want to provide guests with a little something. Cake, coffee, tea, and water are nice additions, and sometimes you can get a local bakery that creates wedding cakes to offer an excellent price for the exposure. Costco Wholesale Bakery cakes are always a bargain. Be sure to remember the napkins, plates, cups, creamer, sugar, and utensils.
You'll want a short Fashion Show program featuring the model's names, the designer's information and the list of the people involved in supporting the show.
Printed event programs are essential for various reasons. People enjoy taking home a souvenir from attending a show they love. The audience also enjoys having something to take notes down about the garments they are interested in purchasing or to learn more about the designs. Programs also a great way to advertise the businesses of the team who helps put the show together as well as the names of the models for their portfolios.
Programs are an important advertising tool so make sure you utilize the skills of a competent graphic designer to create something beautiful and alluring–and don't go cheap on the quality of the paper!
Lighting is another factor to consider as you want to showcase the models and garments in the best light. You also want to make sure there's not a bright light or sun that will shine directly in the model's eyes. You'll also want to check the flooring for slipperiness or tiny objects that could cause a model to slip and fall. The room temperature is critical too.
And lastly, you'll want an event photographer (hello, me!) to take images of the event that can be shared on social media and further create interest in the designs. You'll also want to decide if you are going to sell any of the garments at the fashion show should an attendee make an offer on an item. Having a phone credit card scanner can come in handy if the designs are a smash hit.
I know it seems like organizing a fashion show has a lot of moving pieces and parts but it's really not all that different from organizing a pinup fashion shoot for a client–it's just with a lot more people! And once you get started working on your big dream, each step in the process begins to fall into place. You'll gain self-confidence as you take action.
The hardest part is simply deciding to do it!
Iman Woods

Iman Woods is an American artist who specializes in pin-up photography. Through a unique and therapeutic process, she's spent over a decade in perfecting, Iman helps women undo the damage from a negative self-image and unrealistic beauty industry expectations. She helps women embrace their own style of beauty and see themselves in a new light. You can find her on her website, ImanWoods[dot]com.
Note: Articles by Iman may contain affiliate links and may be compensated if you make a purchase after clicking on an affiliate link.