Last updated on January 22nd, 2019 at 02:09 pm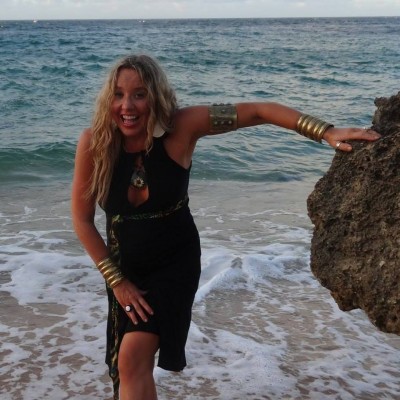 This week, I am in New York City to assist at a fashion show, helping the models get ready for the catwalk. I love fashion and this is a fun and glamorous opportunity!
Even more importantly, the fashion show will support my favorite charity, OneMama.org, which is based in Uganda. One of the ways I find happiness regularly is doing work for this organization which saves the lives of mamas and babies every day.
How Many Lives Are Saved?
Each of the models will be holding a sign that shows how many lives the outfit they are wearing can save. Every $2 spent on OneMama.org fashions saves a live.
So a $40 top would save 20 lives. This is fashion that is literally life-saving!
All of the fashions are designed by OneMama.org founder, Siobhan Neilland. They are hand-made by women in the Uganda village.
Every penny from the sales of the clothing goes to support OneMama.org, which provides birthing clinics and medical clinics that prevent HIV transmission from mama to baby, and which save lives every day. Siobhan's longer term goal is to build 250 clinics around the world in communities where villages live on less than $1.25 a day.
Nonstop Glamour!
I have been getting a behind-the-scenes look at New York fashion week! Last night, I attended a production meeting for the OneMama.org.
It takes a big team to pull off one of these productions! I met Chavis, who is coordinating the whole production as well as seven other shows.
I met Jasmine, who is the lead make-up artist, and Sean and Jamarcus, who are Chavis' assistants. I'll be serving as Siobhan's assistant for today's show, which takes place at 1 p.m. EST.
One design from OneMama.org will also be featured in another seven shows over the next two days, and Siobhan will have the chance to get up and talk about the work of OneMama.org
Wednesday night after the last 8 p.m. show is over, we'll all head out for a party to close out the Fashion Week festivities. DJed dancing with New York City models and designers? Sounds like fun to me!
Modeling Some One Mama Fashions!
I'll be modeling some OneMama.org fashions tomorrow too – not on the catwalk officially but in my assistant role. I'll be wearing a sexy top with my jeans and some OneMama jewelry and make-up.
I'm hoping we'll do something fun with my hair and make-up – blow it out into a redhead afro or big bouncy waves, and throw some extra color on my pale skin. I love dressing up and know that being a part of Fashion Week will be an adventure in glamour.
I may be handing signs to the models as well that show how many lives each outfit saves. We'll be calculating that number for each outfit – adding up how many lives are saved by purchasing a top plus cape plus earrings for example.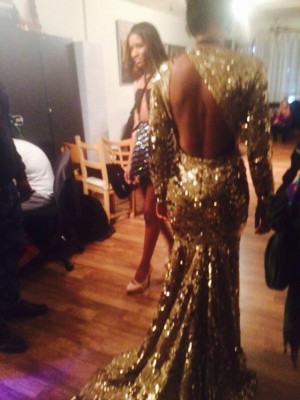 Celebrity Hosts
Some of the shows benefitting OneMama.org tomorrow will be hosted by celebrities, including Corey and Maduri from America's Top Model, and one of the Real Housewives of Atlanta. The 8 p.m. shows will be filled with celebrity guests as well.
I have deleted more than 1,200 photos from my iPhone in order to be sure I have plenty of space to take tons of pictures! I will likely be popping up some fun fashion and celebrity shots on Facebook soon.
Knowing me, I will find a way to take some fun selfies with the celebrities I meet, just because. Most importantly, I am just happy to be contributing to an event that is raising money and visibility for a charity that I can so much about.
A Perfect Marriage
Being part of runway shows for Fashion Week, benefitting a charity, feels like a perfect marriage to me of fun, glamour, art, music and of course giving back to society. It feeds my soul!
I feel so blessed to have this opportunity, which came about because I am now officially on the Board of Directors of OneMama.org I knew that Siobhan needed help, so I volunteered who come down to the city and be her assistant for the Fashion Show.
Roomful of beautiful people
Being in a roomful of models is interesting! Tall, thin women with flawless skin – these ethereal beauties exist. Some of the runway models are in their teens, but look much older with sophisticated hair and make-up.
I am not flawless personally, but am comfortable with my normal, mortal level of beauty. My red hair and blue eyes still tends to make me stand out in a crowd.
It will be fun to watch all the models get glammed up tomorrow – to see the transformation with hair and make-up.
At the fitting, they called out measurements for the catwalk models: 34" bust, 24" waist, 34" hips. These young women were tall and slender, towering over me in heels.
I got to watch models practice their catwalk strut. They thrust their hips forward, leaning backwards.
Most of them were in impossibly high heels. One had a mishap on the runway and tripped a bit, then got to walk again.
The women were exotically beautiful, and most of them were women of color: Asian, Latino, light-skinned black, darker-skinned African American. It was nice to see ideals of beauty that are not just blond American women.
And The Fun Continues!
Tomorrow I will get to help out behind the scenes, making sure the models are set, have the placards announcing how many lives they save, and helping out wherever else Siobhan needs me.
It's fun to get a behind-the-scenes peek into this glamour world! This is a whole new adventure and I am so grateful to be a part of it.
Lisa Powell Graham
Get your happy on!
[fbcomments]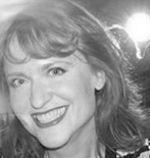 Lisa P. Graham is an inspirational writer, life coach, TED motivational speaker, and globe-trotter whose passion is to help others to find happiness and meaning in their daily lives. A political activist at heart, Lisa would like to empower more women to run for political office as a way to create positive change in the world. You can find her on her website or watch her TEDx speech on YouTube.
Note: Articles by Lisa may contain affiliate links and may be compensated if you make a purchase after clicking on an affiliate link.