A Motivational Speaker Must Have An Extensive Portfolio of Material
Gone are the days of getting by on one speech. Motivational Speakers must be constantly preparing, memorizing, and taking new material to the stage. Sometimes we're asked to speak for hours at a time. My longest speaking gig without a break was 4 hours. That's a lot of material – especially when you are being hired to do more than just teach  – you are being hired to entertain, motivate, and make them laugh. Even Broadway doesn't go for four hours!
Add that to all the blogging and posting and article writing necessary to help people find me online – and that makes for an incredible amount of material needed, and an incredible amount of writing. So I'm constantly on the lookout for ideas. This requires good writing habits, and it requires good management of material.
So I thought that I would devote this post to giving you a behind-the-scenes look at how I keep track of all my material – from idea to performance. This is unique to me and what I need to make my job work. Every speaker has a different path. But hopefully this will help you find yours.
This time, instead of writing it out, I decided to put it on a chart instead. Hopefully this will be easier for you to read.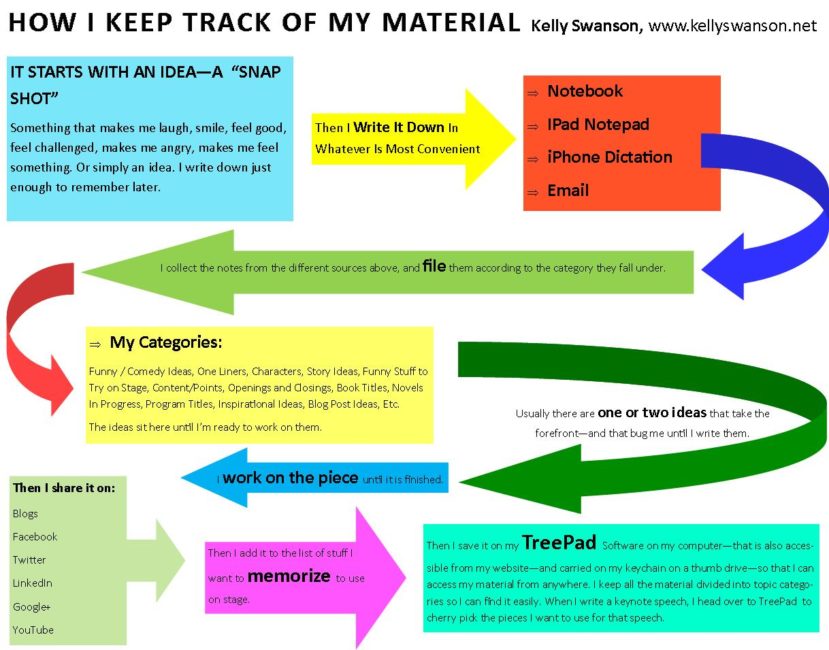 Kelly Swanson is an award-winning storyteller, motivational speaker, published author and TV personality who is passionate about helping women harness the power of their stories to connect, influence, and get the results they dream of accomplishing. Laughing the whole way, Kelly teaches women how to master the art of connection through the power of strategic storytelling. You can find her on The Fashion Hero show airing Fall of 2017 on Amazon Prime.