If your big dream is to be a successful paid public speaker then you should know right from the start that professional speakers must develop an extensive portfolio of material.
Gone are the days of getting by on one speech. Speakers must always prepare, memorize, and create new material to bring to the stage. Sometimes speakers are asked to speak for hours at a time. My longest motivational speaking gig without a break was 4 hours! That's a lot of material–especially when you are being hired to do more than teach–you are being hired to entertain, motivate, and make your audience laugh.
Even Broadway shows don't go for four hours!
Add that to all the blogging, article writing, press releases, social media, and marketing necessary to help bookers find you online. It makes for an incredible amount of material that you need to cultivate, and an incredible amount of writing. You must constantly be on the lookout for ideas. Speech development requires good writing habits and good, organized management of your material.
Here's a behind-the-scenes look at how I keep track of all my speech material; from idea to performance. This is unique to me and what I need to make my motivational speaking business successful. Every speaker has different ways of handling their material. But hopefully, this will help you find yours.
Keeping Track of Speech Material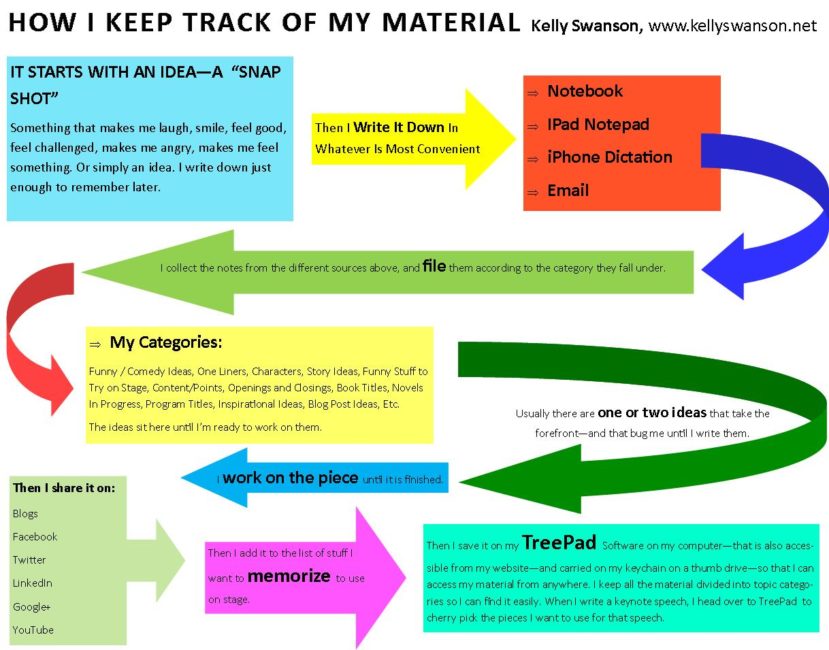 1. Begin with an Idea.
When something makes me laugh, smile, feel good, feel challenged, feel anger, or creates an "Ah ha!" moment, I write it down. These ideas can also come from audience members who approach you after speeches with topics they'd love to know more about.
2. Document the Idea.
Write the idea down. Keep something for note taking with you at all times–be it a paper notebook, email or texting yourself, or use a note app on your phone or tablet. Use whatever form is most convenient at the moment and a method that you will be able to locate at a later time.
3. Create Catagories.
Create categories that your topic ideas fall into. My categories are:
Funny/comedy, one-liners, characters, motivational story ideas, funny things to try while on stage, openings and closings, book titles, social media trending topics, inspirational ideas, article ideas, or PR ideas, etc.
4. Pay Attention to the Ideas that You Keep Thinking About.
Notice which ideas keep recurring in your mind that you keep thinking about and mark them.
5. Sit Down and Work on the Most Prominent Idea.
Schedule appointment time each week to work on your most prominent idea.
6. Finish Working Your Idea.
Make sure to work on your idea until you feel it is ready to go.
7. Test Your Idea.
Share your idea on social media and see what reactions you get.
8. When Your Idea Resonates with People.
Place your idea on a list of things to memorize to use on stage.
9. Save Materials for Easy Access.
Save your completed and tested ideas someplace you can access them while you travel. It's great to keep offline copies for those times you don't have Internet Access and you want to work on memorizing your idea.
3 Apps for Keeping Track of Speech Material
1. EverNote
With EverNote, you can capture and organize notes, files, photos, and voice memos in one place.
2. Zoho Notebook
A free, beautifully simple note-taking app. You can use it as a Mac app, an iOS app, and web clippers for Chrome, Firefox and Safari are also available.
3. TreePad
TreePad considers itself a personal information manager, information organizer, and word processor rolled into one app. I find it intuitive and versatile with its website generator, spellchecker, photo album, hyperlinks, zoom abilities, drag-drop features, bookmarks, and more.
One of the best skills you should quickly develop as a new public speaker is a habit of always collecting ideas and reading as much information as possible about your public speaking niche. Take good notes whenever you can and ALWAYS be developing new ideas.
For more of my tips on the speech preparation process, read my articles on strategic story application on my motivational speaker website.
Kelly Swanson
Kelly Swanson is an award-winning storyteller, comedian, motivational speaker, Huffington Post Contributor, and cast member of The Fashion Hero television show airing on Amazon Prime. She is also the author of Who Hijacked My Fairy Tale, The Land of If Only, The Story Formula, and The Affirmation Journal for Positive Thinking. She was a featured entertainer for Holland America Cruise Lines, keynote speaker for the International Toastmasters Convention, and has keynoted major conferences and corporate events from coast to coast. She just launched her one-woman show Who Hijacked My Fairy Tale in theaters, and it is being booked all over the country. In July of 2022, she was inducted into the National Speakers Association Speaker Hall of Fame.
Note: Articles by Kelly may contain affiliate links and may be compensated if you make a purchase after clicking on an affiliate link.