Last updated on October 31st, 2019 at 03:05 am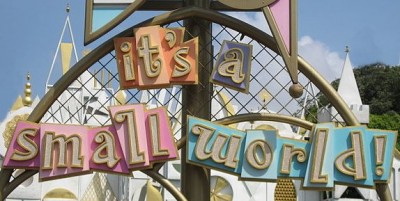 From the moment the petite woman with the tumble of dark curly hair and the broad, welcoming smile sat down next to me in the cafe, I liked her. I was drawn to her sparkling eyes, her joy, her energy.
Meeting Nihal reminded me that it's a small world after all.
We struck up a conversation. Nihal works at Rensselaer Polytechnic Institute (RPI), where her husband is a professor.
She is part French, born in Paris, and part Turkish. Her husband, Phillippe, is Belgian. They are raising Nihal's 14-year-old daughter, Ella, who grew up in Scotland with a Scottish father.
The accents are delightful all around, and this is a beautiful, international family.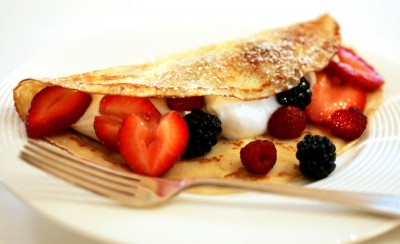 French Pancakes!
Nihal invited me to a French pancake party at her home. This is another, Americanized way of saying crepes.
It was an international crowd at the party, with other guests from China, Russia and Spain. I love gatherings with people from around the world.
It always brings back my grad school days at Harvard, where 51% of my class was international. I had classmates from 81 different countries.
I love getting to know more about other cultures, and love how spending time with people from around the world opens our minds and broadens our perspectives.
Crepes were just a way to bring friends from around the world together. What a beautiful evening.
Learning How To Make Crepes
Phillippe manned the stove and cooked a few tall stacks of crepes, which of course are a thin pancake that you then fill with a savory or sweet filling, and roll up, like a burrito. Unlike burritos, however, they are so delicate that it's advised to use a fork and knife, not your hands, to eat one.
I found out more of the secrets of cooking crepes. I asked why the batter was so fluffy and aerated. Phillippe said it's because you whisk egg whites into a frothy meringue, and fold that into the batter.  This was Ella's job: whisking the egg whites. I loved learning the tricks of the trade. I've never made crepes, and maybe it's time to try.
Nihal had prepared a wide assortment of fillings, including a bechamel sauce (a thick white cream sauce to go with the crepes), broccoli, corn, tuna, ham, and scallions. Then there was a whole table full of sweet fillings, including fresh strawberries, blueberries, raspberries, pineapple, bananas, peanut butter, whipped cream, ice cream, shredded coconut, and my favorite: Nutella.
I made one sweet and one savory crepe. I filled the savory one to overflowing with broccoli, bechamel, corn, cheese and scallions.
Then I took Nutella and liberally applied it to another crepe. I added strawberries, blueberries, bananas and coconut. The results were ridiculously delicious.
An International Crowd
It was fun to visit with the other guests, including a couple from Barcelona, Spain, and Russian Yuri, who was there with his lovely American wife Heather, who happened to look a lot like Heather Locklear. One of Phillippe's students who is from China was there as well.
I have always found meeting people from around the world to be such a treat and a gift. I wasn't expecting an international crowd, and was pleasantly surprised.
It makes sense, however, because most of the party crew had an RPI connection, and there is a large international population on campus. I visited for a while with Teresa and Albert, who are from Barcelona, which is my favorite city in Spain. I love Barcelona for its art, architecture, and curving coastal beaches.
It is one of the most artistically avant-garde cities I've ever visited. I'm especially in love with the architecture of Antoni Gaudi, and the art of Picasso. You have to love a city that these two called home! Gaudi's whimsical, Seussian architecture is unlike anything I've ever seen anywhere else. I was lucky enough to stay just a block from his masterpiece, the still-in-progress cathedral La Sagrada Familia, when I visited for a week in 2006. I would find new details to admire every time I walked to the metro and walked right by the cathedral.
I love La Rambla in Barcelona as well. This is the public pedestrian boulevard where artists dress up in wild costumes and pose with passerby. You see the most outrageous get-ups, with beautifully crafted colorful costumes and sometimes full-body make-up.
I have posed with someone who was covered in bouquets of flowers, and with another artist who was painted head to toe in gold. There are always artists on stilts, and art-inspired costumes that are wildly imaginative and often exquisite.
I've always loved this part of town, and am a huge fan of the Picasso museum. Visiting with people from Barcelona made me want to take another trip to this favorite Mediterranean coast city.
Adventures in Other Cultures 
My friends and I drove Chinese student Jon-Yeng home. It was fascinating to learn more about his work and life.  Jon-Yeng is an environmental engineer, who works on sustainability projects. He specializes in soil; like Phillippe, he is technically a "soil engineer." Although he's only 25, he's married with a two-year-old son.
He's sponsored by the Chinese government at RPI, which means that after completing his education there he owes them five years of work before he's free to do as he pleases, in terms of his career. He said that he can find a private-sector job, but it has to be in this field.  Jon-Yeng lives in an apartment complex with a large population of Chinese students. He said they have a group that welcomes new students, getting into contact with them while they are still abroad.
I'd love to visit China. Nihal, Phillippe, and Ella are planning to tour China and Japan next summer, since he will be on a conference circuit there.  They'll spend the rest of the summer back in Scotland, where he has a summer research appointment. This way, Nihal gets to be back in the country that she fell in love with and called home for 20 years, and Ella gets to see her father and friends there.
Everybody wins.
I love how international this family is, and how they decided just to make it work even with an ocean in-between Ella and her father, and Nihal and her favorite country.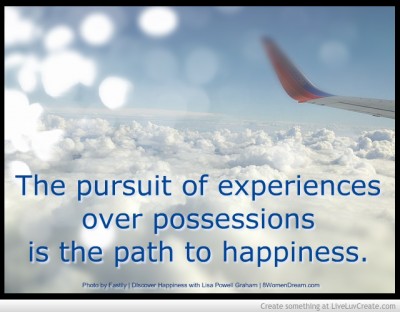 Like other graduate school classmates of mine, like my sister and her family who lead an itinerant lifestyle, and like I am at heart – the world is their home. I would love to spend parts of my life living in or at least visiting all different countries.
Travel is one of my biggest passions. When I can't be out there traveling the world, I love it that I can meet with wonderful people from all over the world, and experience some of their cultures vicariously through them.
I'm so thankful that it's a small world after all. I look forward to continuing to discover happiness wherever I can find it and sharing these moments with you.
Lisa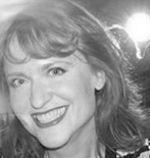 Lisa Graham is an inspirational writer, life coach, motivational speaker, and globe-trotter whose passion is to help others to find happiness and meaning their daily lives. A political activist at heart, Lisa would like to empower more women to run for political office as a way to create positive change in the world. You can find her on the Madam President Project or watch her TEDx speech on YouTube.
Note: Articles by Lisa may contain affiliate links and may be compensated if you make a purchase after clicking on an affiliate link.