When I first started blogging ten years ago I wrote only what I wanted to write. I didn't think about my readers because I felt that I was entertaining enough and they would fall in love with my stories.
Yeah, that's what I actually thought.  It's not uncommon for amateurs to think this way in the beginning of any creative endeavor.  If you didn't think of your art in this way, you'd never take a chance on exposing it to derision in the first place.
Your bravado gets you started.  Then, with any luck, you grow up.
Once other bloggers reached success I hadn't imagined, I began to question what I was doing online.  I quickly realized that what I was writing was a diary about me instead of story-telling to a raving fan.
Everything began to shift as soon as I realized who my audience was and how I wanted to help them laugh and enjoy life more.
I loved being a mom (I know. I only had one kid. That's why it's possible for me to write that) — even when starving, exhausted from work and  foolishly trying to get a 5-year-old through the grocery store after daycare, only to have him launch the epic of all hissy-fit meltdowns right in the middle of shopping — I saw moments of great humor.
I wanted to help other parents see the hilarity in parenting little adults.  Erma Bombeck was my idol.
As I began to share my funny parenting stories like I was laughing with a dear friend about not f–king our kids up, my blog began to take off and the comments poured in. My own little community was born.
I learned how the art of writing is a dance with the reader.  It's not a solo dance either.
I've been thinking a lot about how to help you understand that you need raving fans too so I've been reading the book, "Write from the Heart" by Hal Bennett.  One of my favorite passages is how Hal's writing changed and his career took off: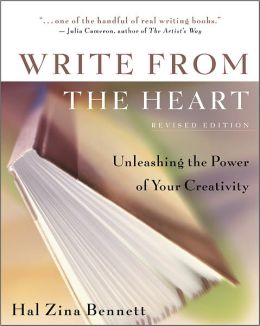 The first successful nonfiction book I wrote was one about home schooling and setting up small private schools as an alternative to public education. The book came out of firsthand experiences, when my own family and friends started sending our kids off to public schools.
I discovered that far more parents than I would have ever dreamed were dissatisfied or just plain angry at the way their kids were being treated in school, but they did not know what to do instead.
In an effort to find some solutions, I started collecting information about taking our kids out of public schools and starting schooling programs in our homes. I wrote a 50-page booklet on it and sold it for a couple of dollars through ads in the classified sections of rebel newspapers around San Francisco and Berkeley.
I didn't sell a lot of them, but one day an editor from a small publishing company called up and asked me a lot of questions about it. I told him all I knew, and then he said he'd like to talk with me about doing a whole book on it.
His name was Don Gerrard. In the mid-1960's, before starting his own publishing company that would later become a Random House imprint, he was a book rep for one of the major publishers. He traveled all around Northern California visiting bookstores and filling orders for the newest books.
In his travels, he began to see a growing number of people publishing books and magazines out of their garages or kitchens, people doing very exciting new work that larger New York publishers didn't yet understand.
Many of these publishing ventures were extremely successful, catering to a growing number of young men and women who were discontented with the way things were and wanted to make some changes. They were making changes by literally creating their own society inside the larger one.
Hal would go on to meet with Don and the first question Don asked him was,
'Who do you think is your reader? Could you describe them?'
His question caught Hal off guard and he shrugged, 'I suppose people like me, people who've had their kids in public school and maybe had a bad experience with it.' Don nodded, 'Your writing is okay. It's clear. You get the information down and all that but then it doesn't go any place.'
Hal answered defensively, 'It hopefully gets read.'
'Don't get me wrong,' Don replied. 'I like what you are doing here. But when I sit down to read a book for myself, I look for certain things that I guess a lot of other people don't. And for better or worse, that's what I try to publish. I like to publish books that I want to read. I am not necessarily talking about the content. It's more a way of writing that I am looking for… it's more an attitude, a way of the writer has of acknowledging me, the reader.'
…'It has party to do with using personal pronouns — I, me, and you, mostly…'
'Write as if you are writing a letter to a very good friend, covering the same material.'
Don gave Hal some examples of the type of writing he was referring to and ended the meeting. Afterwards Hal felt a bit angry and more than a little put down (always remember that the truth will set you free, but first it will piss you off) by what he perceived Don was saying about his writing.
But Hal did the one thing that can lead to success. Instead of staying mad, he decided to read the writing examples he was given and this is what he found:
"The writing touched me in a way I hadn't expected. I felt that the writer cared about me–or at least cared about people. He had taken the time to think about what it means to take in new information like this and attempt to apply it.
He was the kind of teacher that I longed to have when I was growing up, somebody who could feel my frustration at trying new things and not being quite able to do them the first time around. He was a kind person who appreciated what we all go through to move from ignorance to knowledge about a particular skill or subject.
What showed through [in his writing] was his love of people, and in doing that he won my love.
His writing showed me that he was a human being just like me."
And this was what Don meant in acknowledging the reader.
Hal then locked himself in a room and began to rewrite his 50-page booklet. He not only told his readers what to do to take their kids out of public school and educate them at home themselves, he also told the readers about his own experiences doing that. He shared what was scary and what they could do to handle that part of it. He cut the booklet down to about 30 pages and sent it off to Don.
And guess what happened?
Don called Hall to tell him how much he had enjoyed the work he had done. When Hal went to meet with Don a second time, Hal had Don come to his home and meet his wife Eugenia, who was a part of the meeting. Don had Eugenia (the mother of three kids) share a long list of questions and concerns she had about homeschooling your children.
Hal got a front row seat to his demographic and the information they needed to help them make a very difficult decision.
When Hal returned home from the meeting he was able to create his book outline and when he sat down to write his book, he used Eugenia as his imaginary reader questioning and prodding him for answers. The more Hal wrote this way, the less lonely he felt.
Hal's next book, No More Public Schools was published six months later and sold more than thirty thousand copies. This would become the book that took Hal from a part-time writer to a full-time author.
Hal learned that success is also about engagement with fans.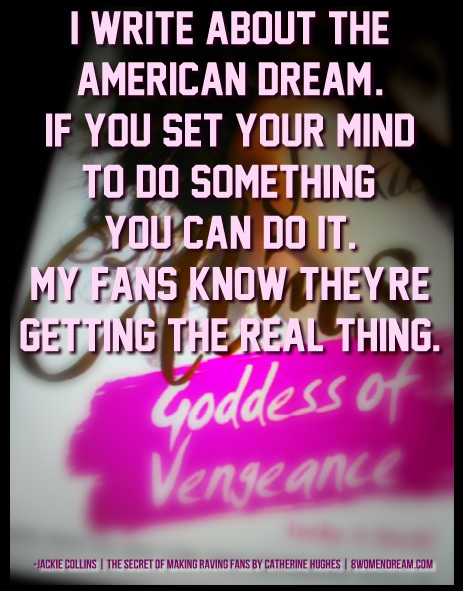 Several years ago I had the opportunity to interview Jackie Collins about her latest book, Goddess of Vengeance. I will never forget how she talked about her readers and her book characters. She loved them.  I mean, really genuinely loved them.  They were her family.
Jackie discussed her heroine "Lucky" like she was a living, breathing human — right down to the type of perfume she wore and her favorite hobbies. She was so convincing at this that after a while I began thinking the book was a biography about a woman named Lucky and Jackie Collins had changed her name to protect the real public figure.
I was profoundly moved by her respect for her audience, while ashamed at my own treatment of my readers.  Jackie was both humbled and honored to write stories her fans would love. Her stories are always about strong women.  She said that her readers, "expected it."
And her readers rewarded her by being raving fans.
I was a bit awe-struck on the call, but she treated me with loving kindness and respect — as if I was a reporter for the New York Times. I will never forget that phone interview and how Jackie Collins forever changed the way I looked at writing for an audience.
It's why I now obsess over the way the content reads on 8 Women Dream — just ask anyone who has ever written here. I'm a real pain-in-the-ass about this.  I expect all of the writers to give their posts 110 percent because it's a true test of whether they have the will or not to make their dream come true.
If you can't give your potential fans your absolute best  — they will sense it and move on. They know when someone is half-assing it. They notice when someone or something doesn't give a good crap about them.
They smell it when you treat them like an obligation.
What a colossal waste of everyone's time, don't you think?
If you have to drag yourself to sit down to work on your passion, or if you are only doing your "art" for yourself and then bemoaning that no one is noticing, then you are simply practicing a hobby.  And that's fine, but don't get mad if you're not a commercial success. Quit pretending like it matters.
Find a job with a regular paycheck and enjoy your dream as a hobby.
The secret to success is to have raving fans and to get them you have to give it your all.  You have to fall in love with your envisioned fans so much so that they become like your second family–just like Jackie Collins does. When you get to this place with your dream venture, success will happen — that is, if you continue showing up while surviving the long slog to greatness.
Are you up for it?
Catherine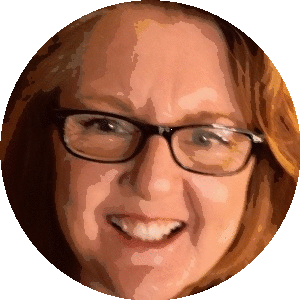 Catherine Hughes is the founder, content director and editor-at-large of 8WomenDream. She is passionate about helping women step out of their own way and strike out into a world waiting for their special talents. She's a published author and a former award-winning mom blogger. Catherine has helped companies both large and small create engaging web content, social media narratives, and unique blogging platforms. She claims to be a redhead, but don't hold that against her.
Note: Articles by Catherine may contain affiliate links and may be compensated if you make a purchase after clicking on an affiliate link.