Last updated on January 22nd, 2019 at 02:56 pm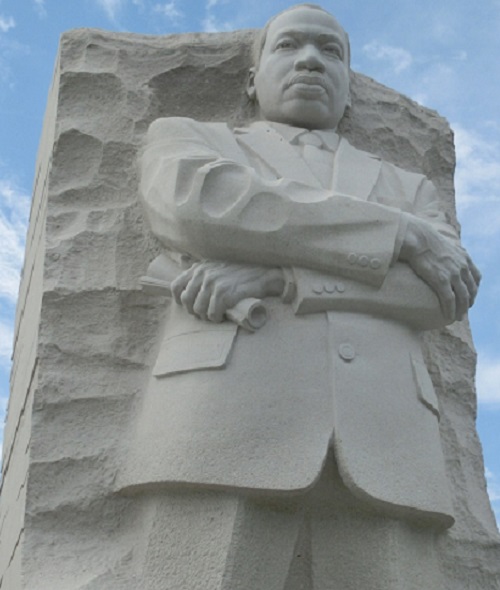 Yesterday was perhaps my favorite national holiday, except Christmas of course, since I am an irrepressibly joyful elf at heart. Dr. Martin Luther King, Jr. is one of my biggest heroes of all time because his job was to be a messenger of love, and few have done it better, with more courage and heart.
We live in a busy, crazy, screechingly fast-paced world, in which people are used to communicating in Internet sound-bytes and information is flashing at us at the astounding rate of up to one billion bits per second, when the most we can process in eight hours is one million bits of information.
We are overloaded. We are overwhelmed, as a society. We are rushing through our lives without often stopping to pause and center and refocus and be sure we are headed in the right direction.
We are drowning in a sea of information, overloaded with the media onslaught, running through the motions of a life. This is reality for so many in the modern era.
Is this why we are here, on Planet Earth? To be washed under a tsunami of sound-bytes, to lose touch with our hearts, to be rushed through an approximation of life without even knowing what or how or why we are doing all of this?
I don't believe this is what we are meant to do: rush, rush, rush relentlessly. I believe we are meant to learn to love ourselves and each other unconditionally.
I believe we are meant to enjoy the beauty of this world, find joy, and share that joy with others. I believe we are meant to slow down, breathe and appreciate, even as we balance all the many tasks that fill our crowded daily lives.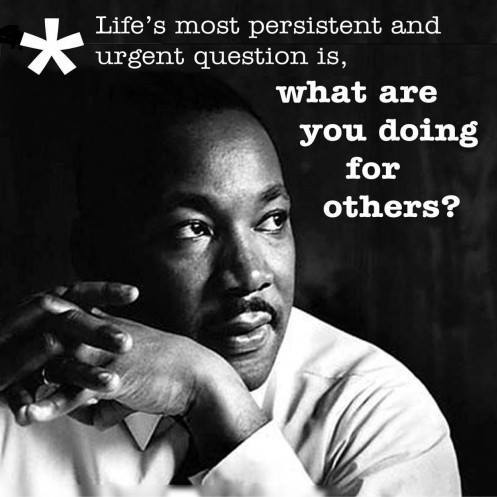 Slow Down, Breathe, Believe and Spread the Message of Love
A day like Martin Luther King, Jr. Day reminds us that the people who have made the biggest impact on our world are those who dared to love bigger, dream bigger, stretch the boundaries of what is possible. The Reverend Dr. King refused to let hate harden his heart.
He dared to love in the face of injustice and fear. He chose to see everyone as his sister, as his brother, and to honor the humanity of all, even his oppressors.
We as humans know there is a greater purpose for our lives. We feel it, even in the moments when we're simply caught in the "daily grind."
This is why people respond so strongly to heroes like MLK, who preach a message of brotherly and sisterly love, of one people, one God, who lift us up. MLK was a prophet of love in my eyes, and he lived the message.
Sadly, his life was stolen from him at the incredibly young age of 39. I can't imagine what else he could have created and done, given more years on this earth.
The good news is that all of us who are here now – me, writing this, you, reading this – are still here, and we can be messengers of love. We can keep doing the good work that MLK began.
There is so much more work to do!
 Why I Am Here Spreading the Message of Love
In my own life, it's become abundantly clear over the years that I am called to be a messenger of love, in my own way. Writing and public speaking are my two greatest talents and what I love doing most.
I have experienced a lot of suffering in this lifetime, and survived traumas, PTSD, house fires, depression. Ultimately, all of it made me stronger, showed me the unconditional and infinite power of love and grace, and reinforced it that I survived so that I can share this message.
We are so much more powerful than we think we are, so capable of transforming our own lives and contributing to society, in ways beyond what we can even imagine. I know this, having experienced it in my own life and witnessed it in the lives of others.
When we learn to truly love ourselves, and to give our love to others without conditions or judgment, the floodgates open and opportunities for growth, loving, living and learning pour in. We just need to say yes to life, and to not constrict in fear when love knocks on the gates of our hearts.
I want to spend this lifetime helping people to walk through their fears, knock down or leap over obstacles, and to step into their fullest power, becoming who they are destined to be, which is fully themselves, which is fully self-expressed, which is beautiful, which is luminous, which is love.
There is nothing that I love more than helping people to fall in love with themselves again, to forgive themselves for everything, and to fall madly in love with life and this world. When we are bathed in love, we glow from within, we radiate and emanate beauty, and we are a gift in the lives of all we touch.
Most importantly, this world needs love for society to move forward, for people to evolve, for Earth to be able to heal from all the violence of centuries, for people to choose one common humanity rather than fighting each other in brutal, needless wars over ideals or economics. Life is worth more than that.
Loves expands us, stretches us, opens us, helps us to be brave and to step into the arena not to yield a sword but to shout an Hallelujah. Love will be our salvation because it is the only thing that can conquer hate.
For however long I am on earth, I wish to share a message of love with the world, in a million ways. Through my writings, my dancing, my talks, my interactions with everyone I encounter, I hope to share the message with all that everyone is infinitely and unconditionally loved, and that once we recognize that, we can offer that love back to the world.
There is nothing to fear, and no need to run from life. We are strong enough to face everything when we love.
100,000 Ways to Spread the Message of Love
There are so many ways to bring this message into the world, and so many people to need to hear it. I will share it every way I can, every day, for as long as I live.
I truly feel that my calling is to be a messenger of love. That is one of the biggest ways of finding happiness for me – reminding others how very loved they are.
May you always know that you are infinitely loved. May we all continue the important work of the Revered Dr. Martin Luther King and create a beautiful world of one united humanity, one global family, together.
Keep spreading the message of love!
Lisa Powell Graham
Find your happiness!
[fbcomments]

Lisa Graham is an inspirational writer, life coach, motivational speaker, and globe-trotter whose passion is to help others to find happiness and meaning their daily lives. A political activist at heart, Lisa would like to empower more women to run for political office as a way to create positive change in the world. You can find her on the Madam President Project.
Note: Articles by Lisa may contain affiliate links and 8WD will be compensated if you make a purchase after clicking on an affiliate link.