Last updated on December 10th, 2010 at 12:12 pm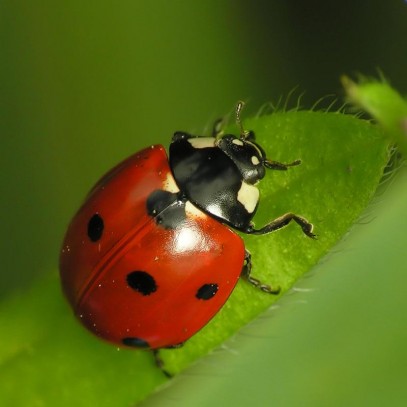 Not only am I shopping a screenplay, but I am the back-up to my friend Laurie's rap dream. This week while turning the key to lock my front door, I spied a female ladybug latched onto the wood. There are seven spots painted on her back.
Count them – seven! Lady luck will be ours this day.
Or so I thought.
This week our recording for the Club B rap was scheduled at the Septone Recording Studios in Sebastopol California.
Laurie and I were amped driving into town. We located the street and began meandering through rows of nondescript warehouses until we came upon our field of dreams.  As we disembarked from the car, I noticed below the parking lot, sits a skate-park with five young male skaters traversing their way through the concrete jungle.
It is complimented by a majestic community garden and serenaded by a couple of happy-go-lucky songbirds.
Ah, another good omen.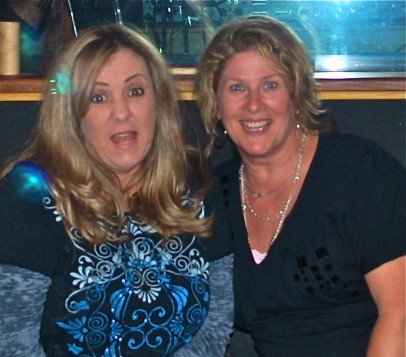 We were greeted by Ken, the owner, a congenial, lean, soft-spoken young man. He graciously brings us into his world.
The studio is a recording artist's dream with state of the art equipment. We are totally enamored with all of it's coolness and psyched that we are actually getting the rap professionally recorded.
Laurie notices a wooden ladybug perched on a shelf.  I pick up the red insect and see it as further affirmation that lady luck is traveling with us on this day.  Piero and his sound engineer, Cameron arrive. Ken and Cameron begin setting up and Piero, jacked up by a cup of joe from Coffee Catz, gives us a hyped-up low down of what happens during a recording session.
Piero turns into a whirling dervish and stages photo ops for the CD cover; all the while lavishing us with his brilliance.
I wonder where he registers on the genius scale.
The recording session begins. Laurie will rap nearly all of the song, minus the two verses that will be performed by yours truly. She steps up to the mic and in practically one breath, does a kick-ass job with her fast paced and densely worded song.
Her message is powerful.
It is now my turn.
I envision that ladybug sitting on my shoulder, cheering me on. I try my best and muddle through the rest. With a little direction from Piero, I get the tempo down and complete the verses. It's Ken and Cameron turn to work their magic in the control room.
The waiting game begins. We're both excited to see what these guys will come up with.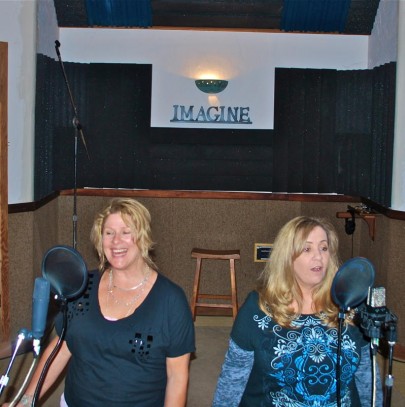 I take a moment to check my phone and see I have a text. Texts are not always good news in my world.
This one informs me that my oldest son, Jackson, is in the ER and undergoing tests for possibly suffering a stroke.
I instantly transform from Rapper Mom into Mom the advocate and translator.
Stepping out of the studio, I contact the ER and actually get the Dr. on the horn. Jackson had a seizure (nothing new here) the night before (he lives in an assisted living home) and staff brought him in as a precaution.
He is going through a passel of tests: x-rays, cat scan, blood work.
It will be a wait and see situation.
The ladybug is long gone, probably got a little hungry and mozied on down to munch on a few aphids at the community garden.
Damn.
I stumble back into the studio and see that the guys are deeply into mixing, accenting, fading in and tempering the rap. Laurie asks me what the doctor says and I tell her.
I realize that over the twenty-five years I've known her, we have had way too many of these conversations.
Is he going to live? What will it take to stop the seizures?
While waiting on word of Jackson's fate, I ask myself, should I leave the studio and race up to Sacramento to be with him? Is this just (Jackson has ten seizures a month-when the medications are at therapeutic levels) another seizure?
Or is this the seizure that will take his life?
This is what our family has been living with since Jackson was five – he is now 30. Somehow life goes on and I work my way around his latest catastrophe.  Good news comes quickly this time: Jackson did not suffer a stroke, it was simply a seizure. He will kept in the hospital overnight for observation.
Another bullet dodged.
Sometimes I wonder how many lives Jackson has before his luck runs out.
The day now becomes one blue blur, but eventually the rap is engineered and mastered. Laurie and I drive home totally spent from the whole experience. I'm curious why my childhood fantasy of ladybugs has failed me, so I Google the bastards.
Turns out the buggers were named after the Virgin Mary – hence the color red. The seven spots symbolize seven joys and seven sorrows. I will never look at them the same again.  I've learned one can sink into the deep morass of loss, sorrow and what could have been – OR – one can choose to deflect the barrage of setbacks thrust upon us and find a way to achieve our dreams.
A few days later, my back went out.
It seems Ms. Ladybug Coccinellidae is the bug that keeps on giving.
Toni
Toni left 8 Women Dream in November of 2010 to focus on Club B and its screenplay.

Enjoy this special 8WomenDream Guest Contributor story submitted by new and experienced big dreamers throughout the world, edited and published to capture a dream perspective from different points of view. Do you have a personal dream story to share with 8WomenDream readers? Click here to learn how to submit dream big articles for consideration.
Note: Articles by Guest Post Contributors may contain affiliate links and may be compensated if you make a purchase after clicking on an affiliate link.