Last updated on April 2nd, 2012 at 11:31 am
Last week I had lunch with a dear friend who happens to be one of my very smartest friends, too.
She can explain things like video editing or income tax rules without making me feel like a pea brain. So, we get through the salad, the pizza, splitting the bill and she asks if I'm in a hurry.
Yeah right, since when?
And so she introduced the topic we should have been focusing on the entire time instead of catching up and swapping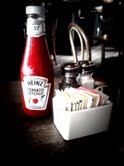 news about mutual friends.
It seems her mother is dying.
I sighed a little inside because she knows so much about my mothers and when have we ever discussed her mother?
Note to self: your friends have mothers, too.
"(She) never seemed to understand that relationships are two-way streets, one was always left feeling inadequate, that you had never done enough, never found the magic words to unlock her emotions," she said of her mother.
She praised her sibling caretaker, to whom she is grateful. Although she worries that when others inquire about the mother's condition her sibling is traumatized on top of managing the toxic mom duty.
And like so many of us with toxic moms, my friend is practically leaning forward in anticipation, ever hopeful for some sort of mother/daughter resolution before booking that final flight for the funeral.
She describes her last mom visit this way:
"What was strange for me was watching myself want to pay my final respects to an unresponsive mother who never wanted to hold up her part of the relationship, never seemed to understand that relationships are two-way streets."
While calculating our tips I offered up my theory on toxic reconciliation. Anyone capable of being consistently cruel, unkind, demeaning or unreasonably demanding to a child, is not capable of feeling bad about it – – much less apologizing or offering any explanation.
Not . . . 'gonna . . . happen.
Just saying that out loud helped my friend. She leaned back and looked at me across the table.
Her smile reminded of the moment we met over a decade ago. I was trying to look poised while standing in a busy newsroom on a job interview. As she walked by my friend tapped me on the arm and said, "Don't be nervous. You'll do great."
What a kind thing to do. But that's what a giving and empathetic person does.
Over our glasses of melting ice I walked her through my thought process on letting go of reconciliation hopes. Consider the years of hurt feelings, the tears, and the confusion that your toxic mother inflicted upon you. Then think about your own life.
Having been treated that way, I'm betting you are incapable of being as cruel. But let's say you did hurt someone's feelings once. I bet you felt bad. I bet you apologized and tried to make amends.
That's the difference between you and your mother.
Maybe it's the one thing she taught you.
When I was writing this week's posting my friend and I exchanged e-mails about her story. I love how she looks at this situation.
. . . When I went down to see her I decided I was paying respect to the mother principle in all women, a dutiful daughter move just the same but I felt good about myself after it and have never felt drawn to do anything more. In the end, I tried to be my best self and that has made all the difference. She really had created a narrow world, cut off from all her children, leaving herself alone and wondering why. Finally I did not feel responsible for that . . .

It's not easy to train yourself to cut the loop of negative self-criticism that sounds suspiciously like your mom on boxed wine.
It's an imperfect process drawing up your boundaries and sticking to them. It's hard getting to the realization that your toxic mom is incapable of making you feel better about your relationship.
But be advised — chances are she holds no magic key. She has no confessional letter under her pillow. The dream of a tearful reconciliation is a fantasy.
Realizing that truth is how we move forward in the world as a loving and compassionate people.
Until next Sunday, let me leave you with this fantastic YouTube video.

I love it because it's just so real and kooky. It's a great example of a healthy mother/daughter relationship.
Rayne Wolfe's dream is to write her first book Confessions of an Undutiful Daughter by the end of 2011. She completed her dream journey May of 2011 on 8WD after a year living her dream. You can find her at Toxic Mom Toolkit on Facebook.

Enjoy this special 8WomenDream Guest Contributor story submitted by new and experienced big dreamers throughout the world, edited and published to capture a dream perspective from different points-of-view. Do you have a personal dream story to share with 8WomenDream readers? Click here to learn how to submit dream big articles for consideration.
Note: Articles by Guest Post Contributors may contain affiliate links and 8WD will be compensated if you make a purchase after clicking on an affiliate link.