Last updated on October 31st, 2019 at 02:52 am

Motivational speakers don't just make money speaking – we create other avenues for sharing our message with the world – and one of those avenues is a product. Books, CDs, DVDs, manuals, workbooks, journals, cookbooks – you name it.
There are many opportunities to get your message out to the world. Dreams can be bigger than you might first picture them.
Don't know how to get your story in print, and in the hands of those who need your message? I highly recommend that you check out www.CreateSpace.com – a self-publishing resource.
You will have to do all the marketing, but your costs will be very minimal and you won't have to stock your basement with books.
And it's owned by Amazon, which makes your book immediately available for purchase on amazon.com.
Like many professional motivational speakers, one of my goals is to help others see the value in what they do. As a consequence, I often write tributes to the different people out there who serve – nurses, teachers, the military, social workers, those who feed the hungry – the countless unseen faces who make this world a better place.
I decided to turn my latest tribute to a children's book. My brother-in-law is busy drawing the pictures to go with it. I'd like to share it with you in the hopes that it will encourage you to get your story out to the world.
You have no excuse!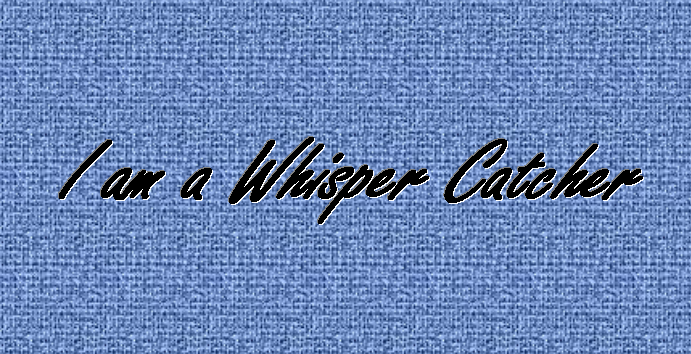 The Whisper Catchers
Legend has it that before the world began
When the creator was forming all of his people out of clay
Though he made them to be strong
He knew that there would be moments
When they would be weak
When they would need help
When they would cry out to the heavens
And they would whisper to the stars
And so he made a special group of people
To hear them
A group of people that he set aside
For a very special purpose
With a very special gift
Who would look like all the others
Laugh and cry like all the others
Walk the same streets
But they would hear what others could not – or would not
For they were made to hear the whispers
Of those who called out to the stars
And so he called them
The Whisper Catchers
And he sent them to the ends of the earth
And to all the tiny dark places
Where they would be needed most
And made them to listen for the whispers floating past
Like tiny bells on the wind
That neither you nor I can hear
But the whisper catchers hear
And they show up at just the right moment
With a smile, or a song
A helping hand
Just the very thing you need
At just the very time you need it
To remind you that you matter
That you are here for a reason
That the world is better because of you
And that your whisper has been heard
And sometimes a whisper catcher
Catches thousands of whispers
Before he knows his calling
Before she understands her quest
Before they understand their purpose
Before they see the treasure
In their reflection
And sometimes they just forget
Or focus on the ones they could not help
And the whisper catchers need to be reminded
By someone standing right in front of them
At the perfect moment
Who may not even know
That she's a whisper catcher too
Who will look them in the eyes
And remind them
That you matter
That you are here for a reason
That the world is better because you are in it
And now the whisper catcher has new life
And can go out with great purpose
And with great calling
For there's a whisper waiting
And they might be the only one to hear it.
To all those Whisper Catchers out there:
Thank you. The world is a better place because you're in it.
Please share this with other Whisper Catchers you may know.
Kelly Swanson
You. Your story. Make an impact.
Kelly Swanson is an award-winning storyteller, comedian, motivational speaker, Huffington Post Contributor, and cast member of The Fashion Hero television show airing on Amazon Prime. She is also the author of Who Hijacked My Fairy Tale, The Land of If Only, The Story Formula, and The Affirmation Journal for Positive Thinking. She was a featured entertainer for Holland America Cruise Lines, keynote speaker for the International Toastmasters Convention, and has keynoted major conferences and corporate events from coast to coast. She just launched her one-woman show Who Hijacked My Fairy Tale in theaters, and it is being booked all over the country. In July of 2022, she was inducted into the National Speakers Association Speaker Hall of Fame.
Note: Articles by Kelly may contain affiliate links and may be compensated if you make a purchase after clicking on an affiliate link.