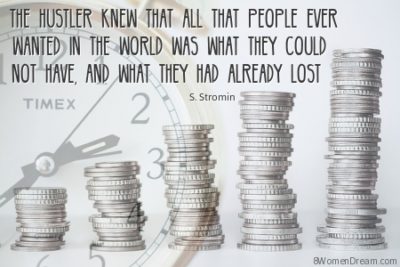 If your big dream is to become a top-paid public speaker, I want to talk with you about attempting to short cut your way to the top. When new speakers are just starting, they can be seduced into leaping at an opportunity to get rich quick when it presents itself.
Seasoned motivational speakers have seen all of the get-rich-quick scams that promise you can make six figures as a speaker in six months — the people who swear by a secret formula that nobody in the world has ever thought of before.
"If you just do this," they say.
I've seen behind-the-curtain on the get-rich-quick selling techniques. I've seen how language is manipulated along with other subtle sales tactics to influence you emotionally. I have fallen for them myself. Scammers know precisely what to say and what you need to hear.  And in many cases, you give them your life savings and end up with nothing to show for it.
No wonder the average consumer doesn't trust the seller anymore. I once heard someone on a panel say that banking institutions distrust two groups the most–porn sites and seminar leaders.
Yes, I am a seminar leader myself.
I do offer coaching services.
I do sell products.
And, yes, people are accountable for their actions.  You are the one who chooses to buy.
And, yes, some reputable public speaking coaches sell a product with measurable outcomes. Unfortunately, the "get-rich-quick at public speaking" scammers make prominent coaches look bad too.
If you are new to this dream of being a paid public speaker, I promise you will encounter on your dream journey a lot of people who will want to sell something to you. They know what you want: to get booked for speaking events and to get rich. They will appeal to your emotional side, with a sense of urgency. They will tell you "it's" easier than you think. They will say to you, "it's" a simple process. They will tell you that all you need is "this one thing."
Maybe they're right, but more often than not, they're wrong.  How does a newly paid public speaker navigate the shark-infested waters? Here's my advice …
6 Tips to Avoid Public Speaker Scams
1. Look for Real Social Proof.
Don't write anyone a check or hand over your credit card until you have talked to clients who have been through the program and achieved the promised results with a measurable outcome.
Word-of-mouth is the most trusted resource that consumers have. It's amazing how many ads and promises we see without people talking about the results. Results are where social proof is. Look for it. You have too many choices to settle on the wrong one. Find real evidence of success. Be careful of people who have used a particular program or product who are also affiliate members with the company or person launching the product. Make sure you understand if they have a vested interest in getting you to buy. 
Talk to real speakers–not paid actors.
2. Don't Allow Yourself to be Rushed to Buy.
If it's a good idea today, it will be a good idea next week.  Take your time deciding if you need to product or service being offered. Do your homework. Check the person out. Ask around. 
3. Analyze Your Emotions.
If their ad or pitch is triggering an overwhelming emotional desire (to get rich), then be aware that you may be making a decision based on pure emotion without the right amount of intellectual input.
Ask yourself if the product pitch is fulfilling some craving. If it is, that emotion might be clouding your judgment.
4. If it's too good to be true, it's probably not true.
It's tough to say it any better. I had known too many professional speakers who paid money for schemes thinking they were spending money to achieve a result when they were actually paying for a method.
A method they try to apply, but it doesn't work for them. A technique that doesn't end up making sense. An approach with one glaring piece missing.
Usually, if somebody experiences results and is promising it will work the same for you, there is a significant "Yes, but" attached. Just think about it– if getting rich by public speaking was easy, wouldn't the bulk of speakers all be millionaires?
5. Seek Advice from Experts Who Don't Have Something to Gain.
Always filter any public speaking money-making advice by thinking about the financial motive of the one offering said advice. If I want to make sure you buy my storytelling course, I'm going to talk about how your stories are the one thing you're missing to get rich, and how (surprise, surprise) I'm the one who can help you make them better. Here's my card.
Yuck. Yuck. Double Yuck.
In no networking situation does this prove useful based on the tenets of selling. People are still waiting for you in the bathroom–to pitch their service while you wash your hands. I'm not sure that will ever change. But you can improve your response.
You can be smarter about figuring out someone's financial motive behind their advice.
6. Get a Trusted Mentor Who Has Been Around-the-block a Few Times.
With age and experience comes wisdom. Seasoned keynote speakers have seen all of the business of paid public speaking over the years, and they have great insight. They have the luxury of seeing the big picture. They've heard these same scam promises for years and understand the results.
Get their advice–just don't pay for their advice.
I have noticed a recent trend of people selling promises to help speakers sell promises to people who will learn to sell promises to other people.  I feel like it's the new Ponzi scheme of the public speaking business. To be honest, it's challenging to tell who's selling value and who's selling air. You will never stop the con-artists. But you can be smart about where you spend your money.
I sincerely hope my advice here will prevent you from falling for any public speaking get-rich-quick scams and making a big financial mistake in the process that ends up killing your dream before it has a chance.
You deserve better.
Kelly Swanson
Kelly Swanson is an award-winning storyteller, motivational speaker, published author and TV personality who is passionate about helping women harness the power of their stories to connect, influence, and get the results they dream of accomplishing. Laughing the whole way, Kelly teaches women how to master the art of connection through the power of strategic storytelling. You can find her on The Fashion Hero show airing Fall of 2017 on Amazon Prime or on her website MotivationalSpeakerKellySwanson.com.
Note: Articles by Kelly may contain affiliate links and 8WD or Kelly will be compensated if you make a purchase after clicking on an affiliate link.