Last updated on January 22nd, 2019 at 01:58 pm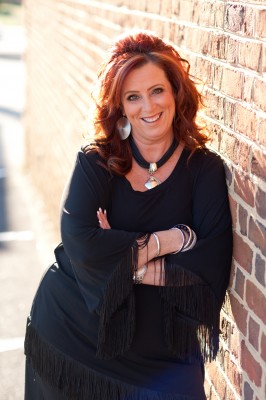 ….who checks a bag.  I'm not a miracle worker. I have yet to figure out how to get "all of this" into a carry on. So these are some travel tips for the speaker who must check a bag so she can bring her cowboy boots.
Make airline arrangements one month in advance to get the best price.
When you check in, go pick your seat, if your airline allows it.
Try to stick to the same airline and hotel and rental companies – to get more points and perks.
Keep your suitcase "condiments" packed. Have an entire set of duplicate toiletries always packed in your bag so you're never packing and repacking. I keep one makeup kit sitting in that suitcase that I use every day at home or travel.  When I get home from a trip and unpack my clothes, I check to see if any toiletries need refilling.
Don't change your outfit choice the day before your trip. I'm a fan of wearing different things – but the day you pack is too late. Choose the outfit where you know automatically what goes with it – jewelry, socks, shoes, etc. Pick changing it up to a different day.
Make all your outfits use the same jewelry, shoes, belts, etc.  Jewelry can be heavy. Especially the cheap kind like I wear.
Print your flight and travel information and put it in your bag. Technology sometimes fails.
Pack some snacks. Airport food is expensive and not always healthy. And did I say expensive?
Bring an empty bottle (can't bring liquids through TSA) and refill with water. Healthier than sodas. And cheaper.
Check connection times. Give yourself enough time to connect to your next flight without having to run.
Ask your hotel if you can get a microwave and fridge in the room, and go buy groceries. Cheaper than room service and eating out all the time.
Bring single dollars and/or fives for tips.
Bring a plug splitter so you can plug several things in at once. Plugs are often hard to find in an airport or a hotel room.
Dress as if they are going to lose your luggage. Then at least you have one nice outfit.
Put a comfortable pair of shoes in your purse or carry on bag. Flip flops can be a life saver.
Keep a set of important toiletries in that carry on purse or bag – medications, contact solution, glasses, etc. In case your luggage is lost.
Carry the client's information with you so you don't have to dig for it when you tell them you have arrived, or need help.
Get apps to help you find local restaurants (I like grub hub) that deliver to your hotel.
Get a GPS app to help you find places around you.
Check out Uber -it's a new type of cab company that people are raving about. It's an app and it's supposed to be safe.
Plan to arrive the day before an event if you can.  Never take the last flight out. Too risky.
Bring work with you. Layovers and delays and flights are great places to get work done.
When I leave, I forward phones so I don't miss business calls.
When you have an upcoming trip, keep a pad of paper by your computer where you start to write down things you want to remember to pack. It's a life saver when it comes to packing day.
Have a routine you follow. I like to keep the day before I travel with little commitments, so I can work through my list of pre-trip events.
Kelly Swanson is an award-winning storyteller, motivational speaker, published author and TV personality who is passionate about helping women harness the power of their stories to connect, influence, and get the results they dream of accomplishing. Laughing the whole way, Kelly teaches women how to master the art of connection through the power of strategic storytelling. You can find her on The Fashion Hero show airing Fall of 2017 on Amazon Prime or on her website MotivationalSpeakerKellySwanson.com.
Note: Articles by Kelly may contain affiliate links and may be compensated if you make a purchase after clicking on an affiliate link.