Last updated on January 22nd, 2019 at 01:58 pm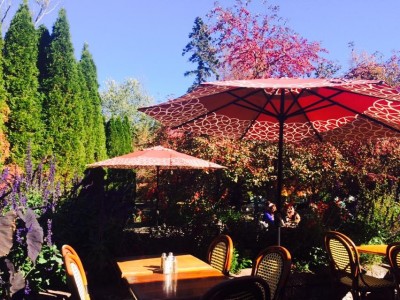 I am sitting outside as I write this on a gorgeous fall day, in an outdoor butterfly garden, featuring purple butterfly bushes and tall red and pink stalks of flowers, as well as bushes that look like large purple elephant ears. It is edged by a low stone wall.
The sky is a perfect blue, and it's sunny and in the 70s – an "Indian summer" day, really. There are trees heavy with red berries, tall fir trees, and a stretch of lawn.
I'm here enjoying a little taste of paradise at Esselon Cafe in Amherst, MA, before heading to Longmeadow, MA to my parents' house to visit with my youngest sister, Margaret, who is visiting from Montana, where she is a farmer and works at a seed company.
There is the buzz of conversation all around in the garden of this cafe, which is a fave of mine in this area. I grew up in Springfield, MA and my mom was a professor at UMass Amherst, and I've spent a good deal of time here in Amherst and nearby Northampton, MA over the years, finding happiness in having fun random adventures.
Sweet College Towns
Northampton is a fun, artsy, little college town, with lots of cool restaurants, bars and coffee shops and a very active lesbian community. I have my favorites there too, including Haymarket Cafe, located in a narrow storefront plus basement, which specializes in veggie juices and serves incredible vegetarian food.
It has a walkable downtown, with plenty of shops to browse. I am a greeting card fanatic, and find favorites at Faces shop next door to Haymarket, which also has fun home furnishings, wacky sunglasses and discounted clothes – all favorites of mine.
I usually pop in there to at least pick up some inspirational greeting cards, which I've always used to inexpensively decorate my house. My greeting card collection, to perk up someone's day, and my wacky sunglasses collection are two of my favorites.
Today I just wanted to enjoy time in a peaceful garden, because my spirit needed some quiet time, away from it all. I enjoy the buzz of people's voices around me too, since I'm used to working on my laptop at cafes.
This feels like just the right place to be, and I feel so lucky to be able to spend a relaxing hour here before heading to see the family soon.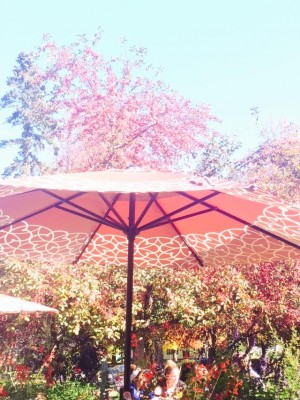 Improvising A Day
Improvising a day has always been one of my favorite things to do. If I have a Saturday afternoon free, I love to take mini road-trips and check out little towns I've never visited before.
Over the years, I've explored so many fun little cities this way. I popped into Woodstock, NY recently over the summer while en route back from a Staten Island wedding, and stumbled onto the most charming little places.
I had dinner at a farm-to-table restaurant where I got to enjoy a drink called the Green Fairy, made with Absinthe, which just was a reminder of the magic of life. I wandered around "downtown" Woodstock, visiting their teeny tiny little chamber of commerce, located in a hut painted a bright purple.
I found a charming B&B that I can visit in the future, and my favorite of all, a vegan restaurant tucked into a garden. I'd already had dinner, but got a shot of veggie juice and a cup of tea and sat and chatted with a lovely woman who was making a new start in her life, after a divorce.
I was able to share my story of a beautiful new start to my life after a divorce, which ended up being a great and liberating move. I was thankful to be able to be there and connect with her, and to give her an example of how a divorce can end up opening up your world to all kinds of new and wonderful adventures.
It was one of these serendipitous evenings when everything in the world felt magical. I love creating little mini-adventures, and meeting people – since I always say, "Every stranger is just a friend I haven't met yet."
I love wandering through little cities when traveling internationally as well, and stumbling onto all kinds of treasures. It is such a magnificent world!
I am looking forward to traveling to Argentina next January to see my sister and her husband and their three gorgeous kids, my niece Luna, who's the light of my life and who turns seven this year, and my nephews Nico and Lucas, who are four years old and nine months old.
Carrie and Pablo live in San Martin de los Andes, which is in Southern Argentina, in Patagonia, in a cabin in the mountains. They live near a beautiful river, and it'll be summertime there when we visit.
I can't wait to see the kids and to explore another new beautiful place. Patagonia is supposed to be one of the most spectacular regions of the world.
Traveling and having random little adventures is always such a process of discovery. I love exploring and getting to know the character and soul of a little city.
It's dazzling and beautiful to realize that there will always be more places to explore! I've visited twenty-something countries so far, but since there are 196 countries, I have so many to go!
Visiting the African and Australian continents are both big dreams of mine. I serve on the board of a charity in Uganda called OneMama that saves the lives of mamas and babies through medical and community clinics, and I have always wanted to visit.
It seems like there is something so magical about "Oz" as well, and I have friends in Sydney and Queensland and other parts of "Oz." I know I'll make it there someday too and have some great adventures!
I'm so thankful for the gift of random adventures, which is one of my favorite ways of finding happiness!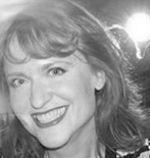 Lisa P. Graham is an inspirational writer, life coach, TED motivational speaker, and globe-trotter whose passion is to help others to find happiness and meaning in their daily lives. A political activist at heart, Lisa would like to empower more women to run for political office as a way to create positive change in the world. You can find her on her website or watch her TEDx speech on YouTube.
Note: Articles by Lisa may contain affiliate links and may be compensated if you make a purchase after clicking on an affiliate link.