I was lucky to get to spend some time down South this past week. For me, traveling and exploring new places is one of the ways that I practice finding happiness.
This was a joyous visit, that included dancing, hiking, delectable Southern food, and downtown waterfalls – fitting in a few mini-adventures while there for business.
I was in Greenville, South Carolina for the first time, and I really fell in love with it. I am fairly convinced, in fact, that it is the friendliest city in the United States.
Honestly, everyone I met made me feel like they were sooooo happy to see me, even though we were meeting for the first time. I felt like everyone's long-long cousin, or grade-school friend who they hadn't seen in years.
Every meeting was a celebration! And who doesn't love being welcomed warmly everywhere you go?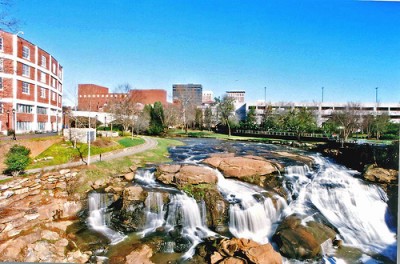 Welcome to Greenville
I'd never heard of Greenville before I traveled there, and now am glad that I got to learn more about it and spend time there. Greenville is located approximately halfway between Atlanta, Georgia and Charlotte, North Carolina.
Greenville is located in an 8-country region in Northwestern South Carolina known as "The Upstate." It has a metropolitan population of 842,853 and a combined statistical area population of 1.4 million.
Greenville won the 3rd Strongest Job Market in 2010 and was named the 13th Best City for Young Professionals by Forbes.
What impressed me most was the charming, renovated historic downtown with waterfalls in a park at the center, and just how incredibly friendly everyone was.
Everyone I met and talked to seemed incredibly happy, and happy to see me. I did not detect any false enthusiasm – people really genuinely seemed delighted when I would approach, and they treated me as one might treat a beloved friend one hasn't seen in a while.
People are either genuinely happy and friendly in Greenville, or they have the world's best customer service people. I am going to vote for happy and friendly, because that's really the sense that I got.
Planning My Adventures
I was only in town for three days for a business trip, so I had evenings and lunches available to explore the city. I spent time visiting with the dedicated and kind hotel concierge LaDonna, who enthusiastically researched vegetarian options at nearby restaurants for me.
Most of the restaurants I went to were recommended by LaDonna. I was lucky to be staying at a Hyatt that was located right on Main Street downtown, within walking distance of great restaurants as well as Falls Park, which features Liberty Bridge, walking paths, and a series of waterfalls.
The first day I was there I had lunch at the Green Room, a nearby pub with tables outside. It was sunny and warm – about 60 degrees – and I wanted to enjoy it.
So I had my salad with mixed greens, avocado, candied pecans, beets, and truffle vinaigrette and my two over-easy eggs outside in the sunshine. I watched shoppers, students and businesspeople hurry by, some festively dressed in holiday attire, some just running from one appointment to another.
That first night I decided to dine at Soby's, which offers traditional Southern fare (when in Rome…). I sat upstairs in the second level that overlooks the kitchen, so you can watch the chefs working their magic.
While they sliced and diced and sauteed butter with sizzling garlic and tossed and flipped and plated, I picked out some traditional Southern dishes to whet my appetite. I had to start with friend green tomatoes because it is perhaps the quintessential Southern appetizer.
They were served in a little stack with frizzled onions and red peppers, and they were ridiculously delicious. Next up was a veggie sampler platter of Southern side dishes, which served as my main course for dinner.
I nibbled on Southern braised greens, spicy sweet potato mash, a savory farro salad, fried okra. Everything was delicious.
I opted to have a hot chocolate down at the bar at the end of the dinner, just so that I could be more social and get some more recommendations from the locals about fun stuff to do.
Somehow hot chocolate seemed like the perfect finish to a savory Southern meal. Predictably, the bartender and the people sitting near me were friendly and welcoming.
I visited for a while with the handsome traveling salesman on my left, who dove into a big plate of fried chicken soon after I sat down. He said that he usually doesn't eat chicken, and he was going to order fish, but he just couldn't resist the amazing fried chicken tonight.
I was tempted by it just from the scent wafting over to me from his plate, and I've been vegetarian since 2005. I didn't indulge, but I found myself really wanting some Southern fried chicken.
Day Two in Greenville
The next day I had just enough time to grab lunch at Panera; I would have more time to explore at dinner-time. I picked another local favorite for the evening, a Southwestern-Tex-Mex-Sushi place called Taco Sushi.
Taco Sushi had been enthusiastically recommended to me by my handsome barstool mate, the local next to him and the bartender. So many local recommendations made it win out over other Main Street options.
First, I wandered down Main Street to check out Falls Park before dinner. There were walking paths along the waterfalls, and I sat on a big rock hear the rushing water to meditate and pray.
Liberty Bridge, a pedestrian suspension bridge, sliced across the sky above the falls. Daylight faded into twilight as I sat and meditated.
After a peaceful interlude at the falls, I cross the bridge and headed back up Main Street to Taco Sushi.
I ordered the ahi tuni carpaccio salad, which came with avocado and spicy mayo. It was delicious and huge, way more than I could possibly eat.
This is the tricky part of traveling alone: I want to sample everything, and my eyes are always bigger than my stomach!
Dinner was tilapia fish tacos in crispy corn taco shells with cabbage slaw and spicy mayo, served with rice, beans, salsa and gaucamole. I always love a good fish taco! These did not disappoint.
Later that evening, the local lindy hop group was hosting a Christmas swing dance at a dance hall that happened to be located about two blocks from my hotel. I had to go!
I didn't have any holiday attire to wear to the dance, so I stopped at the general store downtown and bought a headband that has Santa perched atop it, along with jingle bells hanging down the sides that look like little arms and hands.
It proved to be very popular at the dance and even more so as I traveled home the next day. With my Santa-headband, I was a hit at the airport!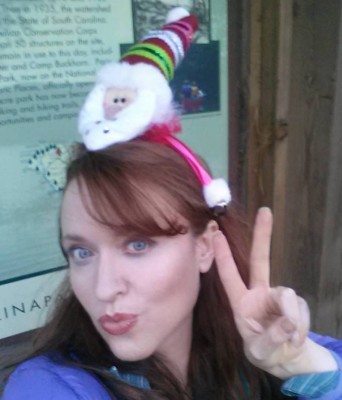 Day Three in Greenville
On my last day of the trip, I had enough time to grab lunch at the local favorite Tupelo Honey. I tried what were surely the world's best tofu "wings," designed to taste like buffalo chicken wings.
They were finger-licking delicious! Then I had another veggie sample platter, including a mini-house salad with maple mustard vinaigrette, brussel sprouts with butter and brown sugar, braised greens, and an okra pickle. I washed it all down with some sweet mint tea.
I had to head to the airport later that afternoon. I first wanted to fit in a little hiking, so I chose Paris Mountain State Park which is only about 15 minutes from the airport.
I ended up playing on the playground at the park, and walking some little paths down towards the water. Unfortunately my GPS did not seem to want to give me accurate directions to the airport.
It took a few stops at a few gas stations and some more friendly folks to get me reoriented and on track to make it to the airport. Thankfully, it's a small airport, because got to the rental car drop-off point with less than an hour to check in and catch  my plane.
I was once again thankful that Greenville has the world's friendliest people, as everyone from the US Airways personnel to the airport security were super-friendly. The handsome US airways staff person who checked me in couldn't stop giggling about my Santa headband.
The TSA staff were all incredibly friendly. It was really like a different world, being in Greenville, where everyone is happy you are there.
They kept telling me to come back home to them again soon. They certainly made me feel at home!
Thankful for travel adventures, friendly happy people, and exploring new parts of the country. As for the wonders of the South – head down there soon, y'all, if you never have! You won't regret it!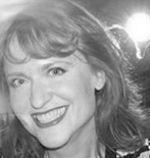 Lisa P. Graham is an inspirational writer, life coach, TED motivational speaker, and globe-trotter whose passion is to help others to find happiness and meaning in their daily lives. A political activist at heart, Lisa would like to empower more women to run for political office as a way to create positive change in the world. You can find her on her website or watch her TEDx speech on YouTube.
Note: Articles by Lisa may contain affiliate links and may be compensated if you make a purchase after clicking on an affiliate link.