Last updated on November 6th, 2019 at 01:33 am
Frankly, I've always been boy-crazy, crushing on boys for as long as I can remember, chasing freckle-faced boys around the kindergarten playground as a pigtailed five-year-old to steal smooches.  There are still a few things in this world that thrill me more than a sweet kiss from a man I'm crushing on. Thump-thump, thump-thump, thump-thump, goes my little heart.
That Said, Women Also Rock!
That said, right now I have to say that I am in a phase of celebrating the incredible women in my life. I spent the past week rocking out with other goddesses, feeling the love and support for my dreams from the women in my life.
Friday night, there was a meeting of the 8 women dream group in Petaluma, California. My ladies stepped up to make it happen for me!
Veronica came to get me at the bus station. Cath and Heather drove me all the way back into SF afterward, stopping for a giant take-out coffee at Burger King along the way to fuel the late-night journey.
Heather baked the most incredible comfort finger-food ever — little mini cupcakes made out of macaroni and cheese. There was a giant bottle of sangria, and I refilled my glass frequently.
Two dogs curled up next to me on the sofa all night — it was a night of sharing dreams with inspiring women as well as a night of puppy-love for me.
Most importantly there were seven other women, all committed to living our dreams, all updating each other on how its going, all giving each other our love and support.
I'm so grateful to these women who have made it possible for me to live my dream out loud with all of you — I'm so lucky to have this supportive environment and this forum for living my dream.
How's the Book Going, Anyways?
Another eleven women were there to support me this past weekend in my dream of writing my first book. I attended the fourth meeting of my Memoir in a Year class with best-selling author Ellen Sussman.
I am still a few pages short of the milestone we're aiming for — 150 pages — and will get there this week. Being with the group again helped recharge me.
It helps to hear about the other women's challenges — in writing, in balancing writing and life, in dealing with the voice of our inner critic that tells us we're not good enough. It seems we all face so many of the same challenges.
It is just coincidental that this writing group is comprised entirely of women too, and it is somehow comforting. We all face similar challenges, we're all givers, we're all balancing career and loved ones and friends and fitting in writing our books in the cracks between responsibilities.
Somehow, we're all finding time to write.
Helping Each Other Heal
Part of the reason I'm writing my book is for other women. One in four women will be a victim of sexual assault in their lifetimes.
By sharing my story, and my path to healing, I'm hoping to help other women find their joy, recover more quickly and suffer less than I did. I was so stubborn that it took me years to seek help despite what I endured.
I want other women to realize they don't need to suffer alone. I hope my book will inspire others to seek help sooner, to love themselves enough to find a path to healing, and help them know they are not alone.
Rock My Goddess Life
Last night, I connected with yet another awesome group of women in my life. I'd joined a 12-week class called "Rock My Goddess Life," led by the radiant Alexandra Jaye. There, twenty-three women of all ages connected once a week to share our learning, growth, adventures, joys.
Last night was our last call. We danced together to "Living My Life Like Its Golden" at the end of the call, a virtual dance party across the miles.
Afterwards, I headed to a cafe to write my blog post, and then went out blues dancing in San Francisco — another chance to shimmy and shake, this time in the arms of many men (which admittedly makes me very happy as well!).
Friendships With Other Women Are Good For Our Health
According to a Harvard Medical School study, our friendships with other women are "helping us live better."
"The famed Nurses' Health Study from Harvard Medical School found that the more friends women had, the less likely they were to develop physical impairments as they aged, and the more likely they were to be leading a joyful life.
"In fact, the results were so significant, the researchers concluded, that not having close friends or confidants was as detrimental to your health as smoking or carrying extra weight."
Celebrate the women in your life this week, who are good for your health, who help you live your dreams, who love you as you are! Can you reach out and let them know what they mean to you?
Lisa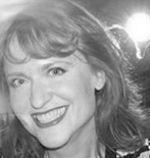 Lisa P. Graham is an inspirational writer, life coach, TED motivational speaker, and globe-trotter whose passion is to help others to find happiness and meaning in their daily lives. A political activist at heart, Lisa would like to empower more women to run for political office as a way to create positive change in the world. You can find her on her website or watch her TEDx speech on YouTube.
Note: Articles by Lisa may contain affiliate links and may be compensated if you make a purchase after clicking on an affiliate link.