Last updated on April 2nd, 2012 at 03:12 pm
You are the best. The best ever.
If you don't 100% believe that, then you must be on the same page that I am.
This is a continuation of last week's post on Seth Godin's wildly popular book, "The Dip", I posed this painful question to myself this week.
"Are you the best in the world?"
Go find a mirror and say that to yourself out loud.
How do you feel?
I felt like crap.
Seth has an incredible viewpoint for this factor that scares me big time as a small business owner and someone with a dream of multiple streams of income.

"Best as in: best for them, right now, based on what they believe in and what they know. And in the world as in: their world, the world they have access to."
Not. Even. Close.
That is the perception I had when I started really pulling back the layers and making myself apply this question to my business ventures this week.
Take my couture jewelry business, For Your Adornment. When I applied the concepts of the Dip, I discovered I did the worst thing possible.
After doing all this –
Professional photographs of all my pieces
Detailed descriptions of all items
A catalog system for offline sales
E-commerce web site (completely separate from the catalog system)
I QUIT. In all the wrong ways.
I quit working on…
Marketing the E-commerce site
Using social media to promote my new designs
Looking for retail sales opportunities in the area
I had created the perfect storm. A system that created more work to maintain than the jewelry designing itself.
The FUN is over. Welcome to the Dip.
For those who didn't read my post last week: "The Dip is the long slog between starting and mastery. A long slog that's actually a shortcut, because it gets you where you want to go faster that any other path."
When was the last time you were here? Stuck in the Dip with a hobby, a job, or a relationship?
My decision was to step back and look at this… What would best in the world look like to my customers?
I know my customers get to decide what "their world" entails, so let me say that so far I've sold my jewelry in the area.
Obviously with online jewelry sales, it COULD be the world.
Here's a lesson I learned as a small business owner:Â  People like meeting the artist in person.
That lets me know a couple of things.
The definition of "in the world" for our customer is flexible
I need to look for local retail venues to sell my jewelry
Can I backup and take the turn I was meant to when I started this project?
Here's the new plan:
Scrap the E-commerce. I really need a blog platform to show my new work, talk about techniques, offer "how-to" videos, and it will be much more fun and easy to maintain.
Letting go of the fantasy of my own store opens up the reality of taking advantage of an existing marketplace for handmade sales goods – Etsy.com
Do I have any guarantees here? Hell no.
What's next? I need an exit plan. It may be painful, but I'm going to have to narrow this down. I don't have that outlined yet, but give me a week on this. Deciding when and how you will quit is harder than you think.
Are you wondering if you are best in the world?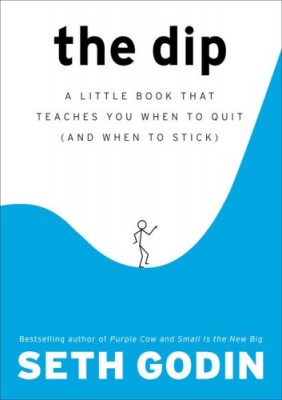 I highly recommend getting this little book. Ideally, read it when you have the BIG idea – or just after. Keep a realistic viewpoint and take it all in. It might just save you a ton of time and money.
Here's to your next success.
~ Heather

Heather's dream is to have multiple streams of income, starting with launching an e-commerce website that showcases her one-of-a-kind designer jewelry, which are crafted by her. Her newly launched sites are couture jewelry available through For Your Adornment, and Twitter background designs on Twitter And Beyond Dot Com. She also teaches Social Media tactics for business, besides being CEO of her own web design company. Heather's post day is Thursday.
All quotes are credited to Seth Godin, The Dip

Heather Montgomery is a fitness writer, triathlete, and serial entrepreneur who is devoted to sharing what she has learned about becoming a triathlete after age 40. She uses her Metabolic Training Certification to help other women struggling to get fit in mid-life. She lives and trains in Santa Rosa, California, the new home of the Ironman triathlon. You can find her biking the Sonoma County wine trails.
Note: Articles by Heather may contain affiliate links and will be compensated if you make a purchase after clicking on an affiliate link.