Last updated on March 25th, 2013 at 02:33 pm
Women's history month has many of us looking back on the women who made the lives we live possible.
Ever since my health and fitness dream took what some would say is an extreme focus toward competing in a triathlon, I've wondered about women in the sport, the pros that I read about in the triathlon magazines at the top of their game.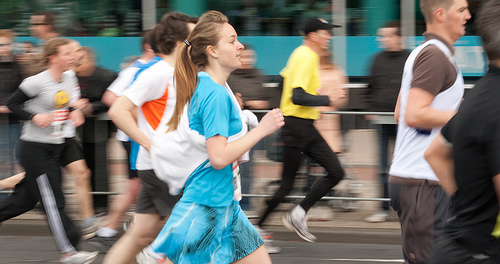 The whole story of triathlon, and how the sport came about will make a great post in the near future. But for now I wanted to dive into who has been there before, and how they excelled in the sport.
It's a tough concept as most women that are ranking high in triathlon are professionals. This would hold true for most sports I believe.  Mere mortals like myself rarely have access to the time they spend training, sponsorships and experts they have helping them in that training.
That doesn't lessen the impact these women have had to the history of the sport, I just wanted to clarify that we are talking about the elite athlete in this context.
Top women in triathlon that fuel my dream inspiration
Natascha Badmann
One of the greatest Endurance sportswomen in the world at the moment. Natasha has the prestige of being the first European woman ever to win the legendary Ironman in Hawaii. She went on to win the Ironman six times in here career to date. Her personal motto "Smile and be happy" is seen throughout the race while her competition watches her beaming face as she flies by.
Erin Baker
Opinions may vary, but the two-time Kona champ is the greatest triathlete to ever live. Simply dominant in the sport, her professtional race record includes 104 wins out of 121 races. Holding the world title over all distances from sprint to Ironman, Erin won her first Ironman in Australia although the Ironman distance was not her preference.
Mirinda Carfrae
Sports were a big part of Mirinda's world and she competed in her first triathlon at age 19. With her career still kicking butt, and 15 Ironman 70.3 wins to date, Mirinda has clearly taken the 70.3 distance as her. She leaves no no doubt that she's a force to be reckoned with in Ironman racing.
Emma Carney
1993 was her first triathlon, which she took the win after overcoming a 7 minute deficit after the swim. Two time ITU world champion had 19 world cup wins in her career.
Vanessa Fernandes
She competed in her first triathlon for her local triathlon club at 20 years old. Here winning record includes more world cup wins than anyone else at 21. 2008 she added an Olympic silver medal from Beijing and a world championship to her name.
Loretta Harrop
Taking up triathlon at 21 her progress in the sport was fast. Selected for the national team within a year and becoming a World Champion by 24. Harrop was unbeatable in early 2000s, forcing the Life Time Fitness series to tilt the Equalizer time into the men's favor. They called it the "Loretta Harrop factor" because she was so much faster than all the other women.
Michellie Jones
A winner at every triathlon distance, on and off road. She was the 2006 Kona champ and twice the ITU world champion with an Olympic Silver medal. Her over 175 wins keep racking up for this legendary athlete.
Paula Newby-Fraser
It's a very safe bet that her 8 Ironman Triathlon World Championship wine will never be equaled. The Queen of Kona reigns supreme, with a total of 24 Ironman wins throughout her career.
Emma Snowsill
Recognized as the highest award winning woman in ITU Triathlon History, Emma is also an Olympic, Commonwealth and triple World Champion, winning the ITU World Cup 12 times and gracing the podium a cool 23 times. Her first triathlon was at the age of 16 and she was hooked.
Chrissie Wellington
When you are undefeated at the iron distance with a world record at and Ironman event (8:36:13) and the Ironman World Championship (8:54:02), everyone has their eye on you. This amazing athlete went pro in 2007 and subsequently took the Ironman World Championships in 2007, 2008, 2009, and 2011.
Leanda Cave
I've included the most recent woman to take the 2012 Ironman World Championship in Kona, Hawaii. Leanda has an impressive list of wins under her belt  since her professional triathlon career started back in 1994, and is known for having one of the best swim/bike in the sport.
Need a little dream inspiration? Watch her 2012 Ironman Championship win as she crosses the finish line. I love how she goes back to roll across it!

Where do you find dream inspiration?
Women's History month can act as a reminder, a catalyst, for your own dream inspiration. You have role models, those who have succeeded in their dreams and who you consider an inspiration.
At least I would hope you have an inspirational role model, or two, you can continue to come back to that gives you a boost to continue on your dream path.
Who are your inspirations?
Go get your fit on – Heather
Photo Credit: Qsimple via Compfight cc

Heather Montgomery is a fitness writer, triathlete, and serial entrepreneur who is devoted to sharing what she has learned about becoming a triathlete after age 40. She uses her Metabolic Training Certification to help other women struggling to get fit in mid-life. She lives and trains in Santa Rosa, California, the new home of the Ironman triathlon. You can find her biking the Sonoma County wine trails.
Note: Articles by Heather may contain affiliate links and will be compensated if you make a purchase after clicking on an affiliate link.