Last updated on January 22nd, 2019 at 02:09 pm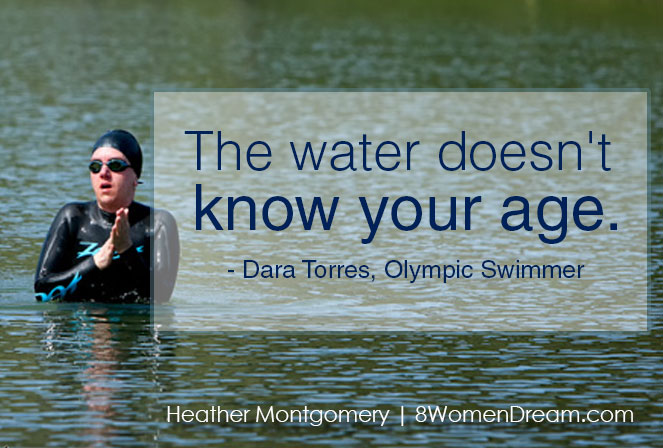 Hello fellow fitness dreamers! I've got a message for you to consider during Women's History Month.
You have everything you need to succeed for your very own fitness dream.
Success is measured differently for everyone, but the basics are always this: The ability to accomplish the goals we set.
You can find a thousand articles about why some people can reach their fitness goals and why others may struggle to get there. Even the experts aren't sure what can predict the positive outcome for any goal.
The main elements most success stories do share? Resilience, perspective, focus and discipline.
Resilience: Take things in stride and adapt to your fitness goals.
Women's History Month is a chance to take a step away from our own day to day attempts to improve our lives. Every once in a while we need a reminder of the trailblazers he had ahead of us.
If there's ever a reminder that we are never too old to achieve a lifelong fitness dream, Diana Nyad's marathon swim from Cuba to Key West Florida is it.
Diana Nyad had attempted this exact swim four previous times and at 64 had this to say about her success:
I have three messages. One is we should never ever give up. Two is you are never too old to chase your dreams. And three is it looks like a solitary sport but it takes a team.

Source: ABC News, http://abcnews.go.com/US/diana-nyad-arrives-key-west-sets-record-cuba/story?id=20133986
Keep Perspective: Believe in your ability to create your new reality.
Any dreamer can share with you that keeping perspective while trying to dream big and creating that new reality a challenge. I discovered part of my goal was already achieved when I got out into a race situation with the sole purpose to be support for someone else.

The only thing I knew I wanted to do before heading out for the run was to keep my positive coaching attitude. Nothing but love and encouragement.
I got much more out of the experience than I bargained for.
Stay Focused: Sharp and purposeful concentration.
I need a lot of inspiration to keep my own big dream fueled. Watching other amazing women get to achieve their fitness goals gets my engine going.
If they are in my own age group, I just consider that a bonus.
Dara Torres is an American swimmer that has competed in a record five Olympic games and at age 41 is the oldest swimmer to ever place for the U.S. Olympic team. Her swimming career includes twelve Olympic medals, four of each – gold, silver and bronze. In the 2008 Olympic games her times in 3 events each won her a silver medal.
As a 41 year old you see things differently… you appreciate things, you're more aware of things, more cognizant of things. People can talk about my age but it really was a huge advantage for me.
– Dara Torres
Discipline: Self-motivation and knowing that no one is going to do it for you.
Maybe I love Mirinda Carfrae's story because we are both in the 5'3" club, and mostly it's because she is determined to do the best she can.
Mirinda Carfrae always had sports as part of her life and found triathlon to tap into her competitive edge at 19. Her career had an amazing result with her Ironman World Championships Kona win in 2014. She continues to leave no doubt that she's a force to be reckoned with in Ironman racing.
Tap into Women's History Month to keep your fitness success inspiration
We are surrounded by success stories and taking a break to look around for new inspiration is one of the easiest ways to keep your dream goal on track.
Which dream trait will you pick this week? Resilience, perspective, focus or discipline?
Sometimes just choosing helps those goals show up in positive ways every day.
Heather Montgomery
Go get your fit on

Heather Montgomery is a fitness writer, triathlete, and serial entrepreneur who is devoted to sharing what she has learned about becoming a triathlete after age 40. She uses her Metabolic Training Certification to help other women struggling to get fit in mid-life. She lives and trains in Santa Rosa, California, the new home of the Ironman triathlon. You can find her biking the Sonoma County wine trails.
Note: Articles by Heather may contain affiliate links and will be compensated if you make a purchase after clicking on an affiliate link.