Last updated on August 31st, 2012 at 10:58 am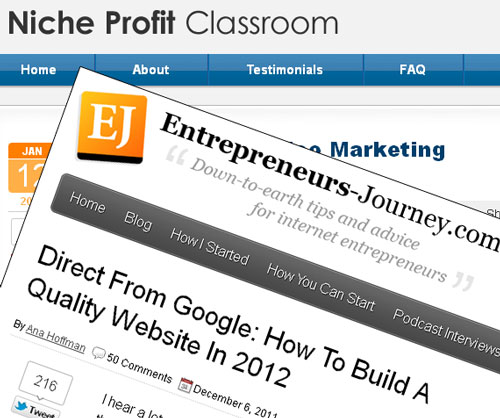 You've probably heard this statement before:
You don't know what you don't know.
You may remember at the start of this month, I posted about the need to kick my own launch plans into high gear with "How to Be an Entrepreneur This Year." At that time, I knew of 4 projects that fell into this category. I didn't know how much I was limiting myself.
Not thinking big, or in this case, differently. This past month I have worked on getting back to basics of launching every day.
My list to review included:

The calendar can be your friend
Like all plans, this seems like such a simple concept. Pick launch dates and work backwards with all the major milestones until you flesh out the little tasks and their due dates.
Now do that with 4-6 consecutive launch plans and see if you can fit it on the calendar.
I am a paper person, so even though I live on my Outlook calendar, I still need to put it on paper to get the ball rolling. You are going to be moving stuff around. Make it easy on yourself and start cheap. Once you have put everything where it belongs, then make it official by transfering the plan to your calendar.
My recommendation: Print out a free template from Word for a 2012 calendar and use this to start penciling things in. And I really do mean pencil. Sticky notes work great for this too.
Study creativity
I've been a long time subscriber to the Jewelry Marketing newsletter provided by Dr.David Weiman of MarketingJewelry.com. But you know just because you have the information doesn't mean you read it. I caught up a bit and made note of some of his advice.
Apply Risk Reversal: By applying a "no questions asked" return policy on your jewelry, or most any other product, you take the concern of the purchase decision out of the buyers hands and back into yours. Most buyers won't take advantage of the policy, and having a "100% satisfaction guarantee" helps solidify some sales in your favor.
Another creative jolt came while watching a DVD on wireworking techniques. I don't typically watch videos – online or otherwise – for jewelry techniques or workshops. I love books, and although the live demonstration element is missing on the page of a book, I can easily reference the bookmarked page anytime I need to.
Why did I watch a video on techniques I mostly have down? One of items on my list for my jewelry launch plans was to dial in my style. I have a lot of one-of-a-kind pieces with several different techniques. This offers a lot of selection, but not a consistent look that can be branded.
My recommendation: Open those newsletters and research a new resource for your market. You may be inspired to try something different for your product launch.
Crush It… now would be good
I really like Gary Vaynerchuk. Not just because he's an energetic spaz on stage with a ton of energy. His ideas and advice are simple and direct. A couple highlights from my notes got me thinking about what I've been blogging about and how I should be blogging.
I give Cath full permission to being laughing now. She may have mentioned these tips a few million times during the past 3 years of our work here on 8 Women Dream.
Tell the story: Be yourself and keep it real. If you try to fake it, it will show and your audience will hopefully call you on it.
List out 50+ topics: You know that it is easy to think of a million things when you are excited about something. On the other hand, if you are struggling to fill the page with ideas, you might consider the next question.
Is this my passion? It's OK to ask yourself this question. The more often it comes up the better. Confirming that you are still on the dream path is a good thing.
Platform: How do you want to communicate your passion? I've primarily stuck to writing but Gary reminded me to consider the 3 options again: video, audio and written. I think I might be ready to add more video in the mix.
Launching in a different way
How many webinars have you put on your screen and zoned out on? Maybe it's just me. Occasionally one catches your eye and keeps you focused enough to take note.
I have heard the concept of niche websites but really didn't understand the purpose or goal of them in the larger scheme of an online strategy. I had put the webinar on my calendar because of who the invitation came from. As a regular reader and subscriber to Yaro Starak of Entrepreneurs-Journey.com I received the invitation and almost missed the meeting.
Hearing the story of Adam Short of NicheProfitClassroom.com gave me some great ideas on how to consider my own launch plans and reconsider my approach to a few new markets I was considering.
What new information have you put off absorbing about your product launch?
Take a look at some of the resources I've included here, and I'll be keeping you up to date on my next product launch steps the last Friday of every month.
Happy product launching!
 ~ Heather

Heather Montgomery is a fitness writer, triathlete, and serial entrepreneur who is devoted to sharing what she has learned about becoming a triathlete after age 40. She uses her Metabolic Training Certification to help other women struggling to get fit in mid-life. She lives and trains in Santa Rosa, California, the new home of the Ironman triathlon. You can find her biking the Sonoma County wine trails.
Note: Articles by Heather may contain affiliate links and will be compensated if you make a purchase after clicking on an affiliate link.