Last updated on April 30th, 2012 at 08:44 am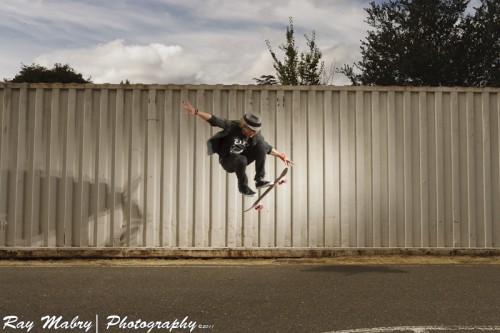 The past month of my product launch dreams has been interesting. You know that kick butt feeling you get when you accomplish something big? Like my son Jake landing a skateboarding move in the photo above?
Yeah… I didn't have that so much this month.
Keep learning
In the interest of my theme of learning this month of March, I have to admit that I did that quite a bit of learning in several aspects of my life this month.
Lots of job applications
Finding that perfect match is just as difficult for the job seeker as it is for the employer. This market offers an interesting twist by regularly asking for 2-3 job descriptions to be filled by one position. This isn't anything new, but the mix of skills can be fascinating at times, occasionally causing my late night outcry of amazement "They want WHAT?" loud enough to make my cats jump.
A couple tips you may already know, especially if you've been in the market the last few years.
Customize every resume: Not only will you save the hiring manager time by giving them information they are looking for up front and center, but it may just stand out from the crowd.
Be yourself: They want to work with a human being. Make sure you offer a glimpse of who you are.
Check the titles: My own skill set has changed titles at least 6 times since I've been working in the industry. Make sure you are using the latest terminology to describe what your skills are.
Niche online marketing
You know you are heavy into learning mode when all the solutions you are researching start to look the same. This could also mean I might actually be understanding the process better than I think.
I was interested in the whole concept of niche online marketing — focused marketing through web or social media on one really specific topic –Â  way back when. Which in internet terms is about 8 years ago.
What I have learned about niche online marketing, which can be true for anything new that you are picking up:
Information is great, implementation makes it work: Reading between the lines, this means that any success takes time and work. Just take a look at the 8WD inspirational video this week — What Chris Brogan has to say about overnight success.
Be careful what you pick: If it's already popular, it's that way for a reason so your niche may have to get super specific.
Be careful what you do: Just like all online marketing, getting noticed by search engines is the goal. Make sure you get the right attention.
Taking my own advice
I was just reviewing the list of action items I had put out there last month in my February status update and got a surprise! The reality that writing down your goals, or in my case, blogging about them, does have an impact.
I have done more video, I did set up additional social media connections, and I've been promoting daily.
I'm taking a 5 second pat on the back. Cool… back to work!
What did you take action on in March for your dream?
Comment and tell me about it ~ Heather

Heather Montgomery is a fitness writer, triathlete, and serial entrepreneur who is devoted to sharing what she has learned about becoming a triathlete after age 40. She uses her Metabolic Training Certification to help other women struggling to get fit in mid-life. She lives and trains in Santa Rosa, California, the new home of the Ironman triathlon. You can find her biking the Sonoma County wine trails.
Note: Articles by Heather may contain affiliate links and will be compensated if you make a purchase after clicking on an affiliate link.