Last updated on August 31st, 2012 at 05:53 am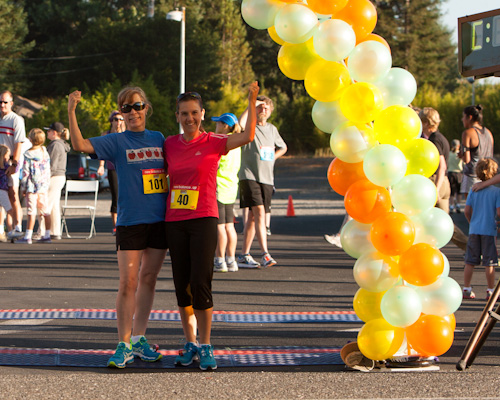 Next level thinking is something that I am rediscovering in my life for my health and fitness dream. I had it in my teens with the dream of being a ballerina, again when I made my first dream career change, and I'm feeling it now.
Next level thinking makes you stop looking at what you have right in front of you, and start looking past even the big ideas, to really focus on the NEXT LEVEL.
What is the next level for your dream?
When I started on my fitness dream it was all about the weight loss. How many pounds would I lose? How much could I lose with the focus on a fit body?
In the middle of a dream process, it's really hard to see past where we are to see something bigger, what can come next.
What is the next level… after losing 80 pounds?
Most people would tell me, and have mentioned "You're done, right?". Like a home painting project, or baking a cake. Yes, I'm done losing 80 pounds.
Funny thing about this kind of life change. I didn't even see what the next level would turn out to be for me.
In theory it is easy to see that your life might change when you start focusing on health. Eating healthy? Odds are you aren't headed to fast-food every week. Working out more? Bet your vegetation TV time has been reduced.
All this time working out, I had been tracking everything. How long it took to walk a mile, my resting heart rate, how long my walk was. Sometime in the last 4 months I started pushing myself harder. Maybe I was bored and needed a challenge – treadmill workouts can do that to you. Most likely it was the fact I got a job.
When you work for someone else during the day, your time isn't your own. You have to work around their schedule, no matter how flexible it seems to be. For me, that meant fitting my daily "walk" into 30 minutes. I could have taken an hour, but I really like leaving before 5 pm.
Running – the faster workout option!
The second week I started work, I also started running. I can get 2+ miles, plus time to change into and out of my running gear, into my lunch break. I keep up my expected calorie burn for the day, and still get to leave at a decent time
It took another month to care what time I was making, and to find out exactly how long my runs were. I slowly gained momentum, from running a ¼ mile, walking until I caught my breath, and running again. Then one day I just ran the whole way. Couldn't tell you what was different about that day, but anyone who regularly does any type of cardio workout will tell you that "some days are easier than others".
Want to get to your next level? Sign up for an event!
There is nothing like a deadline to push a dream plan forward! I found out about the Gravenstein Apple Fair 5 and 10k run from a fellow photographer on an outing with fellow dreamer Remy and my husband Ray's photography group, Sonoma County Photography Group. I have to admit that my motivation for going to the Angel Island outing a few weeks ago had nothing to do with photography. It was the comment my husband made that they would be walking around the whole Island. Really? A chance to my daily miles in and see pretty views? I was in.
I started chatting with a small group about my next goal – running a 5k – and someone asked if I was signed up for the Gravenstein Apple Fair 5k? I hadn't even heard of the running event but within a day, both myself and Sherry (you'll see her jumping next to me in the video!) were signed up and planning to run.
The reason I jumped on signing up for this run? It was classified as a walk/run, so if I completely lost it, I could walk it out. And it was timed, so I had to make a goal for finishing it.
The conversation in my head around what time I could make – granted having never RUN 3 miles in a row before – was really hilarious.
I'll do it in 40 minutes, no problem. But wait, is that really a challenge? What if I don't make my goal?
I finally got a brain cell and looked at the pace that I HAD been running and did the math. My personal challenge? Run the 5k in 35 minutes.
How did I do? Check out my video report from the Gravenstein Apple Fair 5k run
How to celebrate heading to your next level dream
So what does the next level of my fitness goal look like? It covers a ton of changes in all aspects of my life. Here is a highlight:
Practice longer runs
Sign up for more races in the 5-10k range
Run the Bay to Breakers in 2013 (Read about how we 8 Women Dreamers walked Bay to Breakers just 2 years ago!)
Long term goal: Mini or Half Triathlon by July 2013
Look into getting certified as a fitness instructor – more about why this is important to me now in future posts
Another oddball celebration fact brought to you by Fitbit – the activity tracking system I use to track my steps everyday for the past year – and I've officially walked 2000 miles. That does not seem possible, but it's a wonderful achievement to have at the official 1 year anniversary of my using their fitness tracking device.
On the whole triathlon thing, feel free to start laughing now since I haven't swam in years, and don't currently own a bike! I'll be looking for sponsors though… interested? If you have connections to any fitness companies, comment on this post and I'll be happy to get in touch with them.
What does your next level dream look like? Are you dreaming big enough?
Have a healthy week – Heather

Heather Montgomery is a fitness writer, triathlete, and serial entrepreneur who is devoted to sharing what she has learned about becoming a triathlete after age 40. She uses her Metabolic Training Certification to help other women struggling to get fit in mid-life. She lives and trains in Santa Rosa, California, the new home of the Ironman triathlon. You can find her biking the Sonoma County wine trails.
Note: Articles by Heather may contain affiliate links and will be compensated if you make a purchase after clicking on an affiliate link.