Last updated on January 23rd, 2019 at 10:36 am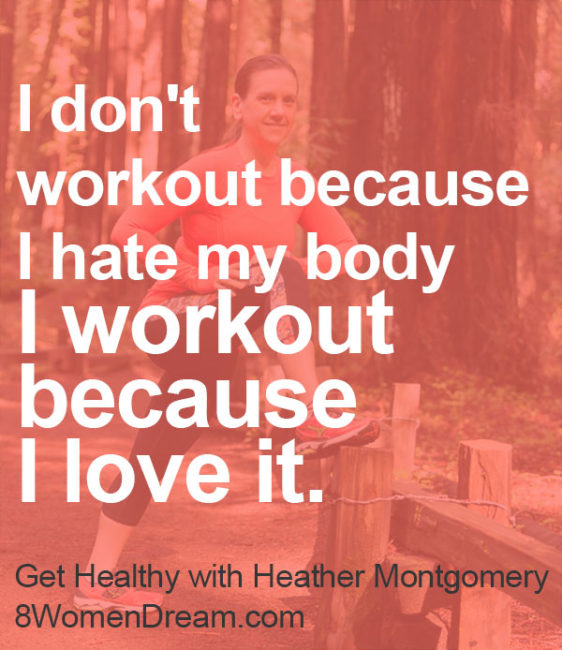 There is something I see in common with all dreamers. Going after your fitness dreams doesn't exempt anyone from this phenomenon.
You are inspiration for others in their dream goals.
You don't necessarily mean to be. You may not wake up in the morning smiling and telling the world "Who am I going to inspire today?". Most of us don't even know we are doing it until it's brought to our attention.
Have you noticed this dream trend? When you put energy to your dream goals, other people that have the same energy to achieve something bigger, gravitate toward you.
These are the happy surprises on your dream path.
I am always so appreciative of those who reach out and let me know my healthy journey has inspired them.
"That Coach Heather is so energetic, but she's a ball-buster. In a good way!"

"You are my new inspiration. I figure if you could look that awesome now, there's no excuse I can come up with to not try getting there myself."

"Hi Heather, I've been watching you the past couple of years through your transformation, I must say you're very inspirational!"
I get pumped up from watching others achieve their dreams.
When I started coaching for Fit Body Boot Camp I didn't realize how much I would get out of the experience. Sharing my story of how I got to my fitness dreams goals has opened conversations and made connections.
Every time the workout gets tough, every time food choices are difficult, I get to share my own struggles. I get it. It's not easy and there are days that aren't fun.
Getting there with help makes the path a little easier.
Finding success can mean something different for you.
Check out this TED Talk that is a must watch if you need to get perspective on where you are in your dream path. This talk by Alain de Botton on "A kinder, gentler philosophy of success" give a fun reality check on what your success in career can bring. I love applying his ideas to my own dream ideas.
Are you inspiring others with your own fitness dreams?
You don't even need to try. You may not know it, but every step you take toward your dream may inspire someone else to keep working on their own.
Go get your fit on – Heather
[fbcomments]

Heather Montgomery is a fitness writer, triathlete, and serial entrepreneur who is devoted to sharing what she has learned about becoming a triathlete after age 40. She uses her Metabolic Training Certification to help other women struggling to get fit in mid-life. She lives and trains in Santa Rosa, California, the new home of the Ironman triathlon. You can find her biking the Sonoma County wine trails.
Note: Articles by Heather may contain affiliate links and will be compensated if you make a purchase after clicking on an affiliate link.