Despite the desire to run, and the knowledge that running is one of the most effective ways to get fit, most don't even start to run because they are embarrassed to run in public.
If you feel this way you are not alone. In fact you have something in common with the winner of the 1984 women's Olympic marathon, Joan Benoit Samuelson. when she started running, she was so embarrassed that if a car was coming she would slow to a walk and pretend to look at flowers until the car passed by.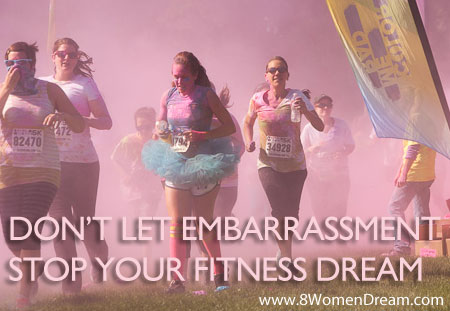 The whole idea of running in public might really push your buttons. Here are 8 tips to get you out of your comfort zone and onto pounding the pavement.
1. Most people you pass won't see you at all
Most people are wrapped up in their own lives they won't notice you. Really. Consider all the people you pass by everyday in your own life. How many even register in your mind?
2. Try running with a beginner running group
Most running groups have beginners and there are new beginner running groups form every day. There are groups in your area that may be a perfect fit. Services like meetup.com [link] are a great way to find others that are ready to try running. Having a group of runners with you makes you feel less conspicuous on the road. Every day someone starts running for their fitness dream, and there are more beginners out there then you think.
3. Try running in the dark
Before the sun is up you can get out and run. It will be too dark for most people to see you, but it's also really early and most people won't be awake. Of course you can also try running once the sun sets at night.
If you do want to run in the dark, keep it safe by following these 7 Safety Tips for Running in The Dark on Active.com.
4. Pick a mantra
When you are out on the road and start to feel uncomfortable or embarrassed, remember that you are already out doing something healthy and not sitting on the couch. Simple mantras like "I can do this" and "I'm doing awesome" keep you moving forward. My own mantra
5. Find a race and sign yourself up
Putting a race date on your calendar and choosing a distance is a great motivation. The tangible goal of a race is a great way to overcome embarassment or fear that are throwing up road blocks.
6. Treadmill running
The struggle with running in public can be overcome by starting on a treadmill in the comfort of your own home. Treadmills can help you build your endurance up, that in turn helps you feel confident in what you can do. You won't be as self-conscious once you transition to running outside.
7. The running community will welcome you in
Every time you see a runner remember that they were once a new runner, just starting off on their fitness dream. Not everyone started as a kid, or ran track in high school. Most of us started running much later in life, and know what it feels like to be a new runner. Believe me, as a new runner myself I have sympathy for what you are going through. Runners tend to support each other enthusiastically, especially runners who are just getting started.
8. Find a running buddy
I've learned a lot from running with friends. Some are experienced runners, much more experienced than I am, and some are just getting started. Having a running buddy on the road with you helps keep your mind off any insecurities you may have. It also helps make the miles more fun!
Are you holding back on your fitness dream because of embarrassment?
If you have ever felt embarrassment when working out, you are not alone. What were you able to do to get over it?
Share in the comments… you never know who you are helping!
Lets go get our fit on – Heather

Heather Montgomery is a fitness writer, triathlete, and serial entrepreneur who is devoted to sharing what she has learned about becoming a triathlete after age 40. She uses her Metabolic Training Certification to help other women struggling to get fit in mid-life. She lives and trains in Santa Rosa, California, the new home of the Ironman triathlon. You can find her biking the Sonoma County wine trails.
Note: Articles by Heather may contain affiliate links and will be compensated if you make a purchase after clicking on an affiliate link.