Last updated on January 23rd, 2019 at 10:40 am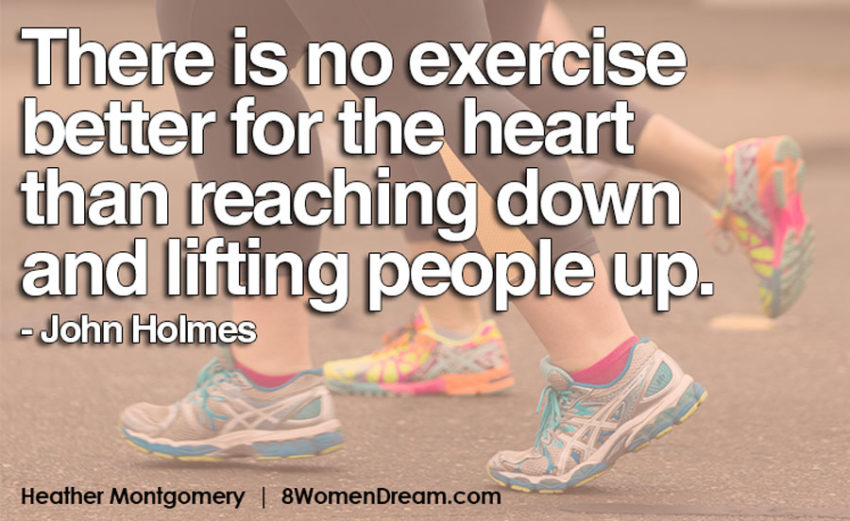 There is a point in every fitness dreamer's path when they realize that they are helping others. As your fitness trainer, this has been a slow realization that it's already happening.
My racing experience has always been a singular experience. Not from a selfish perspective, but from an inability to torture my friends into participating.
The surprise effect of working on your dream is inspiring others.
I work part time as a fitness trainer and most of the clients know my story. They know I have struggled with my weight, lost weight and work on maintaining my fitness daily.
Over the past few years I've had women come up to me at events to share how my story had an impact on their lives. They have sent me private messages on Facebook, or pull me aside after a workout I was coaching.

Part of my fitness trainer experience gives me on opportunity to work one-on-one with a few clients to keep them motivated toward their goals. Little did I know how much I would appreciate this interaction to provide that extra level of accountability for the clients.
I don't know about you, but there will never be times when I want to shout out in front of a group fitness training session the issues I struggle with.
Do I crave bread? Yes. It calls to me on a daily basis.
Are there times I don't want to work out? Of course, but I know that I will feel better once I do.
These are things you may not admit in front of a group. It's a bit more comfortable when talking one-on-one with a coach that is holding you accountable to your fitness goals.
The opportunity to be there for motivation just takes this fitness trainer process to another level.
In this case the motivation based on a promise to support a goal of running a 5k.
This isn't my race, and the experience isn't about me. My sole purpose of participating in this race is to shadow, pace and encourage.
Why would you want someone on your heels chasing your dream?
There a few different attitudes about a race that will eventually appear.
Some consider it a social event where they are sharing an experience. Some consider it an opportunity to focus on their personal record, or PR, and want to make the best time.
If you are working on a goal, you might want someone to keep you on track. That may include a little kick in the butt when I know you've got more to give.
Grab a support team to race to your goals.
I had always looked to find my own support team when I think of working on my fitness trainer dream. This was the first time I got to be out in the world, at a race, on a support team. The only thing I knew I wanted to do before heading out for the run was to keep my positive coaching attitude. Nothing but love and encouragement.
I got much more out of the experience than I bargained for.
We started the run and I paced with her through walking and stretching out cramps along the way. We slowed the pace after the first quarter mile, getting caught up in the usual race excitement and taking off too fast.
We chatted along the way and she thanked me for doing this with her. I hope she understood just how thrilled I was to be there for her! I almost never drive through the winding path that the run followed. We pointed out restaurants I thought were still there and storefronts getting an upgrade.
We talked about the run, our running form, and played hopscotch over the downtown cobblestones to avoid twisting an ankle.
The last quarter mile was the run to the finish and I could see the determination in her eyes. There is nothing quite like running over that finish line, no matter how long the race distance.
Never underestimate the impact of your dreams on the people around you.
You're path may feel like your own when you are deep into working on your dream. You focus on your own tasks, your own accomplishments.
Raise your eyes up from your work every once in a while. Take a look at the impact you are making. If you are not sure, don't be afraid to ask. You might be pleasantly surprised at the feedback you get.
Go get your fit on – Heather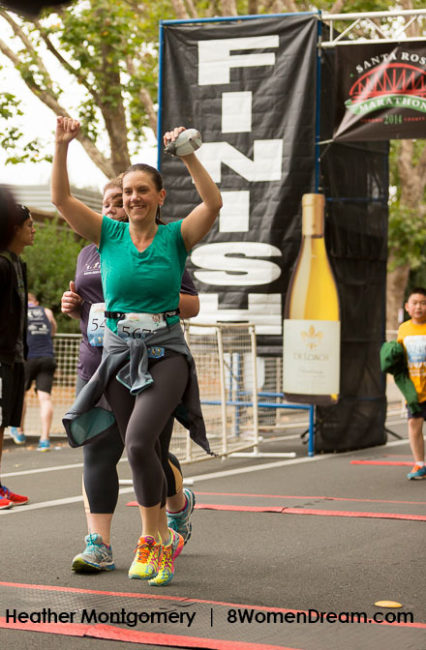 [fbcomments]

Heather Montgomery is a fitness writer, triathlete, and serial entrepreneur who is devoted to sharing what she has learned about becoming a triathlete after age 40. She uses her Metabolic Training Certification to help other women struggling to get fit in mid-life. She lives and trains in Santa Rosa, California, the new home of the Ironman triathlon. You can find her biking the Sonoma County wine trails.
Note: Articles by Heather may contain affiliate links and will be compensated if you make a purchase after clicking on an affiliate link.