Last updated on May 23rd, 2012 at 08:48 pm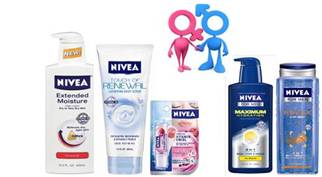 Are you getting ready for wedding season?
This is one product review that I was thrilled to get my hands on. The latest giveaway from the team over at NIVEA is for the his & hers kits to get your skin wedding ready. Time for the Bridal Boot Camp!
If you are the one in the white dress, or just in that sleeveless summer dress experiencing the joyful occasion as a guest, we all want to shine on a wedding day. NIVEA has some really wonderful – and super affordable – skin care tips for anyone looking to get your skin ready for "I do's".
Here is what is in the kit that you could win:
For the Woman:
New! NIVEA Kiss of Vitamin Swirl Lip — Its hydrating formula is enriched with Acai Berry and Wild Apple extracts, both rich in vitamins and antioxidants, to help maintain healthy looking, kissable lips.
New! NIVEA Touch of Renewal Lathering Body Scrub —with HYDRA IQ technology, this product delivers a unique  balance of exfoliation and a rich cleansing, moisturizing lather.
New! NIVEA Extended Moisture Lotion — Keep your skin soft with this fast-absorbing lotion featuring HYDRA IQ technology and Provitamin B5. Extended Moisture Lotion provides up to 48 hours of relief to provide long lasting moisture in preparation for the wedding day.
For the Man:
New! NIVEA for Men 3-in-1 Relax Body Wash — A refreshing yet relaxing shower experience for a groom or groomsman to enjoy before all the excitement.  This body wash with massaging micro-particles, a  rich lather and relaxing scent, rinses off easily, to leave skin feeling clean, comfortable and healthy.
NEW! NIVEA for MEN Maximum Hydration Moisturizer with HYDRA IQ and sea minerals— A technologically-advanced, intensive, moisturizer for Dry to Very Dry skin that provides more than 24 hours of moisture to the skin and leaves skin feeling great.
Trying it all out
This is the first summer in a long time where I am looking forward to showing a little skin. It must be I'm getting used to my new thinner self, but it's quite the adjustment to look at skirts and not cringe.
Taking advantage of the soft skin results this NIVEA kit offers makes it really easy!
I love the Renewal Lathering Body Scrub – it's like a perfect combination of their super smooth body wash and just a touch of my favorite homemade sugar scrub. Not abrasive or too rough like some exfoliating washes can be, this made me feel clean and soft. Finishing with the Extended Moisture Lotion was a treat. This ways its for day to very dry skin, which I never put myself in that category, but whoa does this stuff smooth and hydrate! Ever since I tried their products with HYDRA IQ, it makes any other lotion feel like mess. There's just something about the way the lotion sinks in that I still feel smooth the next day. 48 hours is true… this lasts!
I thought dragging my husband into helping me test this out would be a tough sell. I did have to twist his arm a little and once he tried it, it was a hit. The 3-in-1 Relax Body Wash left him feeling clean and really soft – of course I had to test – and he loves the moisturizer. Getting him to use any moisture for skin care is tough, but I'm thinking it's just a habit he hasn't had for long, and the wrong moisturizer makes you not want to use it. The NIVEA for MEN Maximum Hydration Moisturizer with HYDRA IQ is a different story and he let me know he has the same experience I do with their lotions. They go on smooth with no residue ever, and keep you soft for a long time.
My new morning routine addition is swiping on NIVEA Kiss of Vitamin Swirl Lip as I leave my bathroom. I am a bit biased on this one though. I have the NIVEA Kiss lip balms at my computer – home and office, and in my purse. This one is light and the mild berry scent is lovely.
Enter to win
Looking for more great skin care tips? Go out to the  NIVEA Facbook Page to find even more information on their wide range of products – and more ways to win great prizes. If you are up for more opportunities and love contests, be sure to check out their Million Moments of Touch date night giveaways!
Comment below with the phrase "I want NIVEA wedding ready skin!" and we will pick a winner on June 1st!
Can't wait to choose the lucky winner of their own Nivea's Bridal Boot Camp – Heather
Disclaimer: A sample of Nivea's Bridal Boot Camp product was provided to me by NIVEA. Any opinions expressed in this review are my own, and opinions are based solely on my experience with the NIVEA product and brand. Prizing availability for the giveaway will close after 30 days from the day of this post and is open to US Residents only.

Heather Montgomery is a fitness writer, triathlete, and serial entrepreneur who is devoted to sharing what she has learned about becoming a triathlete after age 40. She uses her Metabolic Training Certification to help other women struggling to get fit in mid-life. She lives and trains in Santa Rosa, California, the new home of the Ironman triathlon. You can find her biking the Sonoma County wine trails.
Note: Articles by Heather may contain affiliate links and will be compensated if you make a purchase after clicking on an affiliate link.