Last updated on March 13th, 2019 at 05:49 pm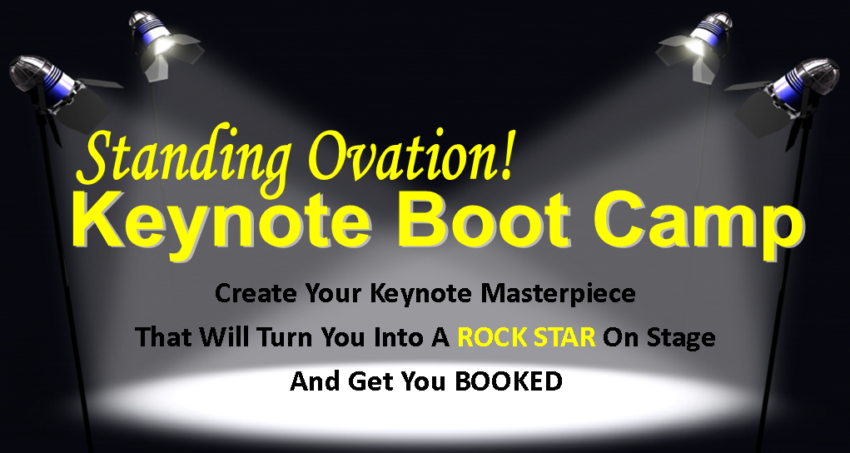 Today A Dream Of Mine Is Coming True – A Boot Camp for Keynote Speakers January 15-18 – Sarasota, FL
I've been talking about this for years. It's been a dream of mine, to have a camp for keynote speakers. A camp unlike any other. In this camp you don't sit in front of a teacher and learn a bunch of content. In this camp you don't get home with all this new information, but no idea how to apply it. In this camp we actually work on your keynote together. How cool is that?
The key to success in the speaking business is having a phenomenal speech that gets you booked over and over.
We all know the importance, as speakers, of having a good speech. But not everybody has the ability to write, tell stories, and deliver an award-winning speech. But now you can. Now you can get that speech crafted AND be taught how to deliver it like a pro.
What Are We Bringing To The Table? Two women with over thirty successful years in the business.
Meet the hosts of this awesome boot camp:
Kelly Swanson is an award-winning storyteller, comedian, motivational speaker, author of "Who Hijacked My Fairy Tale?" and creator of Prides Hollow and the beloved cast of characters who have charmed audiences from coast to coast, from convention halls to cruise ships. She started her career twenty years ago as a writer and professional storyteller, performing at the National Storytelling Festival, opening for Loretta Lynn, and being a featured entertainer for Holland America Cruise Lines. Our State Magazine calls her one of North Carolina's funniest women.  Thanks to a chance encounter with Jeanne Robertson, her path turned into a new direction – motivational speaking. For the last ten years, Kelly has been performing one-woman shows all over the United States. Booking over 80 shows a year, Kelly knows what it takes to bring a crowd to their feet and get booked over and over – even in a tough economy. But even more exciting is Kelly's brilliant ability to turn her creative eyes on YOUR speech. Kelly doesn't follow a system or give you a list of things to do. Kelly actually looks at your speech as a creative piece, and sees where things can be shifted, rewritten, punched up, enhanced, tightened, and made more powerful for the stage. Hundreds of speakers have worked with Kelly to take their speeches to a new level, to command higher fees and increase bookings. Don't miss this change to let Kelly work her magic on your speech. You'll be glad you did. For more about Kelly go to www.kellyswanson.net
Working with Kelly completely changed how I look, write and deliver both my keynotes and my workshops. Her ability to help me redesign my content to include powerful stories, strong points, and humor, has literally turned my work from good to memorable. And memorable gets me booked. In addition, I worked with Kelly on my presentation skills, and her talent for teaching the art of delivery, I believe has contributed significantly to increasing my bookings and my audiences. Working with Kelly is one of the best decisions I have ever made, and one I plan on repeating – often! Meridith Elliott Powell Business Growth Expert Speaker, Author
    LINDA LARSEN, MFA CSP is an international speaker, multi-award-winning trainer and best-selling author of 12 Secrets to High Self-Esteem. With a Master of Fine Arts degree in acting from the acclaimed 3 year Florida State University Asolo Conservatory program, Linda worked as a professional actress in film, television and on stages across America appearing with such notables as the late Sid Caeser, Beau Bridges and Ed Harris. She also created the first-of-its-kind full day workshop for professional trial lawyers, teaching them how to apply acting techniques to their high stakes courtroom presentations. She went on to become a trial consultant, helping lawyers make impactful presentations – for such groups as Stetson Law School, the National Institute of Trial Lawyers, Buffalo Law School and many state attorneys' and public defenders' offices. As a professional speaker since 1989, Linda has had the honor to speak on the main stage of the National Speakers Association annual convention, the closing keynote for the Million Dollar Round Table Annual Meeting (7,500 in attendance) and one of the general sessions for the Future Farmer's of America annual convention (17,000 in attendance.) Professional speakers look to Linda to help them bring their most authentic, powerful, and memorable presentations to the platform. As a former acting teacher, Linda has the unique ability to help non-actors take a script, make the words their own and deliver a rich, funny one-of-a-kind presentation that will make people leap to their feet, scream for joy and recommend them to anyone who will listen.  This is your personal opportunity to have Linda help YOU bring your stellar best to the platform resulting in standing ovations, rave reviews and more referrals.
Getting Linda Larsen's help and expertise was the best thing I have done for my speaking career. For the first time I actually feel confident on stage – like I know exactly what I'm doing – like what I'm doing really works – and what I'm doing will get me more work. A brilliant wordsmith, Linda helped me immediately connect with and engage my audiences by looking at my message from their perspective. She took the time to understand my personality and style so that when we reconstructed my "fun" stories, they were still mine – just a whole lot funnier! When I tried out the new material at a large women's conference, the meeting planner immediately booked me for their next event 6 months later! Polly Pitchford, NSA member
 What Will the Camp Include? Hold On To Your Hats!
We are offering three different experiences at this camp – Basic, Premium, and VIP. Take a look at all the goodies we have put together!
WHAT –  3 1/2 Highly Intensive Days Focused On YOUR Speech, Covering The Following Topics:
Advance speech script review by Kelly Swanson (Before the camp even starts, Kelly will review your written keynote and take notes on what would make it better.)
Speech organization (Do have an organized structure for your message and content?)
Power Openings (The most important part of a speech is the first five minutes.)
Creating Characters (Every speech has a cast of characters – starting with YOU!)
Crafting Powerful Stories (Creating powerful stories that wow your audience and illustrate your message.)
Telling Powerful Stories (Learning the secrets to effective storytelling.)
Tightening To Say More With Less
Crafting Details that Show Instead of Tell
Adding Humor
Delivering your speech in a way that's authentic to you.
Stage techniques to WOW an audience.
Power Closings (The other most important part of a speech is the last five minutes.)
Group sharing sessions to practice and get live "hot seat" feedback
Added Bonus:
Segments of camp will be videotaped so you can see yourself on video and get feedback
Advance Review of your speech for every attendee
Premium and VIP Packages have even MORE exciting Bonuses:
Free Copy of Kelly's Recorded Storytelling Master Class (Six 90-Minute Sessions)
Two Hour follow up edit/coaching sessions of your keynote with Kelly Swanson
Two Hour follow up edit/coaching sessions of your keynote with Linda Larsen
Guest post on the Motivational-Speakers-Review.com blog featuring you and your new keynote – shared with all of our social media channels
Private one-hour coaching with Kelly on site at the camp on "How To Get More Bookings"
Private one-hour coaching with Linda on site at the camp on "How To Get More Bookings"
Professional videographer will record your best 3-5 minute story and you will receive a copy of the DVD
2 hours of FREE editing by professional film editor – to use to either insert your new story into your current video demo, or towards creating a NEW video demo – ($300 value)
Membership in the Standing Ovation VIP MasterMind Group where you can continue the conversation with other members of this VIP group – encourage each other – share best business practices – and have ongoing access to Kelly Swanson and Linda Larsen and the other members of the group through the private community page. Kelly and Linda will also share articles and insider tips on how to get better and get booked.
AND IF THAT WASN'T ENOUGH – YOU'LL LOVE THE LOCATION! 4 days in GLORIOUS Sarasota,  Florida
Sign Up Today.  Limited Seating Available. To sign up call 1-800-303-1049 or email Kelly@kellyswanson.net
Thank you for letting me share my dream with you. It sure does feel good. What about your dream? Wanna share?
Kelly Swanson is an award-winning storyteller, comedian, motivational speaker, Huffington Post Contributor, and cast member of The Fashion Hero television show airing on Amazon Prime. She is also the author of Who Hijacked My Fairy Tale, The Land of If Only, The Story Formula, and The Affirmation Journal for Positive Thinking. She was a featured entertainer for Holland America Cruise Lines, keynote speaker for the International Toastmasters Convention, and has keynoted major conferences and corporate events from coast to coast. She just launched her one-woman show Who Hijacked My Fairy Tale in theaters, and it is being booked all over the country. In July of 2022, she was inducted into the National Speakers Association Speaker Hall of Fame.
Note: Articles by Kelly may contain affiliate links and may be compensated if you make a purchase after clicking on an affiliate link.