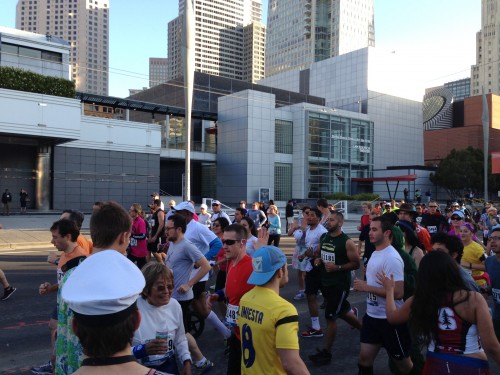 Heather your fitness blogger here as proof that I survived the 102nd Bay to Breakers event on May 19th, 2013. San Francisco has a very long history for this event, both serious and totally crazy, which is why it was a must for my fitness goals this year. I managed to make it through even without enough training on hills, just under my goal time.
Have you ever participated in an iconic event like the Bay to Breakers run?
There is something about being a part of an event that is well known – even if it is just locally – that makes it stand out. My new running buddy, Dustienne, is a recent transplant to Sonoma County from New York and was immediately interested in the Bay to Breakers run, for the story if nothing else.
The Bay to Breakers presented by craigslist 12k : A celebration of San Francisco

Boston has its Marathon… Pamplona has the bulls… New Orleans has Mardi Gras…
Bay to Breakers isn't a long distance run compared to many other famous running events. It's not a marathon, or even a half marathon, but it is iconic for the history and the participation that has evolved over the years.
At 5:13am on April 18, 1906, a devastating earthquake destined to become one of history's most notorious natural disasters rocked San Francisco. The subsequent fire and destruction were unimaginable, and many feared the City would never fully recover. But San Franciscans, displaying their typical fortitude, immediately began rebuilding the city and orchestrating events to lift civic morale. One of those events, the Cross City Race – better known today as the Bay to Breakers – was first held on January 1, 1912. It was intended as a precursor to the world-class athletic events being planned for the 1915 Pan Pacific International Exposition. There were 218 registrants, 186 starters, and 121 names on the finisher's list. Robert Jackson "Bobby" Vlught, a St. Mary's College student, was the first runner to cross the finish line, with a time of 44:10.

Since then, Bay to Breakers has prevailed as a testament to San Francisco's uniqueness and audacity. Each year the race is a glorious celebration of the human spirit – a giant wave of athleticism, fun, frivolity, and determination flowing across the City from the Bay to the Pacific ocean. Bay to Breakers is one of the largest footraces in the world with 50,000 + participants and 100,000 + spectators annually. As the race grew in size it even set a Guinness Book record, with 110,000 participants in 1986. The course is challenging and beautiful, and consistently attracts world class competitors. But, it isn't just a race for the serious runner.

In the true spirit of San Francisco the race is a celebration for everyone. Thousands of costumed participants join with families, and weekend runners and walkers. As they make their way through the heart of San Francisco, energized by continuous bursts of live music, they are cheered on by thousands of spectators lining the route.

Throughout its long history Bay to Breakers has been a showcase for the City's irrepressible color and its affection for eclectic traditions. Although runners come from across the country and around the globe, the race is still a quintessential San Francisco experience and a true reflection of life between the breakers and the Bay.
 My fitness goal: Run the entire Bay to Breakers route.
It was only a few years ago when our 8 Women Dream team walked the event, but it was long enough that my memory of the course had faded.
I started running one year ago and have slowly been adding bigger and badder fitness goals to the list. The timing of the Bay to Breakers event was perfect, and once I talked my new running buddy into the fun it really started to sound fun.
This is one of those races that is very well organized, after so many years, that just getting to the event is an adventure. Our adventure kicked off at the park-and-ride in Mill Valley, just North of the Golden Gate, on a clear but cold morning at 5:30. That hour in the morning always sounds like a good plan until the 4:00 am alarm clock starts blaring.
TIP: When you sign up for Bay to Breakers, sign up early and make sure to add the park-and-ride shuttle bus to your expense. It will make your day so much more fun if you aren't worried about driving around all the road closures and getting stuck in traffic.
As my first experience running Bay to Breakers, I was excited to see how it felt to be a little ahead of the walkers/party people. The event is so well know as a huge parade with costumes, great team names, not to mention the nudity, it's easy to forget this is an official race that can qualify you for marathons, depending on your time.
We made it to the start line extremely early and entered the very empty runner corral. The craziness of the day started off with a bang when we spotted the first naked runners. I can't say that 70 year old naked men is the way I planned on kicking off my morning! I take it as all part of the charm of an iconic race.
San Francisco at 6:15 am is pretty chilly, so we took the opportunity to explore the ferry building. None of the amazing shops open but I had the chance to point out my favorites to Dustienne and we warmed up a bit to stretch out. The ferry delivered several more runners, and we watched everyone migrate to the start line in all manner of dress.
Serious runners in shorts and a tank top no matter the temperature, and adorable outfits with delicate angel wings that I worried wouldn't make it through the bouncing of a 7.5 mile run. Wandering back to the start ourselves, we saw groups gathered to prepare their own centipede costumes.
Another fun experience are the runners in their Bay to Breakers centipede costumes that are brave enough to not only costume up, but also tie themselves together for the duration of the run.
Starting the race Bay to Breakers run, even as a runner, is still slow.
When you have hundreds of people in front of you, it's more of a shuffle, to a walk, to a slow jog as you head out onto the main race route. Glancing to the left as I turned onto Howard I understood the benefit of singing up as a runner, if you truly are there to run. A thick crowd of thousands were cheering behind the barricade, ready to start their own version of the day – more party than fitness – and I waved knowing that a couple years ago, I was buried about 4,000 people back in that same crowd!
We officially crossed the start line at 7:07 am and the crowd thinned out as faster runners weaved their way through the walkers and picked up the pace. A quick potty break let me grab a few photos and a snippet of video you can check out below.
My running buddy, Dustienne, has run marathons. I find this extremely impressive as a new runner, who at the Bay to Breakers run, was setting my own personal distance record. She will talk her marathon experiences down as no big deal, but I knew this would be a new experience for me to keep up with her ability to manage the endurance distances.
We ran through the financial district with no traffic, on streets I would be very cautious of stepping out onto on any other day in San Francisco. A few turns later and we were headed up the true fitness challenge of the event – Hayes Street Hill.
This is a steep grade that just keeps climbing, 186 feet in elevation gain, and 7.6% grade. Now granted, as with all San Francisco hills, it is broken by each block of cross streets that give you a very short flat area of running before heading up again. And again. And again.
About the 5th rise I actually looked up to see just how much of this uphill battle I had left and I spotted a couple running just ahead of us. The man was running on a prosthetic running leg and I leaned over to Dustienne and stated "We have no excuse!" and kept up the pace.
One thing I am proud to say about my Bay to Breakers run experience, is that I did run up Hayes Street Hill. All the way to the top.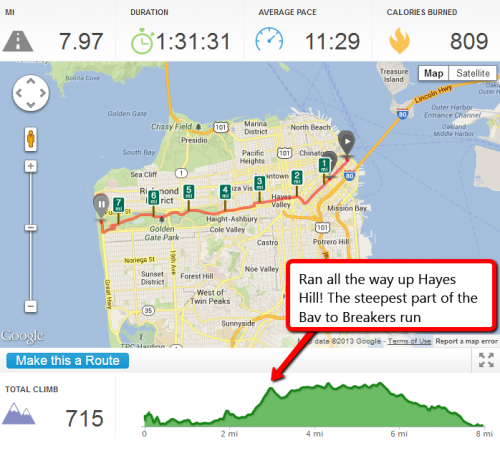 There were so many moments like that during the run. People who had signs or outfits and were running to commemorate friends or loved ones who were fighting cancer. Then a moment later an amazing costume would be spotted and bring a smile to your face.
Luckily the hill is early in the race so you can catch your breath and really enjoy the view through Golden Gate Park.
This is such a beautiful park space with wandering walkways, waterfalls, birds and flowers everywhere. We slowed to grab water at the perfectly placed stops along the way. I took the opportunity to walk out a cramp in my side that had come up at the start of the race, and decided to come back with a vengeance.
There is nothing more distracting than pain – anywhere – when you are trying to focus on anything.
The day had turned out perfect. temperatures in the low 70's and clear, which when you are sweaty and breathing heavy, feels great.
We had passed the 5 mile mark and were slowing for a water stop when I felt my hip muscles tighten up. That is the strangest feeling to have every muscle seem to shrink all at the same time, like a tightened rubber band. It felt like my ability to lift my legs to keep moving forward was gone.
It is beyond cheating to have a board certified Physical Therapist with you on a run when you experience this. Dustienne is jsut that Physical Therapist and her words of wisdom that "That was a good thing" and that tightening sensation would make my ability to recover from the run much better, alleviated my initial panic.
TIP: Experiencing something new on a run like this is is just one more reason why practicing your race distance and conditions – like hills – makes the event so much easier.
Getting through the last few miles felt good as we rounded a few corners and it felt like we were close to the ocean again.
Cool breezes began blowing in and the sound of crowds cheering got louder as we rounded toward the last leg. Spotting the finish line I dug down and bribed my legs that if they would just pick up the pace, I would let them rest in just a few minutes.
I pushed through and made it over the finish line and into the throng of fellow race finishers.
My official time was 1:29:38 – I squeaked in just under my goal of 1:30.
A finish line that is just a few feet from Ocean Beach makes for a very relaxing and fun recovery. Nothing like sitting in the sand, sipping coconut water, and watching as both Elvis and a wedding party make their way to the cool ocean waves.
The best part of running Bay to Breakers
The views: you cannot beat the people watching at the event. Oh, and running through Golden Gate Park is beautiful
The energy: When you are in the middle of 100,000 people who are all pumped up you can't help but get caught up in the fun!
The weather: San Francisco is not known for warm weather but the event is held at a wonderful time of year to enjoy the fresh spring greenery.
The tradition: After 102 years the race has evolved into an amazing tradition that San Francisco makes all their own.
What is the next iconic event you can put on your dream goal calendar?
Heather

Heather Montgomery is a fitness writer, triathlete, and serial entrepreneur who is devoted to sharing what she has learned about becoming a triathlete after age 40. She uses her Metabolic Training Certification to help other women struggling to get fit in mid-life. She lives and trains in Santa Rosa, California, the new home of the Ironman triathlon. You can find her biking the Sonoma County wine trails.
Note: Articles by Heather may contain affiliate links and will be compensated if you make a purchase after clicking on an affiliate link.