Last updated on May 17th, 2012 at 07:52 am
My Bay to Breakers weekend started off with a strapping college boy, a van cab and Jay-Z's "Big Pimpin'" bumping in the background.
What could have been scandalous prelude to my highly anticipated weekend of debauchery was just an innocent cab ride the airport.
Quick note for those of you who don't know — Bay to Breakers
is an annual run in San Francisco that starts downtown, at the Bay, and ends along the ocean breakers. With its colorful costumed runners, mini floats/rolling kegs and mostly drunken–and some naked–revelers, the race has become known as one of world's best.
A true Mardi Gras for the west coast. Although this year they tamed it by banning alcohol and floats.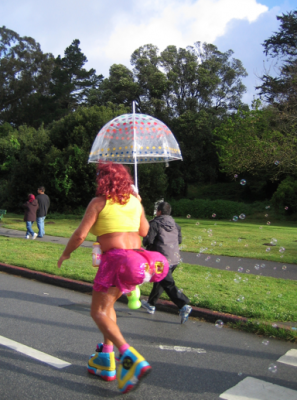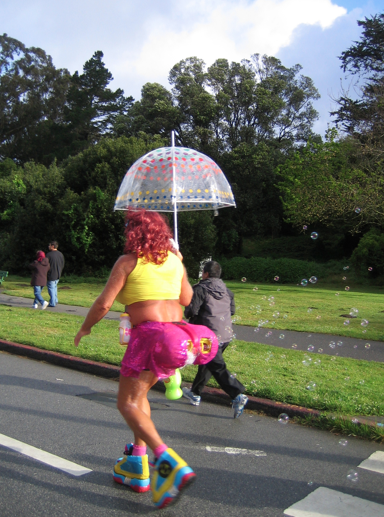 Bubblebutt Betty.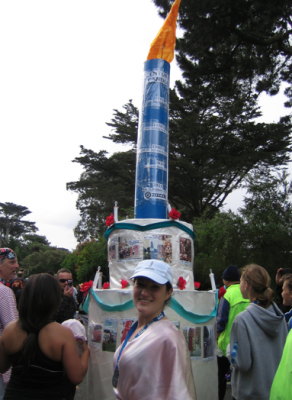 Happy 100th Bay to Breakers birthday cake.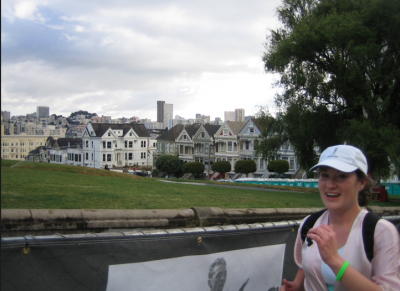 The Full House house–The Painted Ladies–My old street.
Back to my cab ride…
"So where you heading?" college boy cab driver asked.

"San Francisco … I'm running a race this weekend," I replied.

"So you're a runner?"

"No, no. Not a runner."

"But you just said you were running a race."

"Yeah, but I'm not a runner, like I don't do marathons or anything."

"Well how far you runnin'?"

"12 kilometers."

"Well that's more than I could ever run, so I would say you're a runner."

"Yeah, well, it's not really a race. More of a party through the streets of San Francisco. Anyone can do it."
That's my problem. I play small–all the time. I act like my accomplishments are no big deal and that somehow I am not worthy of them. I downplay my awesomeness, and I know you do, too.
Another example straight from my mouth is:
"Well, I did do a triathlon, but it doesn't count because it wasn't the full length one."
Again, I don't think what I do is ever good enough.
Then, a little voice inside me bitch slaps me.
"What do you mean it doesn't count?! Swimming half a mile in freezing Lake Michigan, not dying of hypothermia, pedaling in circles for miles fast enough to dry off from the swim, then carrying my tired body to the finish line by way a running, all one year after reconstructive knee surgery! Doesn't count? Katie, you are awesome!"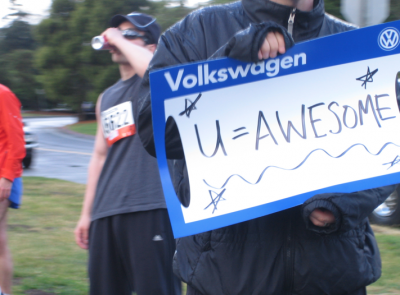 My favorite sign and spectator.
Then the other dueling voice puts in it's two cents.
"There's a lot of other people out there who do marathons and triathlons all the time. They are better than you, and your lame triathlon attempt will never measure up. Why do you even try? Just give that medal to Goodwill."
Thankfully, I choose, at least some of the time, to listen to the good voice. And when you do, you live your best life. You see the silver lining and you make the most of what you've been given.
Two years ago, I tore my anterior cruciate ligament (ACL) and mcl. Prior to that injury, I was a year-round competitive athlete through my schooling years who never suffered more than a broken nail. This injury shook my world.
One day I was playing on every Chicago co-ed sports league. The next day I couldn't walk. I was devastated. But when I was down on my luck after surgery, sitting in my bed for hours and watching a machine move my surgical leg for me, I dreamt a dream.
I promised myself that when I could move my leg without aid, I would never took my movements for granted. I would cherish my physicality in every way I could, which meant, I would enjoy it, as opposed to struggling or pushing myself through it.
I thought, if I am going to prove myself through physical feats, I'm going to find the most fun ones I can.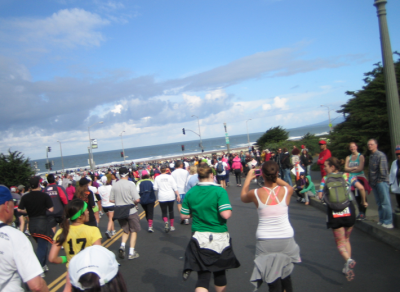 Hello, Pacific. Heading towards the the breakers, the finish line.
And enter my personal motivational motto and blog at the time–Yes Knee Can.


It has gotten me this far and it has brought me to another dream: to continue to compete at the world's most beautiful and fun races while enjoying my new-found athletic freedom.
Bay to Breakers might not be a serious race, but to me, it counts. There was a point in my life when I had to retrain my neuro-pathways and muscle memory to walk again. From that day forward, I have built my body, health and spirit stronger than it ever was.
If I can do it, so can you.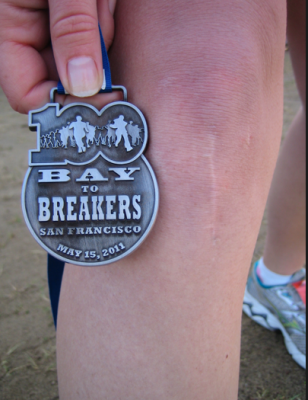 My medal. My battle scar knee.
What's your Bay to Breakers dream in your life now? Or your personal mantra?
Katie

Enjoy this special 8WomenDream Guest Contributor story submitted by new and experienced big dreamers throughout the world, edited and published to capture a dream perspective from different points of view. Do you have a personal dream story to share with 8WomenDream readers? Click here to learn how to submit dream big articles for consideration.
Note: Articles by Guest Post Contributors may contain affiliate links and may be compensated if you make a purchase after clicking on an affiliate link.