Last updated on October 20th, 2011 at 10:34 am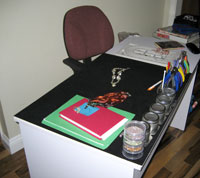 Anyone who knows me, has been to my home, knows that being organized is is not my normal state of being. My piles, stacks and groups of things are barely controlled chaos.
But your dreams need organization in order for you to succeed.
Thus for my jewelry business launch I ordered and received my very own  Organized Crafter desk. I was itching to use the space, even though the drawers came in a different shipment (3 days later). My helpful husband immediately came up with a surface solution (the black velvet top) that will let me work without flipping beads all over the living room.
Once the drawers came in, I couldn't be stopped.
Having the space gave me a creative boost and I was able to finish a complex piece of jewelry that was bugging me. I also officially named all my jewelry pieces. I had a lot of fun wrapping that part of the project up and can't wait for the web site launch to share all the whimsical titles we came up with.
As for the next project, all I have to do is open a drawer and see where the beads lead me.
How are you with keeping your dream space organized?
Here are some of my organization suggestions —
1.  Everything should have a home.
Take inventory to see what you might need to purchase to help you get organized.  Will it be shelves, boxes or even a bag for items you want to get rid of.  Knowing how many beads I have helped me determine how many drawers I'd need.
2.  Start with the smallest pile.
Start at the smallest pile/corner/place and begin to organize there.  this was you aren't too overwhelmed by the process.  I started by organizing my finished jewelry pieces first.
3.  Touch it once.
When you pick something up to put it away — don't set it on the counter next to you — go put it away so you are only touching the item once.  I have a terrible habit of working on my jewelry and leaving the tools on the table and them picking them up and moving them out of the way over and over.  I'd save myself more time if when I first pick them up to move them, I put them away.
4.  Create a throw-all basket for your main rooms.
Throw everything in there that you need to look at but are too afraid to put away just yet, then go through it once a week.  If you are not done with it yet – put it back in the basket.  I am this way with the latest jewelry magazines that I don't have time to read.  They sit out, cluttering the countertops and getting in everyones' way.  I can just toss them int he basket and review them each week to see if I have time to sit and explore new creative ideas.
5.  Hire someone to help you.
If the idea of organizing your dream space makes you break out in a sweat, then hire a professional organizer near where you live.
Trust me … organizing your dream is highly motivating and helps you sit down and focus.
Heather

Heather Montgomery is a fitness writer, triathlete, and serial entrepreneur who is devoted to sharing what she has learned about becoming a triathlete after age 40. She uses her Metabolic Training Certification to help other women struggling to get fit in mid-life. She lives and trains in Santa Rosa, California, the new home of the Ironman triathlon. You can find her biking the Sonoma County wine trails.
Note: Articles by Heather may contain affiliate links and will be compensated if you make a purchase after clicking on an affiliate link.