Last updated on November 1st, 2019 at 05:27 pm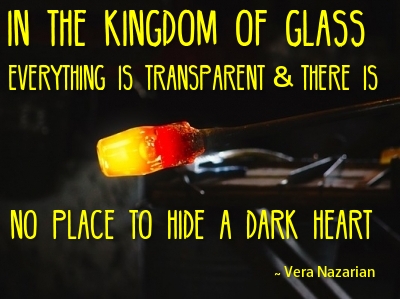 As I travel to study my dream of learning glass blowing I realize that this may be the first time I have embarked on a journey with the life experience to back it up.
Years ago I did boot camp and the US Coast Guard. It was one of my most difficult experiences yet it was a time when I felt like a warrior.
I was young and inexperienced in life.
Now that I am much older and hopefully wiser, what does it mean that I am finding this glassblowing journey equal to my Coast Guard journey?
I learned from my military experience that I am capable. My hardest journey has been to understand that I am capable.
It makes me think of Marianne Williamson's, Our Greatest Fear:
It is our light, not our darkness that most frightens us
Our deepest fear is not that we are inadequate.
Our deepest fear is that we are powerful beyond measure.
It is our light, not our darkness that most frightens us.
We ask ourselves, who am I to be brilliant, gorgeous, talented and fabulous?
I don't know if it's a mid-life moment, but I feel like my life has become a series of short sprints, pushing as hard as I can for a short time hoping to build stamina.
I've pushed myself to give 100% to this dream even though I feel a bit terrified. It reminds me of a night I spent in a scary Oakland California hotel before leaving for boot camp when I had to be brave even when I didn't feel like it.
My goal for the week is to continue on this dream of learning glass blowing no matter what comes up, thus fulfilling my first dream goal.
Have you ever let fear get in the way of doing something that you love?
Alyse Yerby

Enjoy this special 8WomenDream Guest Contributor story submitted by new and experienced big dreamers throughout the world, edited and published to capture a dream perspective from different points of view. Do you have a personal dream story to share with 8WomenDream readers? Click here to learn how to submit dream big articles for consideration.
Note: Articles by Guest Post Contributors may contain affiliate links and may be compensated if you make a purchase after clicking on an affiliate link.