Last updated on December 3rd, 2012 at 06:12 pm
Dreams require that you take risks.
One of my favorite leadership quotes was said by ex pro football player Jim McMahon.
"Yes, risk taking is inherently failure-prone. Otherwise, it would be called sure-thing-taking."
There is a ton of psychology research on risk taking that shows that as we get older and have life experiences, it's easier to stay with what we know – even if it's horrible – than to take risks and put ourselves in the 'unknown'.
Maybe it's why we procrastinate when there are deadlines.
We know what it's like to work under pressure — and even though it's not ideal it's worked for us before. So we wait.

Maybe it's why we compromise and stay in unhealthy relationships. 
Even if it's not what we want, at least it's familiar and predictable.  So we stay.

Maybe it's why we hold ourselves back on the path to accomplishing our dreams. 
We are comfortable where we are, and realize the amount of energy or risk it will take to go to the next level — and we find a way to talk ourselves out of it.
When I get stuck in my dream progress, I often think about my dream mentors.
These are people who I know and trust. They are strong and wise, and have lots of experience with risk taking.
They have found a way to see "the unknown" as a resource – not an obstacle.  The unknown for them is an opportunity.  They may still have fear or resistance, but they acknowledge the fear, put it aside, and move forward anyway.
Are they always right?  No.  Do they make mistakes?  Yes.
Do they move farther along their path as a result of their risk taking?
Absolutely.
One of my mentors recently said to me,
"If we always did what was known, there would be nothing to learn, explore or gain.  Isn't it the surprises, the unexpected twists and turns that give meaning to our journey and make our dreams happen?  Without risk, we'd stay hunkered down in our heads instead of living out loud in our hearts."
On my path to becoming a top photographer I'm at a place right now where I have to take some risks — I'll have to travel down paths I'm not familiar with, and embrace the unknown a lot.
My instinctive response would be to wait around for all the information to show itself  first – But I'm telling myself now, I just need to take action.
"If you're not making mistakes, you're not taking risks, and that means you're not going anywhere. The key is to make mistakes faster than others, so you have more changes to learn and win".  John Holt
How has the unknown kept you stuck in your dream progress?
How would you have to change your thinking to embrace the unknowns on your dream path, and think about risks as possibilities – not danger?
Post a comment and let us know!
Until next photo,
Rem
Remy's dream is to have public showings of her photography and sell her work.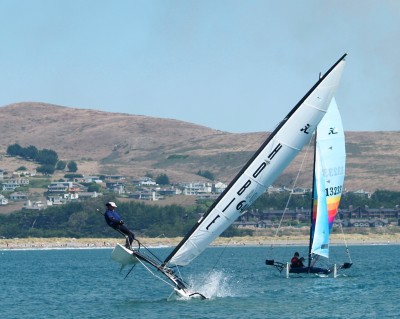 Enjoy this special 8WomenDream Guest Contributor story submitted by new and experienced big dreamers throughout the world, edited and published to capture a dream perspective from different points of view. Do you have a personal dream story to share with 8WomenDream readers? Click here to learn how to submit dream big articles for consideration.
Note: Articles by Guest Post Contributors may contain affiliate links and may be compensated if you make a purchase after clicking on an affiliate link.