Last updated on March 26th, 2013 at 08:43 am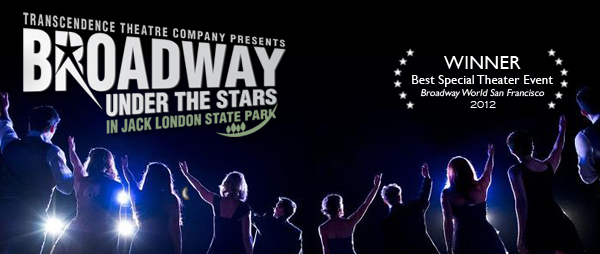 When you picture your big dream, with no distinct path to achieving that dream, does that completely freak you out?
Amy Miller had a very clear vision of her big dream to bring the Broadway theater experience to a unique outdoor venue way back in 2009. Not having a distinct path to getting the Transcendence Theatre Company up and running was a blessing in disguise.
Most dreamers will know that some of the best dream paths can be kicked off from a point of despair. Amy started her dream path after hitting a low point in her health and energy. And in her words "Isn't that the best time to take off on a big dream?"
Getting herself healthy including lots of focus on what was next. Her vision was a theater company performing under the stars. The journey to the inaugural season was something that she could never has outlined in a plan.
Sometimes at the lowest point in our lives, we have the opportunity to make a change to really kick off our dreams.
Getting healthy as an artist was something Amy noticed not only in her own career, but in her friends and colleagues that surrounded her. The first step in transcendence started with a project in Mexico.
Sending a video out to a group of friends about this idea, it took off and became the beginning of the adventure. The project really started as a movement toward health and community. So many artists that perform in regional theaters aren't local and therefore aren't tied to the community. The constant travel and demands of their careers can take a toll on their health and well being.
The group of performers that spent time in Mexico – performing, focusing on health, and bringing together a small community in Mexico was all the proof Amy needed. This concept would work, and work beautifully.
Now all they needed was the perfect location to take this to the next level.
Traveling cross country has many appeals, but when you are on a mission to hunt down the best environment to plant the roots of a huge dream, the search can take a while. In this case 2 months, 40 cities, 25 theaters, 6 people, 2 RV's, and one dog.
We are now heading into the next phase of our company's development. We are embarking upon a 2 month cross country research tour called "Project Knowledge". In March through April, we are driving across America to hold a series of interviews and discussions addressing, among other things, the health of artists and institutions. We are visiting 40 cities to meet with a distinguished list of artistic directors, arts administrators, professional actors, educators, arts advocates, and community members at over 25 theatres and 10 universities across the country.
Amy shared that this trip allowed the group to learn from the greatest minds in theater. Interviews with over 80 people on their experience with growing theater access in their communities, asking what they would change in the theater world.
The adventure led them to Sonoma Wine Country.
There's no business model that could have encompassed what Transcendence Theatre Company wanted to do. This type of project is dependent on sponsors and ticket sales. As wonderful as a packed house is, the reality is that it just doesn't cover the expenses. Amy knew that to make this project work, it had to be a blend of logistic and philanthropic adventure.
Like most dream projects, the group has been self funded for several years.
Sonoma brings them prestige. As a destination, Sonoma is a hub of wine, food and nature. The company culture Amy and her team is building depends on a feeling of rejuvenation. Giving artists a healthy place to work and regain their energy.
That is the vision, the big picture that is inspiring Amy and her team to create a sustainable theater experience. Gathering these artists together gives them an opportunity to feed off each others energy. That energy has inspired several to go after their own big dreams.
After talking to Amy about heading into Transcendence Theatre Company's second year performing at the historic Jack London State Park in the ruins of the winery building, I had to ask what her advice to dreamers would be.
You have to remove the part in your brain that tells you things aren't possible.

Have a clear vision of what you are working toward. Ask yourself "why?". That is the question that should drive everything. You could have really big solutions, but haven't the "why" makes it bigger. Let go of the "how" – it's going to happen. You can not draw out the path to make it happen, you have to let it happen and be shown the way. Let it become an adventure.

Transcendence is to go beyond the usual limits. Challenge and push yourself to grow and be alright with the scary unknown and the exhilaration that comes with it. if you want to take life to new levels – you have to transcend it.
To the outsider, it may seem that Amy's vision has transcended and her dreams have come true. And dreamers know that getting to this point has only scratched the surface.
Your turn to share. What big dream do you have where the "how" is holding you back? Put it out there in the comments…
Go for it – Heather

Heather Montgomery is a fitness writer, triathlete, and serial entrepreneur who is devoted to sharing what she has learned about becoming a triathlete after age 40. She uses her Metabolic Training Certification to help other women struggling to get fit in mid-life. She lives and trains in Santa Rosa, California, the new home of the Ironman triathlon. You can find her biking the Sonoma County wine trails.
Note: Articles by Heather may contain affiliate links and will be compensated if you make a purchase after clicking on an affiliate link.