Last updated on February 9th, 2013 at 01:33 pm
My dream of speaking to women from all walks of life on international stages fills my heart to the brim on a daily basis.
I can't go to sleep at night without visioning my dream into existence. A day has not passed in the last year where I haven't dreamed big.
When you are serious about your dream, it becomes a habit. Dreaming becomes part of who you are. It is absolutely what sets people who choose to dream big (like you and me) apart from those who won't dare take a chance on their dream life.
Why?
Because we are people who submerge our hearts in positive thoughts about our ultimate potential. We call it dreaming, and dreaming gives us the green light for our best possible life.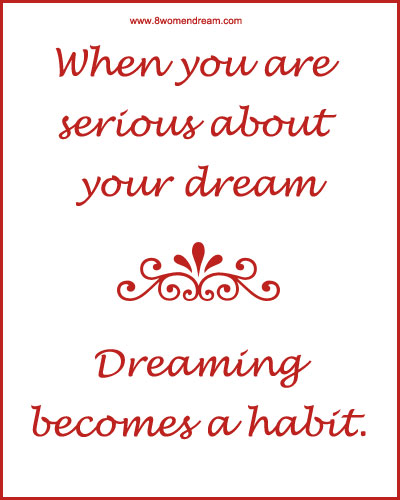 Are you on track with your dream?
The process of allowing yourself to go for what you dream of extracts a price and the price is that you will be required let go of anything that currently is preventing you from achieving your dream. It's the little things that weigh you down, stress you out, and keep you so preoccupied that you can't enjoy dreaming, or working on your dream.
Often, you see your dream as just delusions of grandeur, wishful thinking, or you may have thoughts of "what if that bad thing happens, or…" The minute you start to think that way, is the moment you need to let go of this negative way of looking at your dream.
Because my friends, negative thinking is the beginning to giving up on your dream.
Here's a few pointers on how to go for your dreams:
Assess the importance of your dream

Look at what is keeping you from your dream

Set out steps to achieve it (need money, training, help)

Don't allow excuses

Go for gold whenever you are afraid
With the above steps, you have to be honest with yourself. To have a dream is amazing; to achieve it is even better.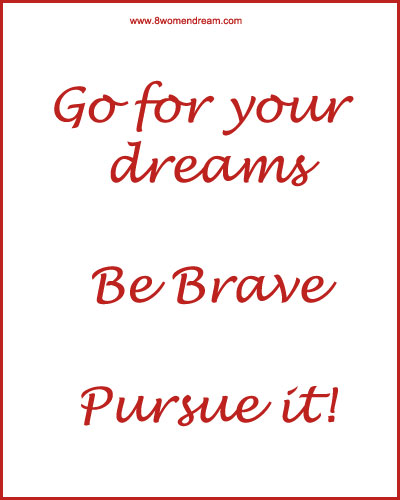 Don't waste your dream time this week with regrets about the past and concerns for the future. Instead, pursue your dream with all you've got.
And go for your dream.  Be brave.
Just Pursue It –
Sue

Sue Levy is the founder of the South African Just Pursue It Blog and Inspirational Women Initiative. She's a motivational writer and media designer, who is obsessed with everything inspirational with a hint of geek. She thrives on teaching women how to be brave and take big chances on themselves. You can find Sue on her Twitter page @Sue_Levy.
Note: Articles by Sue may contain affiliate links and 8WD will be compensated if you make a purchase after clicking on an affiliate link.