Not all big dreams are about ourselves. Sometimes our dreams are about making a better future for others …
When I set out to build Kopila Valley School in midwestern Nepal exactly three years ago, I had Post-it notes, sketches, and wish lists scattered throughout random notebooks. I had a small budget to make this dream happen and a team of volunteers and locals ready to get their hands dirty, but I honestly could have never imagined exactly what we were in for.
I started Kopila Valley Children's Home a few years prior with my $5,000 life savings (babysitting money) after a trip backpacking through the Himalayas of Nepal.
I met orphan kids, with bright eyes and beautiful smiles, who would change my life forever. After living in Nepal for four years with 40 children under my care, I could speak Nepali and had become accustomed to the local customs, culture, and political turmoil, but I saw the urgent and dire need to enroll more children into school.
I saw education as the only way to a brighter future.
I can honestly say now that I had no idea what it would take or any clue as to the path that lay ahead of me.
The good thing about being young (I was 22 at the time) is that you really do think you're invincible. Even when there were bumps (BIG bumps) in the road, there wasn't ever a doubt in my mind that we could pull it off. When I didn't have the answers, I found someone who did. When I wasn't sure which way to turn, I talked to people in the field who had done similar things and could give me advice.
Whenever I hit an obstacle or was tired, exhausted. and overwhelmed, I cried my tears into my pillow. Then I got up, splashed my face with water and went back to work.
Slowly and surely we assembled our team of stellar international volunteers, a construction crew, an amazing Australian architect, and local team project managers. We screened, interviewed, and observed hundreds of teacher candidates until we narrowed down individuals whom we knew would work well with our vision, ethos, and beliefs.
We signed a lease on a piece of land right near our home and built just enough classrooms to get by.
We found a local women's co-op to sew bags and uniforms. We found a local cobbler to make the kids their first pair of school shoes. We didn't have enough water to get by, so we borrowed our neighbor's tractor, filled up our tanks at a local spring, and drove as much water as we could in each day.
There were challenges—oh, boy were there challenges.
Things I would have never thought of, like when we built eight toilets and spent a significant portion of our budget on a humungo septic tank only to learn that almost none of our students had ever used a toilet or knew how. Our neighbors got upset because the kids kept going into their yards to use the bathroom.
We also misplaced kids into grades based on their age levels and not their ability. We made the mistake of not assessing them properly and had to move kids around constantly. As a result, all our class sizes were way off. We underestimated just how much of a foundation our kids were lacking…
To read the rest of my amazing dream story, go to TakePart.com
Maggie

Maggie Doyne is the founder of Kopila Valley Children's Home and School in Surkhet, Nepal. At age 19, Maggie used her life savings to build a home for orphaned children in war-ravaged Nepal. In 2010, she opened a school for 300 of the region's most impoverished children. She is the legal guardian to 40 kids. She believes that poverty can be alleviated by giving children basic needs and human rights. She dreams of creating more safe homes and schools for children everywhere.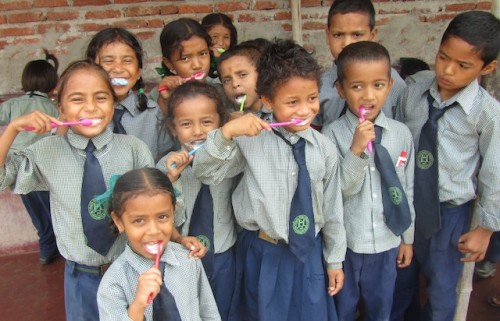 Enjoy this special 8WomenDream Guest Contributor story submitted by new and experienced big dreamers throughout the world, edited and published to capture a dream perspective from different points of view. Do you have a personal dream story to share with 8WomenDream readers? Click here to learn how to submit dream big articles for consideration.
Note: Articles by Guest Post Contributors may contain affiliate links and may be compensated if you make a purchase after clicking on an affiliate link.