Last updated on April 2nd, 2012 at 11:58 am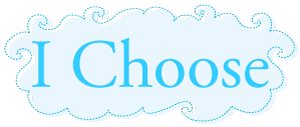 My next online venture is almost ready for release and we are in the design phase, which means the spotlight is on me to figure stuff out. This new channel for income will really be exciting and I can't wait to share more on my multiple streams of income dream.
Have you ever wondered why you get done that you do?
I recently discovered these motivations help me:
Positive Thinking
Lots of praise
Recognition
Repeating Affirmations
Rewards (I'm still working on allowing myself time to enjoy these)
Chocolate
Money
Joining a Group
The biggest revelation I've recently discovered is the difference between "I Have To" and "I Choose To."  I realized I have a choice – in EVERYTHING. Whether it be doing the dishes, organizing my desk, or calling back a difficult client – we all have a choice. Does it mean there aren't consequences? Of course not, but we always have the choice to accept them or not.
It hit me when I said it out loud and felt the difference in my body. Try it!
Repeat after me . . . "I have to do the dishes."
Now take a breath and try "I choose to do the dishes."
Do you see how your choice drives how you approach that particular task?
How do we take this freedom of choice into our dreams? Here's how I've started applying it –
"I choose to work out in the morning so I have energy and a strong start to my day," for working out in the morning. I am not a morning person and this simple restating of this goal has made the alarm clock less of a villain.
"I choose to keep my desk organized," for keeping my piles in smaller piles. What a difference!
"I choose to spend 1 hour a day on our new ventures," for getting to a certain point with my online ventures.
What are you going to "choose" to do for your dream this week?
~ Heather
Heather's dream is to have multiple streams of income, starting with launching an e-commerce website that showcases her one-of-a-kind designer jewelry, which are crafted by her. Her newly launched sites are couture jewelry available through For Your Adornment, For Your Adornment on Etsy.com, and Twitter background designs on Twitter And Beyond Dot Com. She also teaches Social Media tactics for business, besides being CEO of her own web design company. Heather's post day is Thursday.

Heather Montgomery is a fitness writer, triathlete, and serial entrepreneur who is devoted to sharing what she has learned about becoming a triathlete after age 40. She uses her Metabolic Training Certification to help other women struggling to get fit in mid-life. She lives and trains in Santa Rosa, California, the new home of the Ironman triathlon. You can find her biking the Sonoma County wine trails.
Note: Articles by Heather may contain affiliate links and will be compensated if you make a purchase after clicking on an affiliate link.