Last updated on February 9th, 2013 at 01:32 pm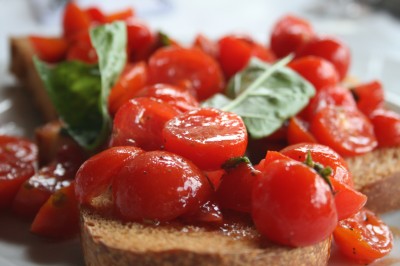 It is probably true to say that you can't really say you know a place until you eat its food. Seeing the sights and meeting the people are important parts of travel but I firmly believe tasting the food of a country enhances the experience. Sampling local delicacies can offer a better understanding of local life. Culinary traditions may date back centuries and be linked with historical events or the rituals of religious or family life.
In some countries you need to move a little off the beaten tourist path to avoid the contamination of western fast food chains. Italy probably claims to most votes when it comes to a favourite national cuisine and it is in the less touristy cities and smaller towns and villages that the real magic of Italian food is revealed. Probably not at the restaurant across the road from the Colosseum in Rome!
When you live, or travel, in western countries the best food is usually to be found at the best restaurants. But in other countries the most authentic and delicious flavours are often to be found on the side of the road. Street food comes in many forms in many countries and if you are brave enough to sample, is immensely rewarding. Not to mention budget-friendly. Just remember to eat food that is piping hot.
During my recent travel on the Indonesian island of Bali, I found the food in tourist centres and at resorts mostly disappointing. The one exception was a very out of the way resort in the west of Bali, at the beachside restaurant of an eco lodge. There the Nasi Campur Bali with fresh sambal matah (shallots and chillies in fresh coconut oil) was subtle and special.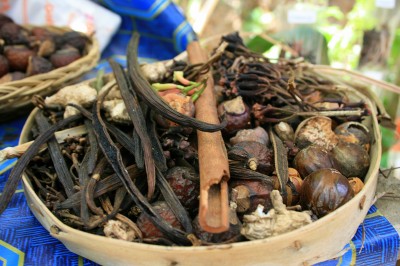 Perhaps I should not have been surprised but by far my most outstanding epicurean experience in Bali was at a $10 per night homestay in the highland village of Munduk. The homestay is basic but has spectacular views over the rice fields and forested mountains of central Bali. And it also has Kedak. As well as a genuinely nice fellow, the One Homestay owner also happens to be a talented cook. I stayed there for three nights and tried something different each day. I could taste the fresh and locally grown spices and the unprocessed rice grown without chemicals.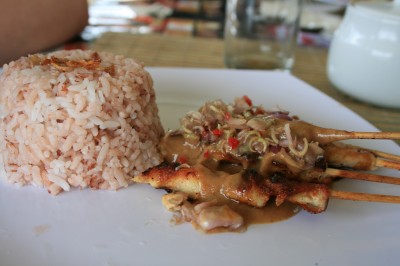 I loved a chicken curry with vegetables and tempura – Balinese curry has coconut milk but is not at all sweet like in Thailand. Hunks of chicken fried in a light batter and served with a subtle sweet and sour sauce with pink-coloured pineapple and julienned carrots. And don't get me started about the satay. The cooking just allows the amazing flavours of all those unadulterated spices to come through: star anise, cloves, vanilla, rosemary, chillies, ginger, the list goes on.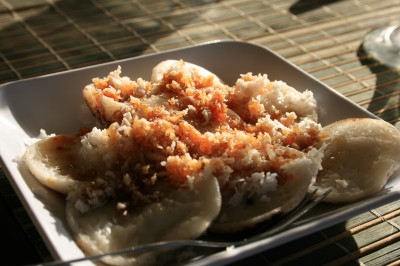 For breakfast there were lak lak (tiny, Dutch-style pancakes) or small banana fritters, made with rice flour and sprinkled with dark, unprocessed palm sugar and grated fresh coconut. On the last night Kedak produced the piece de resistance as far as sweets go. Dadar Gulung is delicate rice flour and tapioca crepes wrapped around palm sugar and coconut. He had coloured the crepes with pandan leaves, producing a slightly iridescent green shade. It was too dark to get a photograph but take my word for it, they were good.
I'm not really a good food writer like Maria Vieagas but food certainly inhabits my world travel dreams.
Natasha
Natasha von Geldern is a travel writer, editor, and blogger who is passionate about making the pages of the atlas real by traveling the world. She is a contributor to Travel Wire Asia, Wild Junket Magazine, Yahoo! Total Travel, and Travelbite. You can find her on her travel website and blog, WorldWanderingKiwi.
Note: Articles by Natasha may contain affiliate links and may be compensated if you make a purchase after clicking on an affiliate link.