Last updated on April 2nd, 2012 at 01:11 pm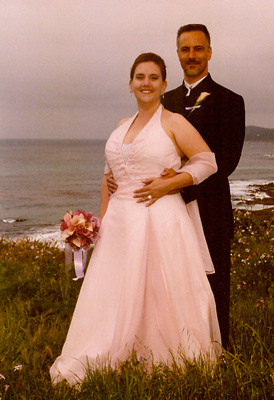 Congratulations to Price William and Catherine Middleton!
As of this posting they are well into their procession and receiving blessing for a happy future from the over million well wishers expected along the route.
Don't all marriages start this way?
Not so much. My second wedding was a tiny affair of 4 set on a cliff overlooking the ocean in Carmel. This was my princess moment and a most definitely a pre-entrepreneurial event.
Embarking on a new venture – with the love of your life – is the most exciting time of your life. Starting a business with the love of your life is not something most couples survive.
Catherine Middleton's parent had a success story with their entrepreneurial adventure. Starting back in 1987 when their children were small, Carole and Michael Middleton kicked off the business where most start – in their home.
The successful mail-order company, Party Pieces, works out of a converted barns. Now there's a story, from living room to a 200 year old barn.
I have to say that our entrepreneurial adventure started way before the I-do's on a cloudy April day back in 2004.
Together now for over 12 years, we have always shared our dreams and goals. They may have changed over the years, but one love was sparked entirely by the wedding itself.
In fact, My love for designing and making jewelry came after a shopping trip in the City (or San Francisco for those not in the Bay Area). I was at a loss to find wedding jewelry and hair accessories that spoke to me. This was my second wedding. Not a bright white super-sparkly day for me.
OK, sparkly was fine. Finding the right balance and color was important.
Hell, the dress was tough enough to pick! No white, nothing too poofy, and something that could be hemmed and worn later as a formal evening gown. It only took my 4 months to pick it. I know this is nothing compared to the years some girls put into it, but again… not my first time around. You learn a few things.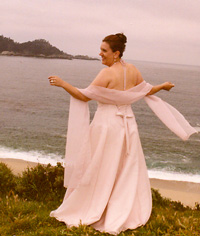 Of course in my view, the dress beading just wasn't enough color so I researched beading on satin and proceeded to try not to screw up my gown by adding to it.
Now that just wasn't enough, so I needed a matching hair piece and earrings to go with it. I'm still amazed how something so simple turned into a love for jewelry that still takes up a chuck of my living room.
As for the day itself we wanted to keep it simple. I had done the big church wedding, but my husband-to-be had 2 previous marriages, both with courthouse ceremonies.
This was the perfect solution. A small, intimate affair for ourselves and my parents in beautiful setting.
Of course the stay in Carmel was amazing, and our wedding planner handled everything. Yes, my tiny wedding had a planner for one major reason. Destination wedding. Even though Carmel is only 4 hours away, I was not managing the details for the prep myself.
The best money I've ever spent!
It was the guy standing next to me. That really is the point isn't it? Yes, sharing this day with my parents and an amazing private dining experience at Casanova's in the Van Gogh room made it incredible. Getting on a plane that afternoon to finally break in my passport on our way to Italy was a huge bonus.
Finding that person that supports you and knows you well enough to keep your dreams on track is the real dream.
What does your dream wedding day look like? Or if you already had your dream wedding day, share the details!
– Heather
Heather's dream is to have multiple streams of income, starting with launching an e-commerce website that showcases her couture jewelry, which are crafted by her. You can find Heather online at For Your Adornment and Twitter And Beyond Dot Com. She also teaches Social Media tactics for business, besides being CEO of her own web design company. Heather's post day is Friday.

Heather Montgomery is a fitness writer, triathlete, and serial entrepreneur who is devoted to sharing what she has learned about becoming a triathlete after age 40. She uses her Metabolic Training Certification to help other women struggling to get fit in mid-life. She lives and trains in Santa Rosa, California, the new home of the Ironman triathlon. You can find her biking the Sonoma County wine trails.
Note: Articles by Heather may contain affiliate links and will be compensated if you make a purchase after clicking on an affiliate link.