Last updated on May 16th, 2009 at 11:58 am
Please don't hate me… I don't get hung over. It's genetic. I do enjoy cutting loose since I have so few opportunities to these days, my ability to go from buzzed to sloshed takes no time at all. I'm out of practice!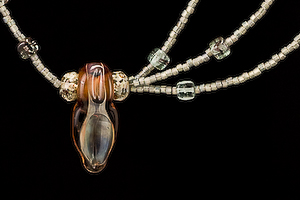 What makes the process so fun (8 women… not drinking) is that we are all coming together with such different approaches to getting from A-Z. I was trying to think about the last time I had a chance to be proud and celebrate the success of close friends. It doesn't come up in my every day life, and before Cath gathered us for this group I did not have an inkling of how cool that really is.
As mothers, and women, there are so many miracles we pull off on a daily basis without a "thanks" or pat on the back. Not that I expect a standing ovation after cleaning the cat box, but it's nice to be able to enjoy the experience and savor even the smallest step toward ALL of our goals.
While I'm still in production on the site (more colors are changed and my logo is fixed) here is an example of one of the necklaces that I do have a gorgeous photo of.
Enjoy whatever sparkles come your way this week – Heather
(Heather's dream is to have multiple streams of income, starting with launching an e-commerce website that showcases her one-of-a-kind designer jewelry, which are crafted by her)

Heather Montgomery is a fitness writer, triathlete, and serial entrepreneur who is devoted to sharing what she has learned about becoming a triathlete after age 40. She uses her Metabolic Training Certification to help other women struggling to get fit in mid-life. She lives and trains in Santa Rosa, California, the new home of the Ironman triathlon. You can find her biking the Sonoma County wine trails.
Note: Articles by Heather may contain affiliate links and will be compensated if you make a purchase after clicking on an affiliate link.