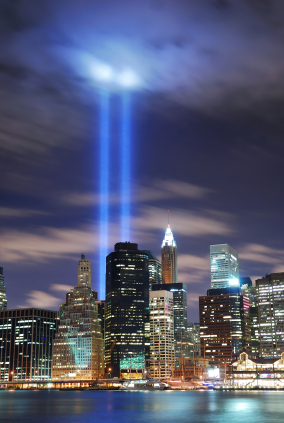 I have yet to talk to anyone who does not remember where they were, and what they were doing the morning of September 11, 2001. The magnitude of the tragedy still impacts us today. Although the small businesses surrounding the site thrive, they are watching as their neighborhood changes once again.
Major economic effects
For most of us, the concern of major economic effects was not in the forefront of our thoughts for some time after 9/11, but the effect was almost instantaneous.
Global markets dropped sharply with the initial shock of the attack
An estimated $40 billion in insurance losses
The already struggling airlines were failing fast
One report for Congress, "The Economic Effects of 9/11: A Retrospective Assessment" published on September 27, 2002 outlines how small business was impacted in the area.
Nearly 18,000 businesses were dislocated, disrupted or destroyed by 9/11. Most were in and around the World Trade Center complex. Using existing programs, the Small Business Administration, in cooperation with other federal, state, local, and charitable groups worked to alleviate the distress. As of May, 2002, 4591 loans had been made to firms near the World Trade Center complex and 96 loans in Virginia including those made to businesses at Reagan National Airport. The federal government also provided financial assistance to small businesses in and around the World Trade Center complex in the form of Community Development Block Grant funds. In addition Economic Injury Disaster Loans became available nationwide to eligible small businesses that have suffered substantial economic injury due to 9/11 or a federal action in response to 9/11. These loans provide working capital for ordinary and necessary operating expenses that would have been incurred in the absence of a disaster. There has been considerable criticism of the federal response to the plight of the thousands of small businesses in proximity of the World Trade Center. Insufficient funding, burdensome application requirements, arbitrariness, and delays have been cited.
No job to come back to
Although a few businesses were able to get back up and running within days, the majority took a few time to recover, if they returned at all. There was an underlying fear to return and rebuild, and several businesses chose to relocate.
The recession was in full swing and the job marketplace was not ready for the nearly 130,000 employees that were displaced by the disaster. The initial 13-week unemployment benefits were extended to help alleviate the obvious strain it had on the economy-wide recession.
New perspective
It's human nature to re-evaluate our own existence when faced with the reminder that we are mortal. 9/11 changed our own personal perspectives on what is truly important in our lives, and impacted the way businesses supported our need for it.
Do you prioritize and value your home life? As small business owners or entrepreneurs we regularly sacrifice the need to connect with our family for the work of the day. This quote brings intense focus to the need to keep perspective on what is important to us.
Imagine life as a game in which you are juggling some five balls in the air. You name them – work, family, health, friends and spirit – and you're keeping all of these in the air. You will soon understand that work is a rubber ball. If you drop it, it will bounce back. But the other four balls – family, health, friends and spirit – are made of glass. If you drop one of these, they will be irrevocably scuffed, marked, nicked, damaged or even shattered. They will never be the same. You must understand that and strive for balance in your life.
–Brian G. Dyson , President and CEO, Coca-Cola Enterprises
Rebuilding a decade later
New York City is rebuilding. The World Trade Center site still shows the scars despite the almost constant construction. The number of jobs and businesses in the area continue to grow as each building is completed, bringing a much needed boost to the small businesses around the site.
This Sunday will see the dedication of the 9/11 Memorial Plaza. To all the survivors, and the men and women who were on the rescuing front lines, we are thinking of you this September 11th.
– Heather

Heather Montgomery is a fitness writer, triathlete, and serial entrepreneur who is devoted to sharing what she has learned about becoming a triathlete after age 40. She uses her Metabolic Training Certification to help other women struggling to get fit in mid-life. She lives and trains in Santa Rosa, California, the new home of the Ironman triathlon. You can find her biking the Sonoma County wine trails.
Note: Articles by Heather may contain affiliate links and will be compensated if you make a purchase after clicking on an affiliate link.